Family Style Co-op Kitchen game by Chef Party, LLC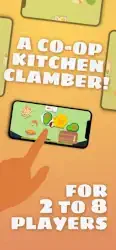 Game Description :
Too many cooks in the kitchen? Sounds like a game of FAMILY STYLE! Shout and scramble for space to cook dishes in this new and hectic party game for 2 to 8 friends.
Family Style is a cross-platform party game that transforms your living room into a virtual kitchen. Race against time as you frantically complete recipes and desperately shout instructions at your teammates. Manage your own stations and work together with your kitchen staff to complete recipes before time runs out!
How many rounds can you and your friends survive before the dinner rush gets the best of you?
Game Features :
COOPERATIVE
A great kitchen needs all hands on deck! Pass ingredients to your teammates to help them complete dishes and win the round, but don't forget to stay alert. You might have the missing ingredient your friend needs.
FRANTIC
Time is constantly ticking down so recipes need to be completed as soon as possible! In the dinner rush madness, your table space might become too cluttered. Don't let your station get too messy or you'll have a hard time passing ingredients.
REWARDING
It's not easy running a kitchen with friends! While it can sometimes be a messy and hectic affair, nothing is as fulfilling and fun as successfully completing a complex recipe through superb communication.
Additional Information :
Size 105.7 MB
Requires iOS 9.1 or later.
User Reviews :
Very fun game, but frustrating bugs.
I downloaded this game with my friends and had a lot of fun in the beginning until the bug where it would say one player disconnected and the entire game quit and we lose all our progress. Just because of this, it drags down the entire experience because it takes a while to get to lvl 50+ and the challenge to beat any high score isn't the game, its the fact that the game will just quit randomly saying a player disconnected when we're both on the same wifi and i am certain no one quit the game. Stupid bug, there should be a way for it to realize that the players are still in the game and continue rather than quit and erase the whole session! Im surprise this is not implemented because most multiplayer games have this. It would be the perfect game if you guys actually fix dumb bugs like this, awesome concept and gameplay though. People don't like to have their time wasted, if i'm going to waste 15-30 of my life i don't want all my progress to go to waste. Please fix ASAP or i'm going to have to delete this game.
Awesome Communication Game! Fun
It is very fun, I started to play with my sister and got my other sister to join in. Then we found ourselves playing with our cousins which were half way throughout the country. We had suddenly found ourselves sunk about 50 mins without even noticing. I had also saw another review about crashing, I don't think that is the games fault because we had that only happen once and we were 1,260 miles away. trying to say, like overcooked 2.

I also saw another review which said this was Overcooked 2 to go, which I agree with. We had gotten to level 9, but one of our group numbers said 10?

I think it would be cool to have different styles/ categories of gameplay like if you choose Chinese you would only make Chinese food and the background is Chinese (red and gold maybe?) And the pans and friers have skins too. I don't really see the point in buying the skins in the current game which is the only way for this app to make money. Maybe different modes would be cool is what I am And for people to buy stuff maybe try to sell like different modes with the backgrounds and the person hosting who bought the package could invite whoever. Idk just an idea great game!
Overall very fun, minor fixes needed
This is a very fun game with multiple people and it definitely reminds me of overcooked. I like how minimalistic and simplistic the game is. Some minor issues that need to be addressed is that sometimes we'd be waiting for an ingredient, but it doesn't show up causing us to lose the dish. I think after every 5 levels is a check-point so you don't have to start all the way from level 1 again. Instead of having "scores bar" on the bottom. There should be a way to determine how many complete dishes are needed for each level. E.g. 5 dishes to complete level 1. Overall, very solid game that can definitely be improved with some minor fixes. Please read these reviews and improve on future updates.
Get Family Style from App Store
What is your opinion about Family Style
Bitcoin
Ethereum
MetaMask (ETH)
Xrp
Polkadot
Binance coin
Stellar
Dogecoin
Tron
Elrond
Donate Bitcoin to this address
Scan the QR code or copy the address below into your wallet to send some Bitcoin
Donate Ethereum to this address
Scan the QR code or copy the address below into your wallet to send some Ethereum
Donate Xrp to this address
Scan the QR code or copy the address below into your wallet to send some Xrp
Donate Polkadot to this address
Scan the QR code or copy the address below into your wallet to send some Polkadot
Donate Binance coin to this address
Scan the QR code or copy the address below into your wallet to send some Binance coin
Donate Stellar to this address
Scan the QR code or copy the address below into your wallet to send some Stellar
Donate Dogecoin to this address
Scan the QR code or copy the address below into your wallet to send some Dogecoin
Donate Tron to this address
Scan the QR code or copy the address below into your wallet to send some Tron
Donate Elrond to this address
Scan the QR code or copy the address below into your wallet to send some Elrond