iReader – Story, Novel & E-book app by HK IReader Technology Limited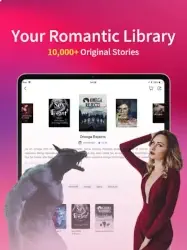 App Description :
Attention! Novel and Comics Lovers!
iReader, a romantic storytelling platform for the story lovers all over the globe. Welcome aboard!
Don't hesitate, download it NOW!
Why iReader?
1. Countless copyrighted novels you can only enjoy on iReader
2. Multiple genres included, recommend the right one for you!
3. New stories updated on a daily basis
4. New free stories updated on a weekly basis
5. Super easy to read, all you need to do is to slide the screen
6. Enjoy reading even when you're offline
App Features :
1. Unique Typesetting: comparable to the layout of paper books
2. Screen Rotation: vertical and horizontal screen supported
3. Support Different Format: EPUB / TXT / MOBI / UMD, etc.
4. Eye-protection Mode: reading without tiredness
5. Auto-Read: Auto-Read liberates your hands
6. Build Your Own Library: manage your books like drag-and-drop desktop icons
7. Wireless Transmission: import your files between your phone and computer
iReader Agreement
www.ireader.mobi/index.php?ca=lang.EnTerms
iReader Privacy
www.ireader.mobi/index.php?ca=lang.EnPrivacy
Additional Information :
Age Rating 12+
Size 107.9 MB
Requires iOS 12.4 or later.
User Reviews :
Some gems in there, but way too expensive
I got into a book and decided since it was one of the few well written books with few errors that it was worth a little money. I bought 6000 coins which was a little over $10 US. Even with the coupons, free coins for reading for certain amounts of time and bonus vouchers it was not enough to pay for one incomplete book. That's way more than I would pay on kindle or in a book store for a paperback. They need to increase the ways to earn more vouchers and coupons, or reduce the chapter cost to a competitive price. With the amount of amateur writers or writers without English as a first language, they need to open up more opportunities for readers to submit corrections and get decent rewards, like enough for a free chapter or something more enticing that would help the authors and the readers both. I'm fine helping out, but give me something more than a few measly coins and don't limit me. Even though I keep finding decent stories to read, I am not paying that much for just one book that needs a lot of editing and improvement and that I have to wait for the ending through many days of single chapter updates. I read too fast for that and it is frustrating! I think the concept is great, but if they make it reasonable and affordable they will compete better in the market. Unfinished and unedited books should be WAY cheaper than the completed and edited books.
Developer Response,
"Hi there, thanks so much for your feedback! I will hand over your feedback to our Product Manager. We are sonsidering a more reasonable price strategy! If you need to purchase more than 10 chapters, then you can make a bulk purchase to enjoy a discount. If you want to use the bulk purchase function, you can refer to the following steps.

1. Enter the reading page.

2. Slightly click the screen to activate the toolbars.

3. Click the button [Purchase] at the top and then you will see the discount.

Hope this helps and have a nice day!"
Only 5 stars for the vouchers
I started reading a book on this platform over a year ago that is only recently completed, which is highly annoying as someone who has read well over 70 full sized novels since January (without reading anything for about three or four months) also, it's incredibly expensive. I need to spend about $20 more to finish half the book after I already spent well over that the last time I installed this app and started the book. The grammar and spelling errors and overall forgetting words is difficult to look past as I have to reread to find the context clues to figure out who exactly is doing what as pronouns are often left out when they are needed. This one example among many many instances. Overall I will be deleting this app (again) once I finish the book.
The stories are good
The stories are good but the books as a whole are very expensive. I'm hooked on one, and have spent more money on half the story then I have for 4 brankd new hard copies. I had the app and swore I'd never get it again for this reason but it's almost a compulsion for me if a story sounds that good to get it. They have some free books listed and I have considered looking at the. My concern though is there teasers to get you hooked and honestly I can't afford it. If you can afford it the stories are good and I'd say worth it. If you like me and counting to the penny I recommend waiting till your not. The stories are good tho. The quality of writing is often superior to what I see on other "free platforms". I do recomend bulk purchases if possible it's more cost effective and your not left hanging. Best wishes.
Get iReader from App Store
What is your opinion about iReader
Bitcoin
Ethereum
MetaMask (ETH)
Xrp
Polkadot
Binance coin
Stellar
Dogecoin
Tron
Elrond
Donate Bitcoin to this address
Scan the QR code or copy the address below into your wallet to send some Bitcoin
Donate Ethereum to this address
Scan the QR code or copy the address below into your wallet to send some Ethereum
Donate Xrp to this address
Scan the QR code or copy the address below into your wallet to send some Xrp
Donate Polkadot to this address
Scan the QR code or copy the address below into your wallet to send some Polkadot
Donate Binance coin to this address
Scan the QR code or copy the address below into your wallet to send some Binance coin
Donate Stellar to this address
Scan the QR code or copy the address below into your wallet to send some Stellar
Donate Dogecoin to this address
Scan the QR code or copy the address below into your wallet to send some Dogecoin
Donate Tron to this address
Scan the QR code or copy the address below into your wallet to send some Tron
Donate Elrond to this address
Scan the QR code or copy the address below into your wallet to send some Elrond