Sand Blocks – Blast Puzzle game by VooDoo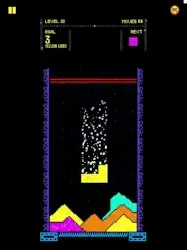 Game Description :
This game is perfect for puzzle lovers and sandcastle builders.
Game Features :
A Sandtris puzzle with a twist. You have to manipulate different shapes of sand blocks that fall from the top of the screen and arrange them in a way that they form complete horizontal rows at the bottom of the screen.
The more rows you clear, the more points you get and the higher your level goes. Rotate and move the blocks to fit them better in the available space, but don't let them stack up too high or touch the top of the screen or you'll lose. This game is fun, challenging and relaxing at the same time. It tests your spatial skills, your reflexes and your creativity. Try it out and see how many rows you can clear and how high you can score!
Sand Blocks is a Tetris like sand puzzle game that combines satisfactory sand simulation with a beautiful art style.
Additional Information :
Age Rating 4+
Size 209.9 MB
Requires iOS 12.0 or later.
User Reviews :
Very great with one issue
Everything is great about this game except the fact that survival exponentially speeds up the block dropping to an impossible level. The blocks shouldn't fall faster than the sand grains They need to implement a better speed curve for survival, or make some other endless option. Other than that the game is flawless.
Amazing till the most recent update
I got this game a few weeks ago because it seemed interesting and, it was fun, I cleared upwards of 70 levels. Then this update comes out and it completely changed the look. The ads I can understand because it is getting more popular, but the new aesthetic and also slightly changed mechanics makes it feel like a completely different game from what I grew to like. Don't even get me started on the pay to win stuff. When things like coins (available to buy in app) get added to a game alongside hearts/lives and you need to pay to keep playing it just completely destroys the chill vibe that was so great about it in the beginning. In other words the game has started to lose all of its personality. Really what I'm hoping to do is bring attention to someone that the game is going downhill…
Fun but a little broken
I've been playing the game for a few days and am in the top 82% so I really enjoy it. But there's a major problem with the game where occasionally for some unexplained reason it will suddenly start sending blocks at a speed so quick even the game can't keep up with itself. Normally this kind of speed increase would occur late in the game like in original Tetris but this game has this occur almost entirely at random which is extremely frustrating. I hope they fix this soon or I'm going to delete.
Good before the update
Endless is pointless now, it's impossible to beat my high score with the speed at which the blocks fall. The new aesthetic changed the gameplay mechanics for the way that sand grains fall and added a black border around the colors. This means that grains that used to touch no longer touch. Close calls are no longer satisfying when you see sand grains touch and not clear. Don't waste your time on this app, the creators clearly want you to lose to watch more ads to the point where the gameplay mechanics force you to lose.
Overall good.
Aesthetically pleasing. And nice sand effects. Some luck, some skill like Tetris. A option to switch with the next block like in Tetris would be nice. The adds come a little too frequently, but I understand that's how they make these games free. The swipe down motion can conflict with the swipe down motion on iPhones.
Needs "Relaxing Mode" option
Love this game, super fun, even considering the paid version with no ads. But I would love it a lot more and spend way more time on it if it had an option for a relaxing mode where the speed does not increase.
Good game needs more variety
Honestly this game is dope. I personally would like to see different types of levels like maybe with like obstacles that you have to build around, or like different themes for the game.
Get Sand Blocks from App Store
What is your opinion about Sand Blocks
Bitcoin
Ethereum
MetaMask (ETH)
Xrp
Polkadot
Binance coin
Stellar
Dogecoin
Tron
Elrond
Donate Bitcoin to this address
Scan the QR code or copy the address below into your wallet to send some Bitcoin
Donate Ethereum to this address
Scan the QR code or copy the address below into your wallet to send some Ethereum
Donate Xrp to this address
Scan the QR code or copy the address below into your wallet to send some Xrp
Donate Polkadot to this address
Scan the QR code or copy the address below into your wallet to send some Polkadot
Donate Binance coin to this address
Scan the QR code or copy the address below into your wallet to send some Binance coin
Donate Stellar to this address
Scan the QR code or copy the address below into your wallet to send some Stellar
Donate Dogecoin to this address
Scan the QR code or copy the address below into your wallet to send some Dogecoin
Donate Tron to this address
Scan the QR code or copy the address below into your wallet to send some Tron
Donate Elrond to this address
Scan the QR code or copy the address below into your wallet to send some Elrond