Vogue Magazine app by Condé Nast Digital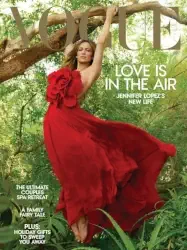 App Description :
The foundation of Vogue's leadership and authority is the brand's unique role as a cultural barometer for a global audience. Vogue places fashion in the context of culture and the world we live in—how we dress, live and socialize; what we eat, listen to and watch; who leads and inspires us. Vogue immerses itself in fashion, always leading readers to what will happen next. Thought-provoking, relevant and always influential, Vogue defines the culture of fashion.
App Features :
The Vogue digital edition app is optimized for mobile and tablet and is free to download. Subscribers receive unlimited access. Non-subscribers may access a selection of complimentary articles each month.
AUTOMATIC-RENEWAL: Your payment method will be automatically charged at the frequency and price noted in the subscription offer you select, until you cancel. To cancel, you must update your App Store Subscriptions settings at least 24 hours before the end of the current subscription term. No refunds once payment is made.
Additional Information :
Age Rating 12+
Size 8.8 MB
Requires iOS 11.0 or later.
User Reviews :
Very good app
American Vogue often inspires a visceral reaction from readers – either they love it or they hate it. This app is not going to change anyone's mind, since it's just the same content in digital form.

For those who enjoy the original though, the Vogue app is a great step forward, being easy to use and surprisingly stable compared to some other Newsstand apps (not a single crash while reading cover to cover). This is leaps and bounds beyond anything appearing on glorified PDF reader Zinio.

To clear up some confusion, Vogue DOES support retina display for the new iPad. Editorial images are sumptuous in their clarity and detail and article text is pinpoint sharp. However, none of the advertisements are in retina-friendly resolution, leading to lots of jarringly pixelated pages in between content. And as with most fashion magazines nowadays, a huge chunk of Vogue is advertisements. Hopefully, Condé Nast will lean on their advertisers to submit high-resolution ads to match the rest of the otherwise beautiful magazine.
Magazine Does Not Always Download
Three months into my subscription, the magazine that should automatically download into the app no longer does — you can't even see the current edition as a "for purchase" option.
The Bible of Fashion Magazines
I have observed fashion since the age of five years old. I know this because I remember having a very strong conversation with my mother at that time about insisting I wanted the dress with the spaghetti strap shoulders! Nothing else would do because I wanted the latest in trend dress at the moment.. and I knew it would be something else later and all that mattered was now!!! This is what Vogue Magazine is for me! It has always been about what is now..with a twist of classic. You can show a little of the past and where the future might be headed, but for the most part it's about now.

Thank you Vogue for always being on point all these years! Thank you to the dedicated staff through the ages of Vogue Magazine.

Truly,

Catherine Cross
Innovative
This is an amazing app… this far exceeded my expectations! I was reluctant to download it since I really did not know what to expect – pictures? A video? Words from The GaGa? What could a 'coverlet app' be??!!

This was the ENTIRE feature done in an interactive way and with so many bonuses!

This is a major coup for VOGUE. Expertly done…a great segue into upping the bar in the digital world of magazines. Hopefully this will be a monthly feature, and maybe Vogue will give the option of having other sections available (ADS ONLY?? Sounds crazy, but I'd love an interactive Advertising Only section…maybe give it free with a download???) – free advice! I know I'm gushing, but I really was looking forward to a way to entirely put the hardcopies down without losing the 'wow' of the publication. This clearly is a step in that direction.

Nicely done Vogue.
Wonderful.
As a long time subscriber to the Vogue prints, happily I would read my issue then archive them in very clean condition to have them man years from now. Once I found this app I was very pleased I could now read it everywhere without worry as the tool it essentially is to me, with my subscription to print luckily I have all access to the digital issues which just awed me with the true innovation that simplified everything. Once reading the April issue on my I pad everything has worked fine, the work the staff has put to not solely adjust scans of the standard magazine, but to specifically fix all the text, images, pages to pit a iPad.
Get Vogue Magazine from App Store
What is your opinion about Vogue Magazine
Bitcoin
Ethereum
MetaMask (ETH)
Xrp
Polkadot
Binance coin
Stellar
Dogecoin
Tron
Elrond
Donate Bitcoin to this address
Scan the QR code or copy the address below into your wallet to send some Bitcoin
Donate Ethereum to this address
Scan the QR code or copy the address below into your wallet to send some Ethereum
Donate Xrp to this address
Scan the QR code or copy the address below into your wallet to send some Xrp
Donate Polkadot to this address
Scan the QR code or copy the address below into your wallet to send some Polkadot
Donate Binance coin to this address
Scan the QR code or copy the address below into your wallet to send some Binance coin
Donate Stellar to this address
Scan the QR code or copy the address below into your wallet to send some Stellar
Donate Dogecoin to this address
Scan the QR code or copy the address below into your wallet to send some Dogecoin
Donate Tron to this address
Scan the QR code or copy the address below into your wallet to send some Tron
Donate Elrond to this address
Scan the QR code or copy the address below into your wallet to send some Elrond