Gummy Drop – Match 3 Puzzles game by Big Fish Games, Inc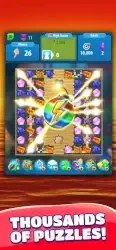 Game Description :
Gummy Drop! is the exciting Match 3 puzzle game where you restore monuments and rebuild cities around the world, one gummy at a time!
Pack your bags and get ready to fill up your passport in this global matching game. Be the traveler and the tour guide, completing puzzles to rebuild and restore thousands of monuments from over 100 real cities across the globe. Rebuild famous landmarks in iconic cities like New York, Sydney, Tokyo, Paris, London, Rome, Berlin, New Orleans and Barcelona. Hang with the locals and see the sights, from the Eiffel Tower to the Statue of Liberty and more!
TRAVEL WHERE YOU WANT, WHEN YOU WANT!
In Gummy Drop! you get to match and build in the city of your choice whenever you want. Visit Rome for the weekend, jet off to Tokyo for some sushi, or have coffee in Paris! With Gummy Drop! you can swap and match to travel the world from the comfort of your own couch.
Game Features :
Swap and match to restore cities with a variety of colorful gummy puzzle pieces
Match and build to explore and restore over 100 cities! Spin the globe, choose your destination and you're on your way!
Visit exclusive themed event cities, like Sweetheart Island, the Harvest Festival, or the Garden Gala. Just don't forget to bring back some souvenirs!
Challenge yourself in over 10,000 exciting levels across 100+ real world cities!
Complete levels and rebuild landmarks to collect stamps and fill your passport with colorful photos
Compete in Tournaments and rise up the ranks to show off your skills and collect awesome rewards
Solve side levels and special quests to help the locals in each city you visit!
Enjoy a scenic, vibrant, and colorful puzzle game experience!
JOIN US FOR SPECIAL EVENTS!
Journey to new and exciting, limited time only special destinations for every season. We've travelled to the Garden Gala for Mother's Day, the North Pole for the Holidays, and even Transylvania for Halloween. Who knows where you'll go next?
So, what are you waiting for? Pack your bags because its "wheels up" and there's no time for delays! It's time to get out there, start matching, and restore the world one gummy at a time!
Follow Gummy Drop! On social media for the latest updates:
Facebook: facebook.com/GummyDrop
Instagram: instagram.com/gummydropgame/
Twitter: @GummyDrop
Support:
Need a little assistance? We're here to help! gummydrop.zendesk.com
Big Fish Terms of Use: www.bigfishgames.com/company/terms.html
Additional Information :
Age Rating 4+
Size 242.3 MB
Requires iOS 11 or later.
User Reviews :
Best matching game out there. Latest edition worst as described below.
This game offers matching fun that does not get you stuck at one spot all or nothing with its 3 difficulties per level. Plus the special abilities can get you through levels you have difficulty with. You learn geography and history along the way. The new version has a daily prize that is very aggravating. You get better prizes for playing every day but it arbitrarily resets you. Though I have not missed playing a level for years the farthest I have got is Day 119. About a week ago I was ready to get my prize for day 120 which is the 30 day landmark. To my dismay it restarted me instead. It has arbitrarily removed green gems before which take a lot to build, but otherwise this is a fun game that you can play in short time frames. The biggest improvement the game needs is an ability to change a resourcemart from one to another. Early on in the game mistakes are made because you don't know the strategy for the green gems and that after the first few cities you only get two of them instead of three. This is important for new players to know ahead of time.
At least it's honest but getting bored
I play a lot of these match 3 games and catch them cheating big time like when you get a star or let's say the highest ranking power-up and match it to a stripe, or double stripe, or even a bomb, they don't turn every same color on the board over, as it should, to give you the hits you're looking for- so, I have to say that I appreciate your game's integrity! I like the positive feedback your game gives it makes me laugh. I like that it takes a geographical approach around the globe and gives little tidbits about the landmarks. What could change is if you could give us some power-ups for our daily prize or let us win power-ups plus building supplies, etc. for hitting all those levels. Having only 3 lives and having to buy the "privilege" of 5, seems greedy. This is a bit selfish and I believe you are the only platform to do this. I refuse! There are too many other games out there that will gladly give 5+ lives with all the other benefits. If I lose my 3 right away, I just move on and play something else. You need to stop that right away. This game has potential to be even better! Try something new! Ps. When given free play, we should be able to log out and come back to it. Sometimes, we hit our stride at the end of the day right when we need to hit the bed. So if we win free play we should be able to go ahead and claim it. Log out and when we log on, we should have our one or two hours to play it out. More folks would be happy!
Favorite Match Thee Game of All Time
I love the "three times through" each site with increasing difficulty, the fact that match 5 lightning bolts don"t accidentally get set off (as in Candy Crush), and the mini challenges that are thrown in for holidays, including frequent "mountain climbing" events that lead to infinite lives for 1,2 or 4 hours. Truly a fun game! Thanks, Big Fish, for hours of stress relief!

Hmmm … I add this after reading other reviews: though I agree with a few of the frustrations mentioned, I feel it is right to stand up for Big Fish in one particular way. Reviewers keep mentioning their "greed," forcing serious players to use real world money to fully complete every city. First, completion of every city is an option. Second, can you imagine the hours, days, weeks worth of work the Gummy Drop creators of put in? And this is their livelihood! They need some people to make real world purchases to keep making the game. We become too accustomed to the Internet giving us music and shows and games without needing to pay for them. Producers deserve something for their talents and efforts. Sometimes we selfishly forget that!
Get Gummy Drop from App Store
What is your opinion about Gummy Drop
Bitcoin
Ethereum
MetaMask (ETH)
Xrp
Polkadot
Binance coin
Stellar
Dogecoin
Tron
Elrond
Donate Bitcoin to this address
Scan the QR code or copy the address below into your wallet to send some Bitcoin
Donate Ethereum to this address
Scan the QR code or copy the address below into your wallet to send some Ethereum
Donate Xrp to this address
Scan the QR code or copy the address below into your wallet to send some Xrp
Donate Polkadot to this address
Scan the QR code or copy the address below into your wallet to send some Polkadot
Donate Binance coin to this address
Scan the QR code or copy the address below into your wallet to send some Binance coin
Donate Stellar to this address
Scan the QR code or copy the address below into your wallet to send some Stellar
Donate Dogecoin to this address
Scan the QR code or copy the address below into your wallet to send some Dogecoin
Donate Tron to this address
Scan the QR code or copy the address below into your wallet to send some Tron
Donate Elrond to this address
Scan the QR code or copy the address below into your wallet to send some Elrond