(App) ibis Paint X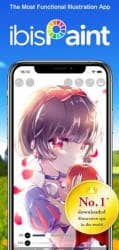 App Description:
ibis Paint X is a popular and versatile drawing app downloaded more than 200 million times in total as a series, which provides over 15000 brushes, over 5300 materials, over 1300 fonts, 80 filters, 46 screentones, 27 blending modes, recording drawing processes, stroke stabilization feature, various ruler features such as radial line rulers or symmetry rulers, and clipping mask features.
YouTube channel
Many tutorial videos on ibis Paint are uploaded to our YouTube channel.
Subscribe it!
youtube.com/ibisPaint
App features :
Concept/Features
A Highly functional and professional features surpassing that of desktop drawing apps.
Smooth and comfortable drawing experience realized by OpenGL technology.
Recording your drawing process as a video.
SNS feature where you can learn drawing techniques from other users' drawing process videos.
Feedback from users
We receive many good reputations from users.
I could have never assumed that I can draw such a beautiful drawings on smartphones!
Easiest to use among all drawing apps!
I have learned how to draw digital drawings without Mac or PC!
Features
ibis Paint has high functionality as a drawing app along with features of sharing drawing processes with other users.
Brush Features
Smooth drawing at up to 120 fps.
Over 15000 kinds of brushes including dip pens, felt tip pens, digital pens, air brushes, fan brushes, flat brushes, pencils, oil brushes, charcoal brushes, crayons and stamps.
Various brush parameters such as starting/ending thickness, starting/ending opacity, and initial/final brush angle.
Quick sliders that allow you to quickly adjust brush thickness and opacity.
Real time brush previews.
Layer Features
You can add layers as many as you need with no limit.
Layer parameters that can be set to each layers individually such as layer opacity, alpha blending, adding, subtracting, and multiplying.
A handy clipping feature for clipping images, etc.
Various layer commands such as layer duplication, import from the photo library, horizontal inversion, vertical inversion, layer rotation, layer moving, and zooming in/out.
A feature for setting layer names to distinguish different layers.
Manga Features
Advanced text tool function featuring Vertical, Horizontal, Stroke, Font select, and Multiple text functions.
About ibis Paint purchase plan
The following purchase plans are available for ibis Paint:
ibis Paint X (free version)
ibis Paint (paid version)
Remove Ads Add-on
Prime Membership (Monthly plan / Yearly plan)
There is no difference in features other than the presence or absence of advertisements for the paid version and the free version.
If you purchase the Remove Ads Add-on, the ads will not be displayed and there will be no difference from the paid version of ibis Paint.
In order to use more advanced functions, the following Prime Membership (Monthly plan / Yearly plan) contracts are required.
Prime Membership
A prime member can use the prime features. You can try it free for the one-month at the time of the first purchase. A prime member can use the following features and services
20GB of cloud storage capacity
Prime Materials
Prime Canvas Papers
Prime Fonts
Tone Curve filter
Gradation Map filter
Levels Adjustment filter
Replace Color filter
Clouds filter
Reordering artworks in My Gallery
No advertisements displayed
After you become a prime member with the first one-month free trial, if you do not cancel your "Prime Membership" at least 24 hours before the last day of the free trial, your "Prime Membership" will be automatically renewed and you will be charged for the automatic renewal.
We will add premium features in future, please look out for them.
Questions and support
Questions and bug reports in reviews will not be responded to, so please contact ibis Paint support.
ssl.ibis.ne.jp/en/support/Entry?svid=25
Additional Information :
Size 78.6 MB
Requires iOS 12.0 or later.
User reviews :
An honest opinion
I'm very new to digital art but I've picked up pretty fast and am already taking commissions. Out of all the programs I've tried this one is really stellar. It gave me everything others lacked such as more brushes and brush customization, paint bucket tool, merging layers etc. At first I will admit that I was a bit confused because of all the options on the interface but really you get so used to it after really drawing with it. The only time it crashes is when I input a image that the app deems too big, however it's not a big issue because I can simply adjust the size and it works perfectly (plus it auto saves my work when it did crash). Some of the brushes can be very laggy but really they're perfect for what I need. The ruler options are also very very handy. Really if you "cant draw" like the negative comments are saying I believe it's a user fault, maybe they are on a wrong or hidden layer or maybe their opacity is down. I love this a lot. If ur reading this I recommend the download. a big plus is for just one ad you unlock all the locked features for 18 hours, unlike other apps that bombard you with advertisements and lock off everything. Bravo developers I can tell you care about this. Definitely recommend downloading if you're new to digital art. It introduces you to all the tools and for me even works without WiFi. And I was surprised to say that it's auto recorded my whole drawing?? That's SICK. Great great job
Impressive
Although I have used the app before, I can tell it has improved by a lot. When I first got the app I wasn't really into art as much. Now I have great interest in it. IbisPiant x is a really good app and I really recommend it. The thing that I really like about it is that there is a blur and smudge tool. I never knew how much I would actually use them but now I use the blur and smudge tool a lot. The smudge tool is really great I like how it's not so aggressive I don't know how to put this exactly but I've had other apps and there smudge tool was really not the best. It wouldn't give the option to change the opacity although it did give a option for the size of the tool. On IbisPaint x it's really not like that at all. It's really smooth and has a nice flow. Speaking if smooth, the app isn't laggy which is great. It does depend kn your internet but I have noticed with other apps that sometimes the screen might freeze or the brushes would be really choppy, as in it wouldn't be smooth. Also I love the verity of brushes they are all really useful. I like how you can unlock all the brushes by watching a quick advertisement. Although it doesn't stay forever I believe. One thing is that there are adds on the top of the screen which doesn't really bother me. It's awesome how you see peoples' art i believe it's the 'Daily Ranking' or something similar to that. I am very happy with the app overall. 10/10 I would recommend.
Get ibis Paint X from App Store
What is or opinion about ibis Paint X
Bitcoin
Ethereum
MetaMask (ETH)
Xrp
Polkadot
Binance coin
Stellar
Dogecoin
Tron
Elrond
Donate Bitcoin to this address
Scan the QR code or copy the address below into your wallet to send some Bitcoin
Donate Ethereum to this address
Scan the QR code or copy the address below into your wallet to send some Ethereum
Donate Xrp to this address
Scan the QR code or copy the address below into your wallet to send some Xrp
Donate Polkadot to this address
Scan the QR code or copy the address below into your wallet to send some Polkadot
Donate Binance coin to this address
Scan the QR code or copy the address below into your wallet to send some Binance coin
Donate Stellar to this address
Scan the QR code or copy the address below into your wallet to send some Stellar
Donate Dogecoin to this address
Scan the QR code or copy the address below into your wallet to send some Dogecoin
Donate Tron to this address
Scan the QR code or copy the address below into your wallet to send some Tron
Donate Elrond to this address
Scan the QR code or copy the address below into your wallet to send some Elrond