(Game) Solitaire Home Design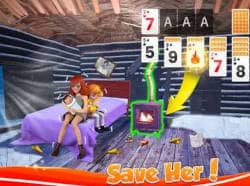 Game Description:
Solitaire Home Design, a new free-to-play challenging puzzle game, has finally arrived! Eddie and Lori are the protagonists of this new game. In this game, the two will transform and renovate an entire island with many amazing stories being told. At the same time, you can enjoy a classic card game, exercise your brain and become smarter.
Game Features :
Build and Renovate: Create the island of your dream!
Classic Card Game: Kill the boring time while keeping your mind sharp!
Interesting Stories: With a unique and fun storyline, this game will keep you interested in the long and short term.
Dress Ups: The characters no longer need to wear the same boring outfits, mix and match the way you want!
Cute Pets: Whether you like dogs or cats, this game has all the cute pets you love!
Lori and Eddie meets in a villa on Solitaire Home Design. Being two complete strangers, why did they decide to live together? And Why did they start renovating the island? And what happens to their relationship over time? The answers are waiting for you in Solitaire Home Design. So download the game and enjoy!
Solitaire Home Design is a free-to-play game with in-app purchases for a more exciting experience. We hope the items you purchased can help you in the most crucial time!
We love to hear your feedbacks or suggestions, so please send them to our email at the following
Email:dreamislandoffical[at]gmail.com
Or follow our Facebook page to share your experiences with Solitaire Home Design
www.facebook.com/disolitaire/
Additional Information :
Size 772.6 MB
Requires iOS 11.0 or later.
User Reviews :
Getting there, but still some frustrating points
It's awesome that whoever works on this game really seems to take reviews into account. It's definitely hit some frustrating patches, which eventually seem to get, more or less, addressed. So the game remains fun, and investing real money remains an option for helping finish challenges, rather than a necessity for anyone wanting to play more than a few hands a day. Recently, however (or perhaps it's always been an issue and finishing the treehouse early on postponed it), advancing the storyline has required engaging the hearted storylines. The other options provided (clothing and furniture) simply aren't sufficient. The storylines now come with a warning of adult content, which is great, but there is no option to forego this while still gaining experience. I would happily pay the necessary coins and clovers to bypass these add on stories, which generally leave me feeling a bit disgusted, or flat-out ruin the main story line, or both. It's almost as if they're there for a sordid sort of shock value, except not everyone wants a solitaire game that feels like furniture meets Fifty Shades of Gray. Making these truly optional (even if the clover payment portion wasn't) would be nice, or else the game as a whole should come with the adult content disclaimer, so people can decide if they want solitaire and digital furniture, or something a bit racier.
New update ruined this game

I have been playing this game religiously every day for a few weeks. I absolutely love this game which is why I gave it four stars and I would have given it five if the new update didn't mess everything up. You claim the new update made it easier to beat levels but I can't seem to beat levels for the most part anymore. Before the update I was doing awesome and having fun. Now it all just feels frustrating for me. Plus you changed the free tickets and the way you use them. Instead of being able to pay with them for a free round, you give a "discount" on the amount of coins you use to play instead. You used to also be able to use multiple free tickets but now you can only use one at a time. When I can't play because I'm losing all my coins, it's really disappointing. I liked the structure of the game the way it was before you just recently changed it. I don't expect to win all the time but I at least expect to win sometimes but that is no longer happening. Just disappointing because I've actually spent real money on this game before and after the update. Like I said, I was having fun before but now I feel like I'm just getting ripped off. It's too bad because this game is really fun
Developer Response  
Hello, We are constantly adjusting the difficulty of the levels to balance the difficulty level of the game, thank you for your feedback. We will give honest feedback to developers.

We will take your suggestions into consideration when developing the game further. Have a nice day!
Get Solitaire Home Design from App Store
Leave your feedback regarding Solitaire Home Design
Bitcoin
Ethereum
MetaMask (ETH)
Xrp
Polkadot
Binance coin
Stellar
Dogecoin
Tron
Elrond
Donate Bitcoin to this address
Scan the QR code or copy the address below into your wallet to send some Bitcoin
Donate Ethereum to this address
Scan the QR code or copy the address below into your wallet to send some Ethereum
Donate Xrp to this address
Scan the QR code or copy the address below into your wallet to send some Xrp
Donate Polkadot to this address
Scan the QR code or copy the address below into your wallet to send some Polkadot
Donate Binance coin to this address
Scan the QR code or copy the address below into your wallet to send some Binance coin
Donate Stellar to this address
Scan the QR code or copy the address below into your wallet to send some Stellar
Donate Dogecoin to this address
Scan the QR code or copy the address below into your wallet to send some Dogecoin
Donate Tron to this address
Scan the QR code or copy the address below into your wallet to send some Tron
Donate Elrond to this address
Scan the QR code or copy the address below into your wallet to send some Elrond