(Game) Spider Solitaire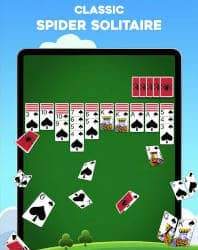 Game Description :
Spider Solitaire is one of the most popular card games in the world! Now available to play free for iPad or iPhone from MobilityWare, the ORIGINAL maker of Spider Solitaire with Daily Challenges. This game is sometimes called Spiderette or Spiderwort, but it's always a challenge that will puzzle your brain for hours of endless fun!
How to Play
Place all the cards in each suit in stacks of descending order. Weave your way as a beginner through 1 and 2 suit games and move up in difficulty as you attempt to tackle 3 and 4 suit games and become a true Spider Solitaire master!
Spider Solitaire has the same high standards and polished gameplay you've come to expect from the makers of the #1 free Solitaire game! Download now, and relive the familiar card game you know and love with the best Spider Solitaire in the app store.
Game Features :
ALL NEW: Progress through new levels and earn titles along the way
Daily Challenges with festive calendar themes for each month
Playful animations to celebrate your wins
Winning Deals that guarantee at least one winning solution
Change the look of your cards and background for a customized experience
Easy tap to move interactions for quick gameplay
More Features
Are you a power player? Here are some more features you'll love:
Customize settings to suit your taste
Adjust difficulty with 1-4 suit games
Use the Unrestricted Deal setting to deal new cards, even with empty slots
Unlimited undo option
Adjust how you see hints
Track your statistics, like Games Won, Average Time, and Winning Streaks
Right hand or left hand play
Landscape or portrait view
More Fun Card Games from MobilityWare
Solitaire, also known as Klondike or Patience
Freecell
Pyramid Solitaire
Crown Solitaire
Tripeaks Solitaire
Spider Go Solitaire
Castle Solitaire
Destination Solitaire
Blackjack casino game
EXCLUSIVE FEATURES WITH SUBSCRIPTION SERVICE
NO Ad interruptions or Banners!
Ability to play future Daily Challenges!
Four Exclusive Themes with Four Gorgeous Card Sets!
About Spider Solitaire Subscription
Spider Solitaire Subscription is an optional subscription that gives you access to seamless play without any ads, the ability to play future Daily Challenges and exclusive themes.
You can subscribe to Spider Solitaire for a term of one month, three months or for one year. New subscribers can choose a one-week trial subscription at no cost. The monthly term costs US$1.99. The three-month term costs US$4.99. The yearly term costs US$14.99. The subscriber's iTunes Account will be charged when the purchase is confirmed. Any unused portion of a free trial period is forfeited when a subscription is purchased.
Subscriptions renew automatically unless automatic renewal is turned off at least 24 hours before the end of the current term. Renewal prices are US$1.99 per month, US$4.99 per every three months, or US$14.99 per year. The subscriber's iTunes Account will be charged for a renewal in the last 24 hours of the current period. Purchasers can manage their subscription and turn off automatic renewal in their Account Settings.
Subscriptions may be stopped by turning off automatic renewal at least 24 hours before the end of the current period. A subscription cannot be cancelled in the middle of its term.
Please see our privacy policy at mobilityware.com/privacy-policy.php
Please see our Terms of Service at mobilityware.com/eula.php
Questions or comments? We want to know! Email us at support[at]mobilityware.com.
Spider Solitaire is created and supported by MobilityWare.
Additional Information :
Size 203.3 MB
Requires iOS 11.0 or later.
User reviews :
I LOVE this game but . . .
I have played this game for ever! It relaxes me. It's a great game. I give it five stars. But, there are two problems that make it extremely difficult to enjoy. The first is the ads. Not because there are ads. I get it (well, kind of), but I do. I don't have a problem with them. Until recently. With the new ads there are almost always at least 3 different pages we're having to X out of the ad. Why – why do we have to X out that many times for JUST ONE AD? That's not the worst part. The worst is that you can never get the X to work. It brings you back to a different screen and you have to play this game until finally it will work and let you out. REALLY? Are you kidding me? This game is played for fun and especially relaxation. This situation is NOT at all relaxing! Please change the ads or get different ads so we don't have to deal with this. The other is that I there are so many times where I get the same game – same cards, over and over. Sometimes is a different game in between but then that one will repeat. It's a loop it doesn't seem to get out of. It doesn't last forever but it can happen for quite a while. I'd love it if you could really try and figure out these issues. I will delete this if it is not fixed or changed. It's just not worth the aggravation when I need to sleep. Id rather not though. I thank you for the game and your time.
Developer Response ,
Hi there, thanks for reaching out! We're happy to help! I'm sorry that you've encountered misbehaving ads. Our team needs some info about your device to help. Please use this link  mobilityware.helpshift.com/a/spider/ to Contact Us with your ID MW-65651 so our team can help. We look forward to hearing from you!
Fun game
Like many of the other MobilityWare card games you can play the Daily Challenge to get a crown and they recently added daily tasks which are fun. Fun card game. But as a SUGGESTION TO THE DEVELOPERS what I would really love to see is being able to get the Daily Crown for all 4 versions of the daily challenge. That is if you select 1, 2, 3, or 4 suits under options it will give you a daily challenge with that many suits. So there are actually 4 different Daily challenges each day depending on how many suits you have chosen as your default, but you can only win the crown once per day, so you have to choose one and play it. But it would be fun to get a double, triple or quadruple crown depending on if you could defeat all the suit choices in one day (that is play the one suit daily challenge game get a crown, now switch under options to two suits, play the daily challenge in two suits and get that crown and so on.) I just think it would be a fun challenge – how many of us could get defeat all 4 for one day?
Developer Response ,
Hi there, thanks for the review. We appreciate your suggestion regarding the Daily Challenge! We're also happy to hear that you're continuing to enjoy our app. If you have any questions or feedback, please Contact Us. Thanks for playing!
Love it or leave it?
Have been a subscriber for years and really enjoyed it, but now I think it's time to go. This game has been "improved" until it is no longer a solitary card game but a team sport all about competition and record keeping. Going back to an actual deck of cards, with no bells or whistles. Won't be as convenient as picking up my iPad or phone on a whim, but will certainly be more relaxing and more de stressing. I used to get so angry when someone would walk past and stop to say "there, put the red 3 on the black 4". Solitaire is meant to allow your brain to turn off, step out of the rat race, contemplate, and do some free thinking. No interruptions and no pressure. That has all been lost here. Too many new employees coming in trying to prove their worth by "keeping things fresh", adding something new to make your game stand out.

I don't understand why that is the way things are being done by this generation. When you have the perfect, tried and true basic game, just keep the bugs out and your hands off. If you want to appeal to a younger or different market, either after an option to upgrade or develop a new game and give it a new name. Just leave the original one alone, working in perfect condition. You would then have captured the whole market and not just be competing with everyone else for the loudest most active crowd of the moment.
Developer Response ,
I am sorry to learn that your experience hasn't been absolutely perfect recently. We're always open to suggestions to help us improve. Please don't hesitate to use this link  mobilityware.helpshift.com/a/spider/ to Contact Us with more details about how we could make your experience better! Thanks for giving our game a try!
Get Spider Solitaire from App Store
What is your opinion about Spider Solitaire
Bitcoin
Ethereum
MetaMask (ETH)
Xrp
Polkadot
Binance coin
Stellar
Dogecoin
Tron
Elrond
Donate Bitcoin to this address
Scan the QR code or copy the address below into your wallet to send some Bitcoin
Donate Ethereum to this address
Scan the QR code or copy the address below into your wallet to send some Ethereum
Donate Xrp to this address
Scan the QR code or copy the address below into your wallet to send some Xrp
Donate Polkadot to this address
Scan the QR code or copy the address below into your wallet to send some Polkadot
Donate Binance coin to this address
Scan the QR code or copy the address below into your wallet to send some Binance coin
Donate Stellar to this address
Scan the QR code or copy the address below into your wallet to send some Stellar
Donate Dogecoin to this address
Scan the QR code or copy the address below into your wallet to send some Dogecoin
Donate Tron to this address
Scan the QR code or copy the address below into your wallet to send some Tron
Donate Elrond to this address
Scan the QR code or copy the address below into your wallet to send some Elrond