Hello Kitty Happiness Parade game by Netflix, Inc.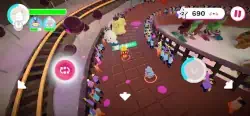 Game Description :
Available exclusively for Netflix members.
Create a grand spectacle with Hello Kitty and friends. Make new allies and lean on your abilities to avoid traps that can rain on your parade!
Play as Hello Kitty as you and two friends start a tour through a fantasy world to bring joy to its citizens. Along the way, you'll find new friends to join you – the more the merrier as the festivities grow.
But beware of Kuromi! She's jealous of your many fans and wants the parade to fail. She's banded together with Nyanmi, who's built an army of mechanical underlings to help them with their work. They've set traps to ruin all of your hard work.
Harness your abilities and the power of friendship to convince everyone – even Kuromi – to join the fun. Dance on, despite the pitfalls, to keep the party going!
Game Features :
Play as Hello Kitty and her closest friends, who all have unique dancing abilities.
Follow the beat of dozens of unforgettable tracks.
Continue playing to experience different levels and unlock new characters.
Immerse yourself in colorful 3D worlds and funny dance animations.
From Dabadu Games and Rogue Games.
Additional Information :
Age Rating 4+
Size 593.2 MB
Requires iOS 15.0 or later.
User Reviews :
Hard to play
There is nothing wrong with this game I love hello kitty. At first I didn't know it was a rhythm game. When I found out it was I was super excited. I love Sanrio (Hello Kitty) and rhythm games. I honestly thought this game was going to be something like Beat Saber or OSU!. It's very hard to control the characters even when you play for awhile and try to get the hang of it you just get mad when you mess up. I understand that Netflix thought this game would be somewhat else but it's truly not. I'm not saying you shouldn't download this game but it's very difficult and make sure you aren't someone like me who gets mad easily when messing up games.
I love this game BUT
I really enjoy playing this game , BUT… there are some glitches that should be considered fixing for the consumer who pays $16 a month just to play this game via nextlix. First , I see there was an "update" two weeks ago only adding two more characters which is fine, but the tapping response(sensitivity sensory) sometimes lags which causes the character(s) to run into an obstacle thus losing power until they conk out. Secondly, once you reach kuromi's level and SUCCESSFULLY pass/win the level , the story ending NEVER loads, and you end up having to start all over not knowing of any unlocked characters that were achieved after maintaining and passing said level. I initially left a review regarding this app before with a positive update, but it just seems like the quality of this game keeps getting a bit worse. Nonetheless, I continue to play because I do enjoy playing when it does its best to TRY and work correctly. Please consider the consumers reviews and concerns. Otherwise, I'm afraid $16 a month will have to stop. Update : in fact , since writing my review , I've learned that all of the endings don't update anymore. I hope this is fixed soon  Even after the two week update , endings still don't load. I wish the developers would try the game out to see the MANY glitches. It's been almost three – four months since this game launched and it's still highly faulty
Worth it
I love this game, it was difficult to get the hang of at first, but there's two modes to play in. Normal mode, you tap the screen to the beat, as well as move the characters, and use their abilities. The other mode is for you to "relax" while playing. I play this mode, and it takes me about 10 minutes to run through all stages to get to the end. I've beat the game, but I still play because the songs are very uplifting, you can change your characters outfits, it has sensory mode, and you can turn it off. I plan on showing it to my niece when we see each other next. It'll be her first introduction to Sanrio
Get Hello Kitty Happiness Parade from App Store
What is your opinion about Hello Kitty Happiness Parade
Bitcoin
Ethereum
MetaMask (ETH)
Xrp
Polkadot
Binance coin
Stellar
Dogecoin
Tron
Elrond
Donate Bitcoin to this address
Scan the QR code or copy the address below into your wallet to send some Bitcoin
Donate Ethereum to this address
Scan the QR code or copy the address below into your wallet to send some Ethereum
Donate Xrp to this address
Scan the QR code or copy the address below into your wallet to send some Xrp
Donate Polkadot to this address
Scan the QR code or copy the address below into your wallet to send some Polkadot
Donate Binance coin to this address
Scan the QR code or copy the address below into your wallet to send some Binance coin
Donate Stellar to this address
Scan the QR code or copy the address below into your wallet to send some Stellar
Donate Dogecoin to this address
Scan the QR code or copy the address below into your wallet to send some Dogecoin
Donate Tron to this address
Scan the QR code or copy the address below into your wallet to send some Tron
Donate Elrond to this address
Scan the QR code or copy the address below into your wallet to send some Elrond