Hay Day game by Supercell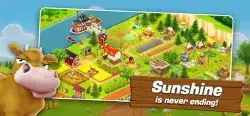 Game Description :
Welcome to Hay Day. Build a farm, fish, raise animals, and explore the Valley. Farm, decorate, and customize your own slice of country paradise.
Farming has never been easier or more fun! Crops like wheat and corn are ready to be grown and even though it never rains, they will never die. Harvest and replant seeds to multiply your crops, then make goods to sell. Welcome animals like chickens, pigs, and cows to your farm as you expand and grow! Feed your animals to produce eggs, bacon, dairy, and more to trade with neighbors or fill delivery truck orders for coins.
Build a farm and expand it to its fullest potential, from a small-town farm to a full-blown business. Farm production buildings like Bakery, BBQ Grill or Sugar Mill will expand your business to sell more goods. Build a Sewing Machine and Loom to create cute outfits or a Cake Oven to bake delicious cakes. The opportunities are endless on your dream farm!
Customize your farm and decorate it with a wide variety of items. Enhance your farmhouse, barn, truck, and roadside shop with customizations. Decorate your farm with items like a panda statue, a birthday cake, and instruments like harps, tubas, cellos, and more! Decorate with special items – like flowers to attract butterflies – to make your farm more beautiful. Build a farm that shows off your style and inspires your friends!
Trade and sell items in this farming simulator by truck or steamboat. Trade crops, fresh goods, and resources to in-game characters. Swap goods to gain experience and coins. Level up to unlock your own Roadside Shop, where you can sell more goods and crops.
Expand your farming experience and play with friends in the Valley. Join a neighborhood or create your own and play with a group of up to 30 players. Exchange tips and help each other create amazing farms!
Download today and build the Best. Farm. Ever!
Game Features :
Build a Farm:
Farming is easy, get plots, grow crops, harvest and repeat!
Customize your family farm to be your own slice of paradise
Enhance your farm with production buildings like a bakery, feed mill, and sugar mill
Crops to Harvest & Grow:
Crops like wheat and corn will never die
Harvest seeds and replant to multiply, or use crops like wheat to make bread
Animals:
Quirky animals are waiting to be added to your farm!
Chickens, horses, cows, and more are waiting to join your farm
Pets like puppies, kittens, and bunnies can be added to your family farm
Places to Visit:
Fishing Lake: Repair your dock and cast your lure to fish the waters
Town: Repair the train station and go to town to fulfill town visitors' orders
Valley: Play with friends in different seasons and events
Play with Friends and Neighbors:
Start your neighborhood and welcome visitors!
Trade crops and fresh goods with neighbors in-game
Share tips with friends and help them complete trades
Compete in weekly derby events with your neighbors and win rewards!
Trading Game:
Trade crops, fresh goods, and resources with the delivery truck or even by steamboat
Sell items through your own Roadside Shop
Trading game meets farming simulator
Download now and build your dream farm!
Neighbor, are you having problems?
Visit supercell.helpshift.com/a/hay-day/?l=en or contact us in-game by going to Settings > Help and Support.
Under our Terms of Services and Privacy Policy, Hay Day is allowed for download and play only for persons 13 years or over of age.
PLEASE NOTE! Hay Day is free to download and install. However, some game items can also be purchased for real money. If you do not want to use this feature, please disable in-app purchases in your iOS device's settings. A network connection is also required.
Privacy Policy:
www.supercell.net/privacy-policy/
Terms of Service:
www.supercell.net/terms-of-service/
Parent's Guide:
www.supercell.net/parents/
Additional Information :
Size 214.6 MB
Requires iOS 11.0 or later.
User Reviews :
Best farm game ever
This game is the best game ever I love farming on this game it's obviously you have to try it It is better than any game I've ever found someone to my friend came over and she was on my iPad and she wanted to play this so I made her download it and now she's playing it every day when we come over it is the best you know that's one thing that you should add actually I was kidding there's nothing need to add you can decorate your farm you can plant trees and you can level up and you get animals chickens goats and pigs and much more so that means I'm never deleting this game you can just sell stuff on the roadside shop and you could name your farm and when you get this house you can ask your stuff and people give it to you and you can level up did I already say that but anyway you have to try this out you don't love it better than anything do you have to download this game is my brother plays and we love buying stuff from each other do you have a lower level than me but I'm sure he's getting a high-level you're my big brother loves it he's a higher level he's got all sheep he's got cows and also chickens you can also make food for your animals and you can get to food processors but you need ingredients and you can also plant crops like a real farm it is exactly like a real fun people can come visit your farm and buy the stuff that you sold on the roadside shop and also tell all your friends about this.
Great game, a couple suggestions
I LOVE THIS GAME!!!! It's awesome. But I do have a couple suggestions. First, I think there should be two newspapers. One for products, and one for helping. You should be able to filter levels and types of helping tasks. For example, if you are at a low level you should be able to click a certain level maximum. Because at level 19, it's really hard to find help tasks you can complete. You could disable this during derbies with help tasks if you want. Second, you should be able to earn more things with coins. For example, for every milestone in your roadside shop you should get a new box. So like 5,000 coins made you get a box and then 10,000 coins made and then 25,000 and so on. It's hard to get diamonds without purchasing them so if you could get more things with coins that would be good. Lastly, I think that you should be able to give cats and dogs treats. For dogs, there should be a way to get bones. Maybe when you open chests there's like a ten percent chance. For cats you should be able to get actual fish, so like with fishing maybe there's a ten percent chance you get a whole fish. And they should be rare so when you give it to a pet you get like 5 diamond or 1000 xp or something. I hope you consider my suggestions!!!!
Get Hay Day from App Store
What is your opinion about Hay Day
Bitcoin
Ethereum
MetaMask (ETH)
Xrp
Polkadot
Binance coin
Stellar
Dogecoin
Tron
Elrond
Donate Bitcoin to this address
Scan the QR code or copy the address below into your wallet to send some Bitcoin
Donate Ethereum to this address
Scan the QR code or copy the address below into your wallet to send some Ethereum
Donate Xrp to this address
Scan the QR code or copy the address below into your wallet to send some Xrp
Donate Polkadot to this address
Scan the QR code or copy the address below into your wallet to send some Polkadot
Donate Binance coin to this address
Scan the QR code or copy the address below into your wallet to send some Binance coin
Donate Stellar to this address
Scan the QR code or copy the address below into your wallet to send some Stellar
Donate Dogecoin to this address
Scan the QR code or copy the address below into your wallet to send some Dogecoin
Donate Tron to this address
Scan the QR code or copy the address below into your wallet to send some Tron
Donate Elrond to this address
Scan the QR code or copy the address below into your wallet to send some Elrond