Hatch Sleep app by Hatch Baby, Inc.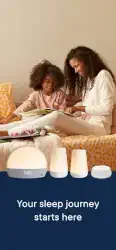 App Description :
Make space for rest in your life. The Hatch Sleep app makes it easy to get the most out of the Hatch family of products: Restore, Rest Mini, Rest, and Rest+.
App Features :
With Hatch Restore, a good night's sleep — for anyone — is easier than ever. This all-in-one device packs all the features you need for the perfect night's sleep, including:
Personal sleep routine. Customize how you fall asleep, stay asleep, and wake up.
Lights & sounds. Explore the library of soothing sounds and lights to create a mood any time.
Sunset. Signal to your brain that it's time to unwind by adding a sunset to your bedtime routine.
Sunrise alarm. Gently wake up to your own sunrise, with light that gradually brightens before your alarm sounds.
The perfect reading light, every time. Make it bright enough to read by or dim enough not to wake a partner. And with no blue light in sight.
Wind down for bed with Channels—curated playlists of music, dreamscapes, guided rest exercises, and sleep stories.
Dreamy sleep sounds. From white noise to water to wind, discover what helps you sleep best with a variety of audio options only with Restore.
Rest Mini is the tiniest member of the Hatch Rest family. This dreamy little smart sound machine helps you fall asleep and stay asleep.
Features include:
8 soothing sounds: White Noise, Ocean, Rain, Water, Wind, Birds, Dryer, Heartbeat.
Control via app. Control sounds, timer & volume from the other room.
Custom timer. Set sounds to play for any custom duration, for minutes or hours.
Easy-touch controls. Play, stop, skip, or adjust volume with simple touch controls on the device.
Rest is the original Hatch smart sleep device that parents love. Features include:
Customizable Nightlight Light library features 10 presets and an in-app color wheel to dial in infinite colors.
11 Soothing Sounds
Time-to-rise program that helps indicate when it's ok to wake in the morning.
Rest+ includes all of the essential sleep features on Rest plus:
Built-in audio monitor and easy-to-read clock.
Wi-Fi connectivity, Alexa compatibility, and back-up battery that lasts up to 8 hours.
Subscription pricing and terms:
Hatch Sleep Membership on Restore
Available with the Hatch Sleep Membership on Restore, Channels are full of regularly updated playlists of dreamscapes, guided rest exercises, sleep stories and more that are specifically designed for a smooth and easy transition into sleep.
Hatch Restore offers auto-renewing subscriptions. This will continue to give you unlimited access to Hatch Sleep Membership content while you maintain an active subscription. Cancel anytime.
Hatch Sleep Membership on Rest Mini
The Hatch Sleep Membership available on Rest Mini includes a content library full of regularly updated playlists of bedtime stories, lullabies, breathing exercises, & more that are specifically designed for a smooth and easy transition into sleep.
Rest Mini offers an auto-renewing monthly subscription at $9.99/month. This will continue to give you unlimited access to Hatch Premium content while you maintain an active subscription.
Payment will be charged to the credit card connected to your App Store Account. Your subscription will automatically renew and the credit card connected to your App Store Account will be charged at the subscription frequency you choose unless you decide to cancel at least 24 hours prior to your renewal date. You may manage your subscription, and auto-renewal may be turned off by going to your Account Settings after the purchase. Any unused portion of a free trial period, if offered, will be forfeited when you purchase a subscription, where applicable.
Read more about our terms and conditions:
Terms of service: www.hatch.co/terms
Privacy policy: www.hatch.co/privacy-policy
Need help with your device? Contact us with any feedback or comments at hatch.co/support. Learn more about Hatch products at hatch.co.
Additional Information :
Size 500.8 MB
Requires iOS 14.0 or later.
User Reviews :
Updates Review: App update fixed previous complaint
Update: I wanted to update that I am again loving the app again. They now have an auto connect option that lets you default to the device you last connected to and bypasses the irritating additional screen a previous update added. I very much appreciate them addressing this issue. As my kiddo is getting older I've started using some of the ok to wake features and those are working great. I like how I can have multiple programs and try and nudge an extra 15 minutes of sleep out of her on the weekends. It doesn't always work but that's the kid not the device.

After the recent update you now have to start at the "looking for devices" screen every time. I was already lukewarm on the device because it takes a bit to connect EVERY SINGLE TIME even if you just used the app a moment ago and accidentally closed it, but ultimately liked it for the range of sounds and my plan to use it as an "okay to wake" clock in the future.

Their new + model is supposed to fix connection issue but that doesn't help those of us with an existing model. Now their new update makes the user experience worse for existing customers. In the middle of the night, when you're sleep deprived, now you have to take longer and click through an additional screen to access the app. I can't recommend this to anybody if they don't care about the user experience for existing customer.
Developer Response,
Hi there,

So glad to hear that you are enjoying the app again! We always love hearing how we can improve, so don't hesitate to reach out to us at review[at]hatch.co if we can answer any other questions for you.

-The Hatch Team
Incredibly useful but I have one gripe
I hate to give this less than 5 stars because my wife and I absolutely find this to be critical in our bedtime routine. So much so that we bought a 2nd one for sleeping the baby in another room of the house as well. However, in our use case, all we do is the washing machine sound and our "favorites" programmed in are all 5% sound increments with 0% light and we tap the ring to go up 5% at a time as baby gets sleepier and sleepier. In the app, each favorite is represented by a different color of the rainbow. Red-10% Orange 15% yellow 20% and so on (ROYGBV). The thing that is anooying to us, is that if you adjust volume or the light up or down in the app, the % number ops up and then disappears when you're done adjusting. For….. I guess aesthetic reasons? Why don't the numbers display all the time? This is also true for the favorites editing screen. If I'm setting up a favorite and I want 30% brightness and 43% sound, I'd like to just glance at the edit screen and see if it's setup right. I see absolutely zero benefit in having that percentage read out "disappear". Very odd app programming choice. If the app creators and users like it this way, why not create a "settings" page to toggle this on or off?
Get Hatch Sleep from App Store
What is your opinion about Hatch Sleep
Bitcoin
Ethereum
MetaMask (ETH)
Xrp
Polkadot
Binance coin
Stellar
Dogecoin
Tron
Elrond
Donate Bitcoin to this address
Scan the QR code or copy the address below into your wallet to send some Bitcoin
Donate Ethereum to this address
Scan the QR code or copy the address below into your wallet to send some Ethereum
Donate Xrp to this address
Scan the QR code or copy the address below into your wallet to send some Xrp
Donate Polkadot to this address
Scan the QR code or copy the address below into your wallet to send some Polkadot
Donate Binance coin to this address
Scan the QR code or copy the address below into your wallet to send some Binance coin
Donate Stellar to this address
Scan the QR code or copy the address below into your wallet to send some Stellar
Donate Dogecoin to this address
Scan the QR code or copy the address below into your wallet to send some Dogecoin
Donate Tron to this address
Scan the QR code or copy the address below into your wallet to send some Tron
Donate Elrond to this address
Scan the QR code or copy the address below into your wallet to send some Elrond