Gold and Goblins game by AppQuantum Publishing Ltd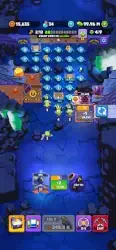 Game Description :
Idle, Merge Goblins, Puzzle through Mines and have a Magical Adventure!
BUILD mine shafts and goblin cannons to help the Goblins rebuild their fortune
MERGE goblins to power them up
MINE rocks to find treasure and gold
UNLOCK new mine shafts to boost your gold income
EXPLORE tons of mines in this amazing 3D miner simulator
COLLECT cards and upgrade your mine shafts and goblins. There are tons of cards and special abilities to find.
Gold and Goblins brings the best of both Idle and Merging games into one amazing new experience! Merge your Goblins, mine away rocks and collect gold and treasures to help the Goblins get their mines back to their former glory.
Tap to collect Gold, get Rich and explore caves full of Magic and Wonder in this 3D simulation game. Play in limited timed events and earn amazing rewards.
Game Features :
Collect idle gold, even when offline
Over 100 unique mines to explore
Complete in limited time events against other players
Collect all kinds of cards upgrades to boost gold income and get stronger goblins
Beautiful 3D environments to explore
Merge gameplay mechanics to become even more powerful
One of the most polished games on the store
Like Gold & Goblins on Facebook!
www.facebook.com/GoldGoblins
Twitter
twitter.com/GoldGoblins
Discord
discord.gg/jYz7tvvD6U
Reddit
www.reddit.com/r/GoldAndGoblins/
Any problems or suggestions?
Feel free to send a message to appquantum.com/support/
We are always happy to receive our players' feedback!
Additional Information :
Size 200.9 MB
Requires iOS 11.0 or later.
User Reviews :
Great Game, just one suggestion
I have always loved idle games. They are great when you are waiting for your girlfriend/wife to shop at Target, or waiting at the doctors office. The mini event mines before the big event mines are perfect. The only suggestion I have, if at all possible, like other idle games would be to have the goblins move through the mine by themselves when you are not in the actual game. I know they move to the stone directly next to them, but would it be at all possible to have them advance up the mine by themselves. Whenever I come back into the game after being a way a bit I see them standing around having a smoke break. I even if you have to make the mines a tad bit bigger to make up for the movement, it would be greatly appreciated. Amazing game otherwise, and please keep up all the wonderful updates.
Developer Response,
Thank you for your lovely idea! Our team will consider it!
Great time waster
I noticed lots of reviews saying it's a pointless game, and they're right, but it's still amusing and well-designed. My favorite part is that YOU DON'T HAVE TO WATCH ADS OR FEEL LIKE YOU NEED TO SPEND MONEY!!

That's so refreshing these days. Sure, if you want to progress faster, watch some ads, but since the game is basically pointless anyway, I only watch them during the events. And hey, if you want to give the devs a few bucks every now and again during the events, you can place higher and get more rewards, which will help you go faster in the day-to-day levels. But again, there's really no need to rush through the levels, it's not like you win some weekend getaway for two to the Bahamas or something.

It's just mindless entertainment when you don't really want to think too much. And, it's funny watching the goblins do their thing. Totally mindless fun when you've had an exhausting day, are tired of watching equally-mindless TV, but still want to be a couch potato for a bit.
Developer Response,
Thank you for the review. Enjoy the game!
Needs a little more
Fun idle game. Almost too idle. Needs more stuff for when you're actually in the app. Money only buys time or random chance upgrades. Would be nice to use gems for something like dynamite packs, or goblin upgrades. Speaking of upgrades, goblins merge but there's not much else to them. You can upgrade a card to strengthen them but that's it. How about something for speeding up mining for a short time, or allowing them to move forward after finishing a rock for a limited number of spaces?

Idle goblins are also useless. With the bottle necks of some levels, having too many goblins of different levels is such a waste. It would be cool to be able to put them working towards a mine to speed it up, or sell them off for gold or elixirs. Last thing, coming back after an extended period of time and having a lot of stuff to pick up can be overwhelming to my pea brain. A button to "pick up all" would be nice.

Game is fun, easy to get into, easy to open up and then close for a few hours. It's an idle game.
Developer Response,
Thanks for the comment! We take all feedback seriously because it helps us make the game better.
Get Gold and Goblins from App Store
What is your opinion about Gold and Goblins
Bitcoin
Ethereum
MetaMask (ETH)
Xrp
Polkadot
Binance coin
Stellar
Dogecoin
Tron
Elrond
Donate Bitcoin to this address
Scan the QR code or copy the address below into your wallet to send some Bitcoin
Donate Ethereum to this address
Scan the QR code or copy the address below into your wallet to send some Ethereum
Donate Xrp to this address
Scan the QR code or copy the address below into your wallet to send some Xrp
Donate Polkadot to this address
Scan the QR code or copy the address below into your wallet to send some Polkadot
Donate Binance coin to this address
Scan the QR code or copy the address below into your wallet to send some Binance coin
Donate Stellar to this address
Scan the QR code or copy the address below into your wallet to send some Stellar
Donate Dogecoin to this address
Scan the QR code or copy the address below into your wallet to send some Dogecoin
Donate Tron to this address
Scan the QR code or copy the address below into your wallet to send some Tron
Donate Elrond to this address
Scan the QR code or copy the address below into your wallet to send some Elrond