Harry Potter – Puzzles & Spells game by Zynga Inc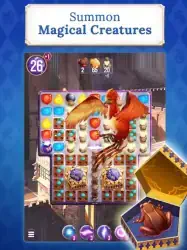 App Description :
It's time to experience the magic and wonder of Harry Potter games like never before!
Prepare to cast spells, outsmart challenges, and celebrate the wonder of the Wizarding World in order to solve incredible magical Match-3 puzzles for your mobile device! Prove your Match-3 skill by beating levels to upgrade and unlock new spells and magic abilities which will aid your quest to conquer more difficult Match-3 puzzles in this Harry Potter game. Get a chance to upgrade your spells as you prepare for the magically mischievous Match-3 challenges ahead in these free puzzle games.
As you progress in your Match-3 adventure, unlock classic moments from the films, including Harry, Ron and Hermione toppling a troll, Fred & George playing pranks, and Hagrid taking care of his magical creatures at Hogwarts! Learn more about the wonders of the Wizarding World and Hogwarts as you collect magical creatures that will aid your Match-3 puzzle solving! So get ready to 'swish and flick' your way to a magical journey of your very own in a whimsical Match-3 game!
App Features :
Solve Match-3 challenges featuring the original Wizarding World characters from the Harry Potter films! Develop your magic skills by progressing through innovative Match-3 puzzle play where you'll master Spells. Enjoy an endless array of Daily Events that continue to delight and surprise even very adept Match-3 puzzle experts as they make their way through matching games for adults.
Level-up Your Abilities: Earn experience points throughout the game to increase your level, unlock rewards and gain magic abilities that assist you in overcoming each new Match-3 puzzle game.
Unlock & Upgrade Spells: Use Spells to beat Match-3 puzzles by obliterating obstacles and removing hazards. For example, cast Wingardium Leviosa to move objects out of your way in these top rated games.
Celebrate the Magic of Harry Potter: As you solve new Match-3 games, celebrate the most memorable moments from the Harry Potter stories in this strategy game. Along the way, the Daily Prophet will keep you up to date with Harry, Ron and Hermione on their epic journey at Hogwarts in this fun game!
Play In Clubs: Games are always more fun with friends! Unite with other players in your club to climb the leaderboard. Taste sweet victory as you work with your Clubmates to win collaborative challenges!
Amass Glorious Collections: As you progress in your tile-match mastery, you'll gain a collection of marvelous Wizarding World creatures that aid you in solving challenging Match-3 puzzles. Beat these puzzles for free to build on your collection and receive a marvelous creature that will deliver benefits that directly assist you as you solve challenging Match-3 puzzles in these fun free games.
Enjoy Daily Events: Take part in fun games and exciting events every day with these awesome Match-3 games! In these free match games, celebrate characters' birthdays, and upgrade spells to experience the best game as you witness a multitude of magical Harry Potter moments! With so many ways to play, you're sure to enjoy Harry Potter: Puzzles & Spells! And as always, you're able to play these games free!
Enjoy top rated free games, match games and other brain games by checking out Zynga games: where the best games are made!
ADDITIONAL DISCLOSURES
For specific information about how Zynga collects and uses personal or other data, please read our privacy policy at www.zynga.com/privacy/policy
Use of this application is governed by the Zynga Terms of Service, found at www.zynga.com/legal/terms-of-service
The game is free to play, however in-app purchases are available for additional content and premium currency.
WIZARDING WORLD, HARRY POTTER Publishing Rights © J.K. Rowling. HARRY POTTER: PUZZLES & SPELLS, PORTKEY GAMES, WIZARDING WORLD and HARRY POTTER characters, names and related indicia © and ™ Warner Bros. Entertainment Inc. (s22) © and ™ Zynga Inc. All Rights Reserved.
Additional Information :
Size 227.4 MB
Requires iOS 11.0 or later.
User Reviews :
Harry Potter Pranks and Irritation
So, I have been playing this game for at least 6 months and spent too much money on it for sure, but overall have enjoyed it. That is until they came up with a new feature: for a couple of days at a time, your puzzle wins earn you points to be able to play pranks on other teams. After the first prank event, my team just felt an annoyance from having other teams prank our team every few hours. How irritating. Someone in game development must have decided that the prank event was the best idea ever because suddenly there is a prank event every week. However, the other fun features like the card collecting and new levels have slowed down dramatically. I would like to express to the developers that prank events are annoying because they pit all of the teams against each other. And deciding to have prank events be the only interesting thing or event is just plain lazy. There are loads of different things that could be done, secret items hidden in games, duels, rewards. I always learned as a teacher and parent that punishment doesn't motivate, positive reinforcement does. Why not try to add a reward event not a punishment one like the prank events?
Developer Response,
Hi. We constantly update the game to make it better and we appreciate your feedback and suggestion. Thank you for sharing your insights.
Love the game but going broke playing it
First I have to say I absolutely love this game! It's challenging and creative and the graphics are phenomenal. But here comes the sad reality of this game and why I finally had to review it and only give 3 stars…lately all I do is shell out A LOT of money to play with nothing in return. There are no more magical creatures yet I still earn stars for them. Give me coin instead. Stop being so greedy! You can barley play multiple games without having to shell out money to finish every single time. Maybe I finish one in every 20 without having to pay to finish. And it gets frustrating because at my level I shouldn't have to be doing that. It's also shady when you have spent a lot of coin to try and finish a game yet that one lightning bolt or color gem you need to win is suddenly moved out of place. Its becoming less and less "fun" and more like a bad habit I need an intervention for.

But the pranks are the absolute worst! I can't stand them. Please please please don't bring them back. Ever!

I'd love to give you more stars and I feel 3 is being generous and that's is because it is a great game. And I understand the monetary aspect of these, I don't have my head in the sand about that. At all! But when you have to spend over $50 to finish a game or 2 EVERY DAY that's taking it to far. As with most of Zynga's games I've played I'm finding greed is eventually outweighing the fun and I have to stop playing them all together.
Get Harry Potter from App Store
What is your opinion about Harry Potter
Bitcoin
Ethereum
MetaMask (ETH)
Xrp
Polkadot
Binance coin
Stellar
Dogecoin
Tron
Elrond
Donate Bitcoin to this address
Scan the QR code or copy the address below into your wallet to send some Bitcoin
Donate Ethereum to this address
Scan the QR code or copy the address below into your wallet to send some Ethereum
Donate Xrp to this address
Scan the QR code or copy the address below into your wallet to send some Xrp
Donate Polkadot to this address
Scan the QR code or copy the address below into your wallet to send some Polkadot
Donate Binance coin to this address
Scan the QR code or copy the address below into your wallet to send some Binance coin
Donate Stellar to this address
Scan the QR code or copy the address below into your wallet to send some Stellar
Donate Dogecoin to this address
Scan the QR code or copy the address below into your wallet to send some Dogecoin
Donate Tron to this address
Scan the QR code or copy the address below into your wallet to send some Tron
Donate Elrond to this address
Scan the QR code or copy the address below into your wallet to send some Elrond