(Game) Happy Color – Paint by Number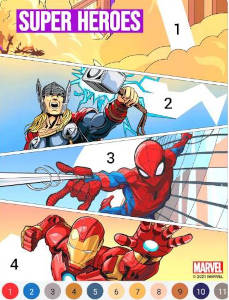 Game Description :
EXCLUSIVE PICS!
Color your favorite pictures and discover the new DISNEY category!
Happy Color® is a color by number game for adults. There are so many breathtaking and inspiring pictures to color!
Game Features :
All 15000 of them are free. In our coloring book we have more than 15 categories, such as:
Animals. Just find the cutest buddy you want to color;
Places. Find pictures of the real places and unique buildings beautifully painted in our coloring book;
Hobbies like sports, music, board games, puzzles and other coloring pages;
Flowers. The most beautiful and exotic flowers are already painted.
And this is only a small part of the pictures we have in Happy Color. Open the game and you will find people, mosaic, mandala, horoscopes, fantasy, art and many more pictures.
Coloring has never been so easy, all pictures are marked by numbers. Open your color by number book and rediscover the simple relaxation and joy of coloring. Paint and share your favorite adult coloring pages with friends and family, let everyone see your fantastic coloring pages!
Color your life with our adult coloring book Happy Color!
We are constantly working to make our coloring book better, please, share your feedbacks: support.happycolor[at]x-flow.app
Join our Facebook community and enjoy more pics every day:https://mobile.facebook.com/happycolorbynumber/
Terms of Use: xflowgames.com/terms-of-use.html
Privacy Policy: xflowgames.com/privacy-policy.html
Happy Color has a lot of unique pictures hand drawn by professional artists, as well as pics of famous characters, comics, cartoons etc. owned by well-known studios.
Marvel (© 2021 MARVEL)
DISNEY (© 2021 DISNEY)
Warner Bros (© 2021 WBEI)
Additional Information :
Size 239.1 MB
Requires iOS 10.0 or later.
User Reviews :
Best app ever !!!!!
I love this game . It is really cool that you added the blend feature to some pictures . There are so many different pictures and categories to choose from . It is so relaxing. I also love how you add new pictures everyday . That way the fun never stops ! I love the people . There are girls and boys and some pictures even

have both ! There are a bunch of different styles in each category .

Also there are awards you can get ! You can get an award for coloring 50 flower pictures or color 5 pictures a day . They also give you free hints . That way if you don't know where to color , it tells you ! You will eventually run out if hints , but you can just watch an ad . Also sometimes they will offer you 2 hints , if you watch one ad ! It is very relaxing . It calms me down and clears my mind . I am always stressed all the time . Whenever I am stressed I play this game and it immediately calms me down . The pictures are so colorful and beautiful ! And every single time it is close to a holiday, they release a bunch of pictures ! I recommend this app if you are stressed and love to color . It makes sense why they called it happy color . When I color on this app it does make me happy ! You should definitely get it ! It is completely free ! The developer did an amazing job ! I hope you read this and enjoy this game as much as I did. # BEST GAME EVER !!!!!!!!!!!!!!!!!!!!!!!!!!!!!!!!!!
Developer Response ,
Hi, many thanks for such a wonderful review, we're always happy to know that someone loves our app as much as we do and will absolutely share your kind words with the rest of the team. Thank you again for your support. We'll do our best to bring out even more bright and beautiful pictures for you to colour. Have a lovely day!
Fantastic
I absolutely love this app, it has everything I've been looking for in a coloring app and they are constantly developing new ideas and pictures. I couldn't be happier with the app as a whole. When I first downloaded it my phone would get extremely over heated to the extent that I thought it might blow up a couple times. This situation at least on my end has improved immensely. There is always a mass of new pictures to color every time I open the app and it's kind of nice to not always see the same thing. I've had this app for quite a while and every time I've had an issue the developers fix it pretty quickly. I'm hoping that the situation I'm in will eventually be fixed but it's happened on and off a couple times now, and it's beginning to frustrate me. I work from the bottom of a category up (don't ask me why, that's just the way I chose ). However on a couple occasions I will open a picture that I assume is one of the first of the app. It will load the ad and play through it. Once I click the x for the ad it cuts to a white screen and will not load the picture or show (loading…) just a white screen that I then have to close the app and reload. It's happened a couple times for a couple pictures, so I end up with uncolored pictures in a category because they won't load. I am someone who likes to see %100 before I move on and it's driving me mad to see white in a mass of rainbow. Thanks for everything that this app had done this far
Developer Response ,
Hello. Thank you so much for your kind support! We're happy to have such a devoted fan on board 🙂 As for your issue, we have found the source of it and our team is working on an update with a fix. Right now you can do the following to resolve it yourself: just open the Settings=>Gameplay and enable the Color palette progress. Thank you for your patience. Have a great colouring time!
Get Happy Color from App Store
What is your opinion about Happy Color
Bitcoin
Ethereum
MetaMask (ETH)
Xrp
Polkadot
Binance coin
Stellar
Dogecoin
Tron
Elrond
Donate Bitcoin to this address
Scan the QR code or copy the address below into your wallet to send some Bitcoin
Donate Ethereum to this address
Scan the QR code or copy the address below into your wallet to send some Ethereum
Donate Xrp to this address
Scan the QR code or copy the address below into your wallet to send some Xrp
Donate Polkadot to this address
Scan the QR code or copy the address below into your wallet to send some Polkadot
Donate Binance coin to this address
Scan the QR code or copy the address below into your wallet to send some Binance coin
Donate Stellar to this address
Scan the QR code or copy the address below into your wallet to send some Stellar
Donate Dogecoin to this address
Scan the QR code or copy the address below into your wallet to send some Dogecoin
Donate Tron to this address
Scan the QR code or copy the address below into your wallet to send some Tron
Donate Elrond to this address
Scan the QR code or copy the address below into your wallet to send some Elrond