Geometry Dash World game by RobTop Games AB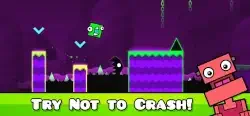 Game Description :
Geometry Dash is back with a brand new adventure! New levels, new music, new monsters, new everything!
Flex your clicky finger as you jump, fly and flip your way through dark caves and spiky obstacles. Discover the lands, play online levels and find the secrets hidden within the World of Geometry Dash!
Game Features :
Rhythm-based Action Platforming!
Ten unique levels with music from Dex Arson, Waterflame and F-777!
Play daily quests and earn rewards!
Play online levels created by the Geometry Dash community!
Unlock unique icons and colors to customize your character!
Fly rockets, flip gravity and much more!
Use practice mode to sharpen your skills!
Challenge yourself with the near impossible!
Approved by RubRub
Additional Information :
Age Rating 4+
Size 151.2 MB
Requires iOS 10.0 or later.
User Reviews :
Losing stuff as I get it
I was casually playing gdw on one morning. And that's when I got two keys, I go to the chest room and open two chest's. I get this cool death effect/affect and a lava shard. That death effect/affect was my very first one, and a new robot from collecting 35 lava shards. As I collect them, I go immediately to my character and put them on. I go to do "The Challenge" just for memes but also to test out the affect/effect. I let my self die a couple times to admire the coolness. And as I'm admiring it, my game freezes, I press the pause button to see if it'll help, just making it even WORSE! It kicks me out of the game and doesn't let me entry it for a couple of seconds. Then finally, I was able to reenter the game, not only to see that my characters color was reset to how I had it before, but to see that it had removed my robot and my death affect/effect. So, RobTop, if you can please fix this bug, it would be amazing and thankful because I know I could just buy them, but the one I got was cool. Overall, this is a great game even though some people say that once you finish the main levels, there's nothing else to do, but there is. So please RobTop, it would be amazing. And also, all your other games are awesome too. Oh and one other thing, I have lost other things, but was able to buy them back or just retrieve it.
Great Game, but…
I honestly love most things about Geometry Dash: World. As a beginner it's a great introduction into the full version and each level is introductory to a new mechanic, plus the world aspect and avatars are fun. The game is super addicting, but I do have a few complaints.

First off, the gameplay is too easy. After playing through each level a few times with around 4-15 attempts, I started to pass the full levels in up to 2 attempts. This is great for a person new to the game, but not after a while.

Second, ADS. The full version and SubZero both either rarely or don't have this problem, but World is PACKED with ads. I'm fine with the short, video-like ads, but there are ads in World that are huge and slapped on the top of the level. It's distracting, unremovable, and covers the pause button, so you have to die repeatedly to get it to pause, which takes ultimately around 20-26 attempts to happen and has an ad in front of it. The only way to get rid of them is to die enough to pause the level, exit, and re-enter, and then a few attempts/levels later it's back. It's annoying, useless, and distracting. Please get rid of them in any future updates.

Don't get me wrong; I love the game as a whole with all its features and introductory purposes. But the problems I've mentioned are bothersome and need fixing. Please read this and fix these! Thank you!
I LOVE IT
Literally the best game ever! The music is so cool and the game is so addictive. If you are reading this, download the game no cap it's the best ever.

I'm pretty sure ads are a problems are most good apps. The ads aren't that big of a problem on this game though. The game is the best and all those bad comments are wrong. The ads are no big deal.

The levels are short though. But I think that's because if they were longer some people would be stuck forever cause they can't complete it. Plus, they are really helpful as a beginner. (Not a beginner btw) I think the shorter levels are helpful. But if you want longer levels, go check out their other games; Geometry Dash Lite, Geometry Dash Meltdown, and Geometry Dash Subzero. And if you want a level editor where you can make your own levels (warning it costs money but ONLY two dollars so no biggy) go buy their Full Version of Geometry Dash.

So over all I think this is the best game I have. I've downloaded all their other versions I listed above. Except full version—I'm really debating whether it'll be worth it. It probably will be. I'll buy it after I finish righting this review.  Those versions are really good too. In the game you can earn or buy (not with real money) new characters and colors for your characters. I love the music it's so cool and this game is the best—download it!!!!!!!!

Thx for reading! (Awesome job developers!!!!!)
Get Geometry Dash World from App Store
What is your opinion about Geometry Dash World
Bitcoin
Ethereum
MetaMask (ETH)
Xrp
Polkadot
Binance coin
Stellar
Dogecoin
Tron
Elrond
Donate Bitcoin to this address
Scan the QR code or copy the address below into your wallet to send some Bitcoin
Donate Ethereum to this address
Scan the QR code or copy the address below into your wallet to send some Ethereum
Donate Xrp to this address
Scan the QR code or copy the address below into your wallet to send some Xrp
Donate Polkadot to this address
Scan the QR code or copy the address below into your wallet to send some Polkadot
Donate Binance coin to this address
Scan the QR code or copy the address below into your wallet to send some Binance coin
Donate Stellar to this address
Scan the QR code or copy the address below into your wallet to send some Stellar
Donate Dogecoin to this address
Scan the QR code or copy the address below into your wallet to send some Dogecoin
Donate Tron to this address
Scan the QR code or copy the address below into your wallet to send some Tron
Donate Elrond to this address
Scan the QR code or copy the address below into your wallet to send some Elrond