WIRED Magazine app by Condé Nast Digital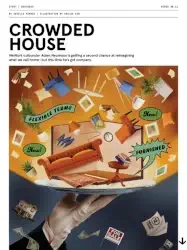 App Description :
WIRED the essential source of information and ideas that make sense of a world in constant transformation. The WIRED conversation illuminates how technology is changing every aspect of our lives—from culture to business, science to design. The breakthroughs and innovations that we uncover lead to new ways of thinking, new connections, and new industries.
App Features :
The WIRED digital edition app is optimized for mobile and tablet and is free to download. Subscribers receive unlimited access. Non-subscribers may access a selection of complimentary articles each month.
AUTOMATIC-RENEWAL: Your payment method will be automatically charged at the frequency and price noted in the subscription offer you select, until you cancel. To cancel, you must update your App Store Subscriptions settings at least 24 hours before the end of the current subscription term. No refunds once payment is made.
Additional Information :
Age Rating 17+
Size 12.3 MB
Requires iOS 11.0 or later.
User Reviews :
A Must Have Whether You Like the Mag or Not.
This app shows the true potential of future publications with it intertwining text and media in an innovative layout. The July 2010 magazine surprised me in the way they replaced a traditional picture within the magazine with an embedded media object such as rotating a 3D object or listening to portions of musical beat being created step-by-step. Features that could not be done on paper. In the recent issue, they bring in a live twitter stream with a hashtag related to the article, simply showing off at this point, but really bringing past visions of such content to reality. Handsdown with the vast amount of media embedded within each article the price of this app is easily justified (come on its just $4) since it brings you into a new level of interactivity within great articles. I would easily purchase the digital version of the mag over its $1 more counter part and once you really get a good feel for what the app brings you will no longer value paper over digital.

My only concern is the size of each magazine. I understand that a vast amount of video, etc. is stored within each download but 300mb+ is just ridiculous. Sure if I only used the wired app on my 16gb iPad I could store a little more than 50 issues on here but I have far more than Wired on my device. And it definitely forces you to download from WiFi at home and no possibility for download over WiFi.
Confusing subscription
I subscribed to Wired through their website only to find out that to use the app, you need a print subscription. That's ridiculous.
Innovative and fun
I think that this is the most innovative and interesting magazine I have yet to read on the iPad. Apart from cost, I'm not sure I understand most of the complaints registered by other reviewers. Maybe I haven't been using this app long enough to realize the glitches, but this is the only magazine I've seen that truly integrates the multimedia aspects of the tablet.

This app is what we all aspire to make in journalism school. It's fun, playful and interesting. It adds new levels of content rather than just copying the print edition or slightly melding it with the website.

On the terms of advertising, Wired uses far less ads than one would typically see in a print edition. They're even interesting, interactive advertisements, not just long scrolling pages of flat pictures. Advertisers don't seem to realize the incredible level of interest achieved through interactive ads, so they aren't pouring money into a relatively untested system. If there were more ads, cost could go down. But, without ads, the app must be sustained by online newsstand prices. So, either way, someone will find something to complain about until a reliable system of subscriptions can be put in place.

But, overall, I have read this magazine from cover to cover, and I plan on continuing indefinitely. Bravo, Wired. Best iPad mag I've found so far.
The future is here
After seeing all of the other magazine and newspaper apps on the iPad fail on at least one front (cost, lack of innovation, lack of additional content, poor navigation or organization), the Wired app has done an amazing job. While I'd like to see it under $5 per issue, I didn't feel ripped off like I did with other apps. Wired gave me more material in a better format than the paper copy so I feel that the cost they saved in physical distribution was made up with the additional touches that they added to the app. If they make a yearly digital subscription close to the print price ($10-$25/yr), I would be entirely comfortable subscribing.

As for this particular issue, I don't know if they saved up their good stories for this debut digital issue or if it was due to the presentation, but I felt like this was one of the strongest issues of Wired that I have ever read (though the article on home gardening was a waste except for the layouts for your own home garden…it was too much snark and not enough real content).

Great job Wired, please just follow up this amazing release with a reasonable and easy to use digital subscription and you'll have at least one happy subscriber. As for anyone else that has a hand in making apps for magazines and newspapers, look at this app for inspiration, this is what the iPad was made for.
Get WIRED Magazine from App Store
What is your opinion about WIRED Magazine
Bitcoin
Ethereum
MetaMask (ETH)
Xrp
Polkadot
Binance coin
Stellar
Dogecoin
Tron
Elrond
Donate Bitcoin to this address
Scan the QR code or copy the address below into your wallet to send some Bitcoin
Donate Ethereum to this address
Scan the QR code or copy the address below into your wallet to send some Ethereum
Donate Xrp to this address
Scan the QR code or copy the address below into your wallet to send some Xrp
Donate Polkadot to this address
Scan the QR code or copy the address below into your wallet to send some Polkadot
Donate Binance coin to this address
Scan the QR code or copy the address below into your wallet to send some Binance coin
Donate Stellar to this address
Scan the QR code or copy the address below into your wallet to send some Stellar
Donate Dogecoin to this address
Scan the QR code or copy the address below into your wallet to send some Dogecoin
Donate Tron to this address
Scan the QR code or copy the address below into your wallet to send some Tron
Donate Elrond to this address
Scan the QR code or copy the address below into your wallet to send some Elrond