Geometry Dash Meltdown game by RobTop Games AB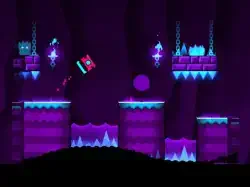 Game Description :
Prepare for a new Geometry Dash adventure filled with more spikes and monsters than thought possible!
Flex your clicky finger as you jump, fly and flip your way through dark caverns and spiky obstacles.
Game Features :
Rhythm-based Action Platforming!
Three unique levels with music from F-777!
Unlock unique Meltdown icons and colors to customize your character!
Fly rockets, flip gravity and much more!
Use practice mode to sharpen your skills!
Challenge yourself with the near impossible!
Geometry Dash answers the age old question: "What do you get when you mix techno, dubstep, spikes and a rainbow?" Download and find out…
Approved by RubRub
Additional Information :
Age Rating 4+
Size 131.9 MB
Requires iOS 10.0 or later.
User Reviews :
Good game
I know you have 12 more in another app it keeps crashing and I've been doing these 3 because of that. Than, sooner or later I finished Viking Arena. And was working on the other 2. I soon finished the Seven Seas (the one in the ad intro). It's really good at the end. It might seem abit boring after failing a lot, but it gets interesting. And I was struggling on Airborne Robots, but nearly made it. So I finished all 3 so you wonder, what will I do now? I will play the non checkpoint ones and practice for fun, and I will share it with my relatives and friends and family. They can even attempt the normal mode and if they have trouble doing it, that's what the practice mode is for while sharing it with them. I have restrictions for internet so there's not that much ads for me. Only around 3 to 2 per day. Because I spend most of my time on it when there's no WiFi or sometimes on WiFi. It's still a good game not great but I still give it 5 stars because each mode of the game was fun. Please download this everyone. If you haven't, then please do so. And if you get bored after 3 levels, then go to their other games search up Geometry Dash not Meltdown if want around 12 more levels. Enjoy your first 3 everyone and developers worked hard on that game including this one so don't give them too much of a problem. They did a good job!
The best in the world I love your your game Love Cleo and Emmett
Yes so much for making this game you were for life but everything I say to you will be the best because you are the best give me the best game and it turns out that we love you because you make a mess this game and the best of the world would be you because you made this awesome game and I just really want thank you I love you like really I love you because you made this awesome game and the awesome game is somewhat I want you have to read this because whoever made this which I shouldn't say because it's not nice but I love you thank you for making this game whoever you are love Cleo and Emmett bye see you later but you are the Bestos and I really have to do that but she just are the best I want to see you again well see you anytime in the whole world because you're the best you made this past game and I think I hope you write me read my resume tomorrow or today or anytime I just want to use it to read it this was from April I forgot the dates and everything but I know it is so I'll be seeing you later bye
Not Bad, but could really use an update or two
It's a pretty fun game, unlike, the original Geometry Dash, which is rather addicting and challenging than fun (yes there is a difference). The reason why this game is more fun is because 1: The awesome F-777 music, and 2: The levels aren't TOO challenging, and if you're experienced with the first game, they can be pretty easy, which makes it a better warm up than some of the so called "warm up levels" in the first game which are included in the lite version, for example: Stereo Madness and Back On Track take forever to beat, on your first time playing, a warm up level should be easier like The Seven Seas in this game, it's much less hard and annoying, plus, the music in the first game for the first two levels is catchy, but, boring if you're not playing the levels, unlike, the songs in this game, which are epic, and make you head bang! However, that doesn't make the levels impossible to lose, it takes a few attempts, especially if you're trying to get the coins! And this game tends to behave like a demo rather than a full game, I'm aware that this is an early version, but, this really should've been released fully and've been able to keep updating, and with that, comes the ads! The freaking ads! I mean is it really so hard to remove those? And that would of course make you want to get the full version right? Well if you try it, it takes you to the full version of the first game!!!!
Get Geometry Dash Meltdown from App Store
What is your opinion about Geometry Dash Meltdown
Bitcoin
Ethereum
MetaMask (ETH)
Xrp
Polkadot
Binance coin
Stellar
Dogecoin
Tron
Elrond
Donate Bitcoin to this address
Scan the QR code or copy the address below into your wallet to send some Bitcoin
Donate Ethereum to this address
Scan the QR code or copy the address below into your wallet to send some Ethereum
Donate Xrp to this address
Scan the QR code or copy the address below into your wallet to send some Xrp
Donate Polkadot to this address
Scan the QR code or copy the address below into your wallet to send some Polkadot
Donate Binance coin to this address
Scan the QR code or copy the address below into your wallet to send some Binance coin
Donate Stellar to this address
Scan the QR code or copy the address below into your wallet to send some Stellar
Donate Dogecoin to this address
Scan the QR code or copy the address below into your wallet to send some Dogecoin
Donate Tron to this address
Scan the QR code or copy the address below into your wallet to send some Tron
Donate Elrond to this address
Scan the QR code or copy the address below into your wallet to send some Elrond