TUSK Browser app by Virtual World Computing, LLC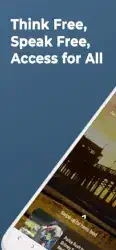 App Description :
With the belief in free speech and individual liberty for all, we are on a mission to protect a free and open internet, starting with TUSK, a secure web browser with an anti-censorship search engine, built-in news feed and now, the marketplaces' first Conservative AI chatbot called Gippr.
Free Speech Web Browser with Anti-Censorship Search Engine and News Feed
Now including the first Conservative chatbot called Gippr; an artificial intelligence (AI) chat that provides the TRUTH, without liberal bias! Forget Chat GPT, ask questions or discuss various topics without having to worry about the woke agenda. Try out the Gippr today!
What is TUSK? Built from the ground up to ensure people can access the information and stories that matter, free of liberal bias, TUSK features the first and only free speech search engine and anti-censorship news feed to show you all the real stories, even the ones that get buried.
App Features :
With TUSK's built-in Search Engine and News Feed, you can easily access all the articles from popular media organizations that you trust, such as, Fox News, New York Post, Newsmax, OANN, The Daily Wire, Breitbart, and many others. No more buried stories or media censorship! TUSK Search features easy-to-use RIGHT, LEFT and CENTER buttons so you can filter the organic search results easily. Missing your favorite news source? Easily customize the relevant news publishers you want to see in the TUSK News Feed and on your homepage, this way you have 100% control. No other news feed has built-in predictive AI to show you the articles that everyone is engaged with right now, as well as the breaking stories that will matter most in the hours and minutes ahead. TUSK remains committed to giving you the clarity and insight that no other search and news source can.
TUSK Search is also great for schools, education and research with search result transparency that lets you see all sides easily.
TUSK is also available on desktop and laptop computers running macOS or Windows.
FOLLOW US
Facebook: fb.com/TUSKbrowser
Instagram: www.instagram.com/tuskbrowser
Twitter: twitter.com/TuskBrowser
LinkedIn: linkedin.com/showcase/tuskbrowser
TikTok: tiktok.com/@tuskbrowser
Rumble: rumble.com/c/c-1321953
Additional Information :
Age Rating 17+
Size 62.3 MB
Requires iOS 11.0 or later.
User Reviews :
Initial Tusk Review
So far I like the way this browser is set up. The few items I searched I was able to find pretty easy. It's nice to have an option.

One complaint I have is the close page option doesn't work. If you don't know what I'm talking about, it is similar to the Safari button on the bottom right. Closes the page but not the browser. I like that option but this one is inoperable so I have to completely close the browser or hit the back button. Really inconvenient but this is very new and there are bound to be a few bugs.

Please fix and I'll spread the word about Tusk.
No update
Hi guys, love the browser, can't wait to try the search engine but I believe Apple is blocking you guys ( Big surprise there, right?) Anyways…this update (like the last one) is not ready apparently, according to Apple store. I can't even see your browser because of the opening update screen unless maybe if I push the "Skip this update" button which I don't want to do so I'm stuck not being able to use your browser 99.9% sure it's not your fault…oh and by the way, I can't get to your support page because of this sooooo the only way to get you a message is through a review…Hopefully. Love you guys and thank you for your continuing fight for Free Speech!
I know it's new but…
I want to love it. I know it's new but please fix bugs! Goes back to home screen when searching and if I'm lucky enough to open a web page, I'm only able to keep open momentarily before it goes back to Home Screen.

I searched through other reviews to see if anyone else had this problem. And I'm not the only one. I saw a developer response to another reviewer to be sure it's installed properly. Im not sure how there's a wrong way to install but for the record, I have one of the newest iPhones and it is installed properly.

I really am excited about this but unfortunately, until bugs are fixed, I can't use it.

Can you respond to me when this bug has been fixed?! Thank you
Developer Response,
Thank you for your support and we are sorry to hear you are experiencing issues. We want to make TUSK a great experience for everyone. Would you please reach out to our support team so we can address these with you directly? Email us at support@tuskbrowser.zendesk.com or submit a ticket at support.tuskbrowser.com
Get TUSK Browser from App Store
What is your opinion about TUSK Browser
Bitcoin
Ethereum
MetaMask (ETH)
Xrp
Polkadot
Binance coin
Stellar
Dogecoin
Tron
Elrond
Donate Bitcoin to this address
Scan the QR code or copy the address below into your wallet to send some Bitcoin
Donate Ethereum to this address
Scan the QR code or copy the address below into your wallet to send some Ethereum
Donate Xrp to this address
Scan the QR code or copy the address below into your wallet to send some Xrp
Donate Polkadot to this address
Scan the QR code or copy the address below into your wallet to send some Polkadot
Donate Binance coin to this address
Scan the QR code or copy the address below into your wallet to send some Binance coin
Donate Stellar to this address
Scan the QR code or copy the address below into your wallet to send some Stellar
Donate Dogecoin to this address
Scan the QR code or copy the address below into your wallet to send some Dogecoin
Donate Tron to this address
Scan the QR code or copy the address below into your wallet to send some Tron
Donate Elrond to this address
Scan the QR code or copy the address below into your wallet to send some Elrond