(App) Earnin – Get Cash Before Payday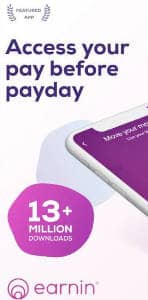 App
Description :
Tired of waiting 2 weeks to get paid? Access the money you've already earned with the Earnin app – up to $100 per day, and up to $500 per paycheck.‡ There's no hidden fees, no interest, and no credit check. Just tip what you'd like (even $0). [1] Yes, really. Earnin gives you access to YOUR hard-earned cash, with absolutely no catch.
Bills due? Need gas money? Rent coming up soon? Never penny-pinch 'til payday again. Move your money, and live your life. Earnin has over 1 million community members making any day payday.[2] Join us.
App Features :
HOW TO GET STARTED
1. Connect your bank account where you get paid, and add a debit card
2. Add the employer you get your paycheck from
3. Verify your work email. Don't have one? Turn on Location Permissions, and we'll automatically add earnings to your Earnin account when we see you're at your work address
4. We'll verify your bank account, debit card, and confirm your hours worked. Then, cash out up to $100 per day (up to $500 per paycheck) and tip what you think is fair, between $0-14
5. On payday, we'll debit your account for the money you cashed out + tips
STOP WAITING FOR PAYDAY
Get up to $100 per day of the money you've already earned – up to $500 per paycheck.‡ There's no hidden fees, and no interest. Just connect your bank to Earnin. Earnin works with Bank of America, Wells Fargo, Capital One, TD Bank, Chase, Navy Federal Credit Union, PNC Bank, USAA Bank, and more.
GET INSTANT BANK DEPOSITS
Connect your debit card to Earnin and get your money in an instant, with no extra fee.[5]
SAVE FOR A CHANCE TO WIN BIG
Advance your savings goals! Every $10 put away in your Earnin Tip Yourself [3] account is now a chance to win up to $10 million in cash prizes with WeWin.[4]
HELP PREVENT OVERDRAFTS
Balance Shield Alerts notify you when your bank balance is getting low.[6]
TRACK RECURRING PAYMENTS
Budget smarter! The Earnin Financial Calendar lets you know in advance when you have recurring payments coming up.
BACKED BY 24/7 SUPPORT
If you have any questions or issues with the Earnin app, our Live Chat team is available 24/7, 365 days a year.
Earnin is not affiliated with Chime, Dave, Albert, Brigit, CashNetUSA, Empower, Klover, MoneyLion, Cleo, Cash App, Daily Pay, Google Pay or Credit Karma.
Earnin is not a payday loan, a cash loan, or an app to borrow money. Earnin gives you access to your pay when you want it – with no interest, and no credit check. Join Earnin today, and start making any day payday.‡
Disclaimers:
[1] Tipping options will vary between tools.‡
[2] Number of people using Earnin is from an internal analysis conducted by Earnin in January 2021, representing total users who Cashed Out at least once from January 1 to December 31, 2020.
[3] Tip Yourself Account funds are held with Evolve Bank & Trust, member FDIC and FDIC insured up to $250,000. Tip Yourself is a 0% Annual Percentage Yield and $0 monthly fee service. Your Tip Yourself Account and any Tip Jars are not Savings Accounts.‡
[4] NO PURCHASE NECESSARY TO ENTER OR WIN WEWIN: Must be 18 years of age or older and a legal resident of the U.S. or DC. Games begin each Sunday starting 12/6/20 at 9:01 p.m. ET and end the following Monday at 9:00 p.m. ET with the last Game ending 12/19/21. To view official rules, odds disclosures, prize details, and alternate means of entry, visit www.earnin.com/wewin/game-rules/ Void where prohibited. $10,000,000 grand prize payable over 29 years. Sponsor: Activehours, Inc.
[5] Lightning Speed may not be available to all Community Members. Cash Outs may take up to thirty minutes, actual transfer speeds will depend on your bank connection.‡
[6] Balance Shield Cash Outs are subject to your available earnings and daily/pay period Max.‡
**$10 referral promotion valid through 11/30/2021.‡
‡ Restrictions and/or third party fees may apply. For more info: visit earnin.com/TOS
Additional Information :
Size 250.5 MB

Requires iOS 12.0 or later.
User Reviews :
This app literally saved me
This is too good to be true you might wonder, like I did, so when they asked for my bank information and were verifying it by adding a dollar then subtracting it I thought I just fooled myself. I waited it out because I had no other choice, and thank goodness I did. Because this app literally fed me when I was going through serious hardship and they helped me pay off my overdue credit card on time by just allowing me to get the money already earned at work. Even through this Pandemic, they're still operating and doing the best they can. This was my only issue: my bank is a credit union, so direct deposit hit a day early but always in the afternoon, so Earnin deducted the money I borrowed that morning as they should, making my account negative and incurring overdraft fees. I thought this was part of the "catch". I contacted their support team late at night (I think around 11 or 12) because I commute 2 hours and a half to and from work (each way. Yeah, I was really going through it that year) and told them Earnin pulled too early in the day. They asked me to screenshot the overdraft fees for a refund, which happened right then and there and allowed me to quickly get groceries before the train came.

All in all, if you're really going through financial hardship, please trust on me that this is the perfect app. I'm writing This because I'm having one of those "I'm grateful for this " moments. Thanks for taking the time to read 🙂
Developer Response ,
Wow, Carrrmencita. Thanks for leaving us such a thoughtful review, we love hearing how we are able to help the community. It really helps us to keep going and delivering the best

or our Community Members. We really appreciate your business. Please let us know what we can do for you in the future.
Get Earnin from App Store
What is your opinion about Earnin
Bitcoin
Ethereum
MetaMask (ETH)
Xrp
Polkadot
Binance coin
Stellar
Dogecoin
Tron
Elrond
Donate Bitcoin to this address
Scan the QR code or copy the address below into your wallet to send some Bitcoin
Donate Ethereum to this address
Scan the QR code or copy the address below into your wallet to send some Ethereum
Donate Xrp to this address
Scan the QR code or copy the address below into your wallet to send some Xrp
Donate Polkadot to this address
Scan the QR code or copy the address below into your wallet to send some Polkadot
Donate Binance coin to this address
Scan the QR code or copy the address below into your wallet to send some Binance coin
Donate Stellar to this address
Scan the QR code or copy the address below into your wallet to send some Stellar
Donate Dogecoin to this address
Scan the QR code or copy the address below into your wallet to send some Dogecoin
Donate Tron to this address
Scan the QR code or copy the address below into your wallet to send some Tron
Donate Elrond to this address
Scan the QR code or copy the address below into your wallet to send some Elrond