(Game) Hero Wars – Fantasy World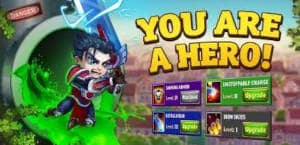 Game Description :
Welcome at long last, Brave Hero! Whether you've come to relive your favorite moments of online-RPG gaming or are just looking to slash your way through a few levels, Hero Wars has you covered. Come for the refined RPG gameplay, stay for the glory!
Many centuries ago, the enchanted lands of the Dominion knew an era of unparalleled peace and prosperity. However, these halcyon days met their abrupt end when the ruthless hordes of the Archdemon invaded the land. Their uncompromising cruelty and terrible force routed entire armies. Yet someone must resist—the time has come to rise up and save the Dominion from its cruel captors!
Game Features :
50+ Heroes with unique skills
Epic Guild battles
13 Campaign chapters and 190 Missions
8 game modes
Exciting Special Events
Puzzles with rewards
Luck be with you in battle, Brave Hero! And remember—we are always here for you at support[at]herowars.zendesk.com
The Hero Wars Team
Enjoy Hero Wars? Subscribe to our official channels for special gifts!
Facebook: www.facebook.com/herowarsmobile/
Youtube: youtube.com/HeroWarsMobile
Instagram: @herowarsapp
Fan Content Policy: nextersglobal.com/fan_content_hw_io
PLEASE NOTE
Hero Wars is compatible with the following devices: iPhone SE, 6S, 7, 8, X, XS, XR, 11; iPad Mini 4, Air 2, 2017, 2018, Pro.
The following devices are NOT supported: iPhone 5S, 6, 6 Plus; iPad Air, Mini 2, Mini 3, iPod Touch.
Additional Information :
Size303.5 MB
Requires iOS 10.0 or later.
User Reviews :
Fun, but could use some tweaks
Overall, the game is good but as with everything in life, there is always room for improvement. Some of those include: 1. The need to spend gold on almost everything compared to the ability to earn in game is off-balanced. You can spend emeralds to get more gold though. 2. If you aren't going to spend any money on this or watch a million videos, this isn't the game for you. As with most free games, you're either paying with money or time to get anywhere, nothing in life is free. 3. The Grand Arena could use some work. Having three teams is great, but without being able to see your competitor's team, it's hard to make a good strategy for it. 4. More titans. Just, add more titans to the game. 5. As a note to 4, there needs to be a way to heal the titans like you can heal heroes in the tower. 6. Last note: overall clarity of how guild wars works and maybe a character role indicator on the main character page would be helpful. I go into free games knowing they aren't free so I take that aspect out of it when leaving reviews for them. For a mobile free game though, there are a lot of different game mechanics and if you aren't good at one, you're probably going to find one you are good at. Give it a shot, grind experience, and you'll have a good time.
Developer Response ,
Hello! Thank you very much for the detailed feedback!
Fun and Semi-Casual
I have been trying to find a fun game that doesn't consume your time and money. The game does offer instant completion features, however you will have to purchase a pack to get unlimited raid tickets to do so or earn them each day in game. I have paid $1.99 to get these unlocked and that is all. Otherwise the progression is reasonable. The graphics are pretty and funny. The characters are very cartoonishly designed but still nice. I do recommend giving it a try to at least level 50 before you decide. I think the $1.99 was at least worth it to speed up grinding that would otherwise take several minutes. The basics are to gather heroes and later on titans to farm items and resources to level up further and summon more playable characters. Team synergy is very important especially in arena areas where it is on auto. I have 20+ heroes and while I do primarily use the base team I received when first starting the game, I also try to split resources to make well balanced alternates for further progression. One thing I do like about this game is the fact it shows you who needs something, where to get it, and takes you there with one click. Overall I think the worst thing I have found is the difficulty level increases abruptly, and it took me several days to get moving again due to the energy and gold limitations from trying to play as free as possible.
Developer Response ,
Thank you very much for your feedback, we appreciate it!
Get Hero Wars from App Store
What is your opinion about Hero Wars
Bitcoin
Ethereum
MetaMask (ETH)
Xrp
Polkadot
Binance coin
Stellar
Dogecoin
Tron
Elrond
Donate Bitcoin to this address
Scan the QR code or copy the address below into your wallet to send some Bitcoin
Donate Ethereum to this address
Scan the QR code or copy the address below into your wallet to send some Ethereum
Donate Xrp to this address
Scan the QR code or copy the address below into your wallet to send some Xrp
Donate Polkadot to this address
Scan the QR code or copy the address below into your wallet to send some Polkadot
Donate Binance coin to this address
Scan the QR code or copy the address below into your wallet to send some Binance coin
Donate Stellar to this address
Scan the QR code or copy the address below into your wallet to send some Stellar
Donate Dogecoin to this address
Scan the QR code or copy the address below into your wallet to send some Dogecoin
Donate Tron to this address
Scan the QR code or copy the address below into your wallet to send some Tron
Donate Elrond to this address
Scan the QR code or copy the address below into your wallet to send some Elrond