Duet Cats game by Amanotes Pte. Ltd.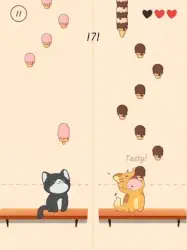 Game Description :
The music world of cute cat are out now – cat music game. Let's control the hottest popcat duet ever. Who will be the diva cat in this cats tower?
Duet Cats is the perfect mix between cats funny and cats meowing, relaxing and challenging of the music rhythm, and the popular virtual cat game makes you can't stop, it really addictive!
DUET RULE:
All you need to do is feel the rhythm of the cute cat songs and control your 2 hands so the cats are all fed. Simple gameplay, anyone can join in on the fun. Cute popcat all out fun meow
Game Features :
1. Cat music: Feed them and Pop cat will sing to you with cute sounds.
2. Cats food: A food store dedicated to your cute pop cat
3. Upgrade Pop cat: Various kawaii kitty cats to collect!
4. Popular music: Cat singing – Remixes of popular songs with cute cat sounds.
5. Cat Game pictures: based on the famous meme – Pop cat, cat sound music and cat cartoon concept game ..meow~
LET'S GO Cat Games!!!
1. Duet with all funny cats
Not one but a duet! Your 2 funny cats (black cat and cat kitty) are singing their adorable meow.. together into a hilarious ensemble. You can fatten them up by feeding them all the falling food. Oops, may they become obese?
2. Simple but addictive with 2 hand control
Left, right, and…center, with 2 hands. Use your hand and your observation to move through hundreds of levels of music rhythm falling. It's not easy, but if you get through it all, clap hands kittens
3. A cats food store dedicated to your cute cats. Play songs with their voices, to get more food for them. The food store has cafe, sushi, candy cat, cake, ice cream cats… And you can shop for your cute cats, too.
4. Various cute cats to collect
If you're bored with the grey and white cat you started with, it's time to change its look! You can pick from many skins to change the cat breed: cute kitty charm, black cat, monty cat, Upgrade your cute cats and feed them through DuetCats' musical challenges. This list goes on!
5. Remixes of popular songs with sounds for cat
More than 1000 popular songs are waiting for you to unlock. With the latest version, Cat Duet has added many new, better and more fun songs. Join your cat in feeling that diva tune. Can you imagine what it would be like to combine with the "meowing" sound? I can not ??? Hurry up and be the first to hear it.
6. Stories in Duet Cats. The cute cats told their "hungry" stories through the diva cat voice. Don't stop feeding the cute cats or they will get mad at you. And you don't forget have 2 funny cats
Whether your cat loves to meow or simply you enjoys listening to the sounds of other cat, Duet Cats has got you covered. The app features a wide range of cat sounds, including cats meowing, cat meows, and even funny cat memes that are sure to make your furry friend look beautiful.
In addition to sounds for cats, Duet Cats also have shop with variety breeds of cat cute a funny cat pictures. You can browse through a collection of the cutest cats and kitties, complete with costumes and hilarious antics that are sure to put a smile on your face.
Are you someone who is looking for animal games or funny cats picture with a variety of music genres? Those who are looking for relaxing games, cat games, or role-playing games? Are you looking for more addictive games in this genre? Duet Cats game is the perfect gift for you
Lead your pop cat into shining diva cats like their meme.
Additional Information :
Age Rating 4+
Size 224.9 MB
Requires iOS 11.0 or later.
User reviews :
Best App Ever Made!
Ok this game is absolutely AMAZING the way the cats sing and the awesome songs, the super super super CUTE cats and how they get to eat up the ice cream. Sometimes me and my brother will each play a cat so we can spend time together and have sooo soooo much fun with the cutest kittens in the whole App Store and we bond over the funnest game we have ever played. I think this should be on phones when people get them so people can have some joy with the cats. One thing is I get worried cause one of the kitty's is eating chocolate ice cream and I wanted to make sure that the kitty is okay and that I can keep playing the game without it getting sick from the chocolate. Thank you for this game I love it and anyone who worked it love you too. People who don't like it just one to you, I hope that you can have your heart softened and love these kitties with all your heart and even though there is ads it's okay cause the people who make the game are getting money and it will all be okay. I wish there was more songs and maybe even a mode where you could play longer songs or multiple songs and go for as long as you can.
Developer Response,
Hi. We are thank you and acknowledge your contribution. We glad you like our game. We have noted the information and passed it on to the development team. In your opinion, what you should feed your cat will be more appropriate and reasonable. Do not hesitate to share with us to improve the function better. We currently have more than 50 songs. Includes 21 Meower songs and 30 Instrumental songs. At the "Songs" / "Select A Songs" category. It is expected that in the near future we will add at least 30 more Meower songs. We've finished development, but haven't released it yet, we're waiting for more user reviews as we're not sure if this feature (we call it "endless mode") is right for most players or not. When it's published, we will message you to play & experience, thank you for your interest in Duet Cats. We hope you keep playing and looking forward for future updates. Pls recommend for your friends.
Amazing game, but a few problems.
We like the cats, they are cute, and basically good songs. This is basically the part that we like. If you have a device that is old, glitchy, or storage full. We would not recommend this game. When we opened the game for the first time, we did the tutorial and it was hard. For a tutorial that's already intense. We thought this game would start easy and end hard, but it's hard already at the start. Another thing that is wrong with this game, it has really little song selections. AND TO WATCH A FREAKING AD FOR ALMOST ALL OF THEM?? The glitches of this game got us to fail. So we were playing it and the glitching made us lose and have to watch an ad! This game is also really frustrating. The kitties are cute and amazing songs and best music app. Very well made. In the ads it looked simple. And the part that in the ads which makes it seem easy. Enough said, hope you understand and fix this. The only reason we rated it 5 stars is because we want the developers to see and respond. Our original rating was 4. 🙂
Developer Response,
Dear Marta Vizental. Thanks for your response. About your suggestion, we'll consider enhancing it in the future. Currently there aren't many hearts you can temporarily use the extra heart feature (hit the heart before starting to play), you'll have to see an ad once but get 2 more hearts. Later there will also be Cats with many hearts for you to unlock (eg: Dihea Cat). Because of this game, we wanted to offer a completely new two-handed playing experience on the market so it may be difficult for first time players. It's really hard to control both hands well. But this difficulty will improve significantly if you practice more (eg play 4-5 lessons per day). We are sorry for Ads. We will improve in the future and we will try to keep the Ads from interfering. We hope you keep playing and looking forward for future updates.
Get Duet Cats from App Store
What is your opinion about Duet Cats
Bitcoin
Ethereum
MetaMask (ETH)
Xrp
Polkadot
Binance coin
Stellar
Dogecoin
Tron
Elrond
Donate Bitcoin to this address
Scan the QR code or copy the address below into your wallet to send some Bitcoin
Donate Ethereum to this address
Scan the QR code or copy the address below into your wallet to send some Ethereum
Donate Xrp to this address
Scan the QR code or copy the address below into your wallet to send some Xrp
Donate Polkadot to this address
Scan the QR code or copy the address below into your wallet to send some Polkadot
Donate Binance coin to this address
Scan the QR code or copy the address below into your wallet to send some Binance coin
Donate Stellar to this address
Scan the QR code or copy the address below into your wallet to send some Stellar
Donate Dogecoin to this address
Scan the QR code or copy the address below into your wallet to send some Dogecoin
Donate Tron to this address
Scan the QR code or copy the address below into your wallet to send some Tron
Donate Elrond to this address
Scan the QR code or copy the address below into your wallet to send some Elrond