Architectural Digest app by Condé Nast Digital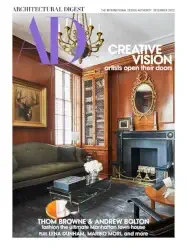 App Description :
Architectural Digest (AD), the international authority on design and architecture, offers exclusive access to the world's most beautiful homes and the fascinating people who live in them. Bringing its audience a wealth of information on architecture and interior design, art and antiques, travel destinations, and extraordinary products, its AD100 list of top architects and designers is one of the industry's most relied-upon indexes of talent.
App Features :
The Architectural Digest digital edition app is optimized for mobile and tablet and is free to download. Subscribers receive unlimited access. Non-subscribers may access a selection of complimentary articles each month.
AUTOMATIC-RENEWAL: Your payment method will be automatically charged at the frequency and price noted in the subscription offer you select, until you cancel. To cancel, you must update your App Store Subscriptions settings at least 24 hours before the end of the current subscription term. No refunds once payment is made.
Additional Information :
Age Rating 12+
Size 8.9 MB
Requires iOS 11.0 or later.
User Reviews :
I'm impressed!
I received the print edition and so I also get the digital edition. I downloaded one issue just o check it out and it was a treat. This is the future of magazines. The clarity and color of the images are so much more vibrant than in the print edition. Although I like the print mag, I love the digital version also.

There are a lot of photos that don't appear in the magazines and I love the interactivity. The floor plans that allows you to explore, or alternate angles of a photos. It also looks great vertical or horizontal, and the content rotates to fit beautifully in either orientation. I'm sold!

The only down side is that it's a huge file. 900mb for one issue. Please allow a feature where I can delete the pages I don't want so I can keep just the pages I want on my ipad. This will allow me to keep the issues on my ipad and not have to delete into make room.
Landscape mode please!!
The three stars is solely for the app and not the content of the magazine. A feature that is not currently available for this app, but absolutely should be, is the landscape mode. Inability to see an entire image of a two-page layout (which is typically used for the featured article) is incredibly disappointing and frustrating. Even on a one page layout, you are constrained to the width of portrait mode when zooming in on a landscape photograph. Please, please, please add this feature and I will update this review immediately.
Totally useless app
What happened? A perfectly fine way to read AD was made essentially useless by redesign. Without a text zoom feature, you can no longer read the text on an iPad. Without the picture zoom feature, you can no longer see details in photos up close. If you can't read the type and can't enlarge the pictures, what good is this app? Very disappointed with this. I will stop reading until a fix is made.

The recent necessary fix to this app completely made it useful and loved again. Thank you for paying attention to your faithful readers…much appreciated!
Developer Response,
The latest version of the app features optimized content for phone and tablet with zoom.
Impressed!
Love how dynamic this magazine. Bought single issue because of low stars. Most seem to be print subscribers complaining, so thought I would try. There are links out to goods, extra photos, etc. A little challenging to get used to when to touch a button, swipe, drag, etc., but it becomes intuitive. Very happy I took a chance. Love it!

As ana side, I wish I could get this easily on my dad's computer too. He is legally blind and we use a 42″ TV for the monitor. He loves this magazine and a computer version would be a dream.
Gorgeous
Pictures on the same quality level of National Geographic. Homes, articles, and ads are all geared toward very high-end clientele, but it's fun to look at how the top 1% live. (Think movie-stars and CEOs. One always can get ideas, then scale it down to the real world.) Eye-candy for those who are frustrated wanna-be architects that never conquered that world. Shows what one could do if money was no object. If you like to look at gorgeous residential (and some commercial) architecture for fun, this is the mag for you.
Great Magazine App
I still get the paper copy. But I love the extra pictures and the ability to see the latest issues before it arrives in my mailbox as well as back issues I've long since recycled. The only thing that is missing from this app as a way to share articles from within the app. I wish I could share my favorite articles with my friends. Condé Nast, add sharing and I'll change my rating to five stars.
Get Architectural Digest from App Store
What is your opinion about Architectural Digest
Bitcoin
Ethereum
MetaMask (ETH)
Xrp
Polkadot
Binance coin
Stellar
Dogecoin
Tron
Elrond
Donate Bitcoin to this address
Scan the QR code or copy the address below into your wallet to send some Bitcoin
Donate Ethereum to this address
Scan the QR code or copy the address below into your wallet to send some Ethereum
Donate Xrp to this address
Scan the QR code or copy the address below into your wallet to send some Xrp
Donate Polkadot to this address
Scan the QR code or copy the address below into your wallet to send some Polkadot
Donate Binance coin to this address
Scan the QR code or copy the address below into your wallet to send some Binance coin
Donate Stellar to this address
Scan the QR code or copy the address below into your wallet to send some Stellar
Donate Dogecoin to this address
Scan the QR code or copy the address below into your wallet to send some Dogecoin
Donate Tron to this address
Scan the QR code or copy the address below into your wallet to send some Tron
Donate Elrond to this address
Scan the QR code or copy the address below into your wallet to send some Elrond