(App) DasherDirect By Payfare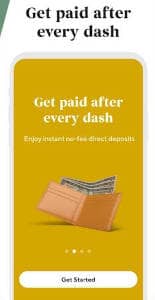 App Description :
DasherDirect is a prepaid debit and mobile banking app for US-based Dashers, powered by Payfare. It provides Dashers with no-fee payouts after every dash, access to convenient banking functionality, and cash-back on gas.
App Features :
Instant no-fee deposits: Your earnings payouts are processed automatically—and without a fee after every dash, via the DasherDirect app and Visa prepaid card.
Access to banking: Core mobile banking functionality is available, alongside other financial benefits like bill payments, money transfers, deposits, ATM withdrawals, and more.
Cash-back rewards: DasherDirect unlocks 2% cash-back on all gas purchases at any station, anytime.
The DasherDirect Business Prepaid Visa Card is issued by Stride Bank, N.A., member FDIC, pursuant to a license by Visa U.S.A. Inc. Subject to eligibility; use of the card is governed by the DasherDirect Cardholder Agreement and Payfare Program Terms. Payouts from deliveries initiated after each dash; funds are typically available within an hour pending any delays. Reward categories and amounts subject to change without notice. No-fee transfers and no-fee and low-fee ATM withdrawals available.
Additional Information :
Size 152.9 MB
Requires iOS 12.0 or later.
User Reviews :
Fan girl Dasher here
As a driver, it has been a cool experience so far. I really like the contact-free option that a lot of people choose. The only downside for me was the inconvenience of receiving my deposits when I first started. To make things easy I applied for the dasher direct card which allows me to receive daily deposits…although it does pay me daily on the days I deliver, it doesn't come until about 10-12 hours after midnight. I do really enjoy that I can use the card at many retailers. The only issue I have had with using the card has been to fuel up which has been very inconvenient at times when I've wanted to keep dashing but the card wasn't accepted for fuel purchases, even as a debit. Overall the customers have been really great! Doordash support is always quick and extremely helpful in EVERY situation. They have helped me keep my cool during stressful situations with app malfunctions, restaurant mistakes, etc. Gene (from engineering) really made me feel like my input mattered when we were discussing an app issue. He was patient and helpful the entire time. Every time I call it is nothing but friendly and resourceful humans. Customer support is some of the best I have had from any company. I really hope that Doordash continues to thrive because I truly enjoy the freedom, the customers and the company all together. It has been a great experience and I hope it continues to be!
SUPER DUPER!!
Very grateful for opportunities to make ends meet during difficult times. A lot of us in the world are definitely struggling I'm sure.. I myself have been struggling with my financial status. Door dash is really a great opportunity to catch up on bills or an avenue to save money if your 9-5 job barely covers your costs of living situations and bills etc. for anything really to reach a goal of buying a special thing you may have wanted without harming your budget. I think door dash is the all in all best go to versus other competitors considering all angles of precise app features and consistent steady flow of orders. I myself like sticking to same patterns and more in to the staying committed to anything I'm involved in.. rather than joining competition companies. Not to say anything negative about competitor companies. I also understand the struggle and people may need to test run any other opportunities out there to see what may work best for themselves. But from researching and asking questions to other drivers around the way from competition I myself like door dash and feel more comfortable with door dash as far as meals pick up and delivery service. All companies in my opinion are great because it helps the people of the community survive and provides a platform for everyone to take care of their families when in need of extra money to make ends meet. Very grateful and appreciative for door dash.
I love my job
I come to work with a smile on my faceBut it's a big stress relief I wouldn't trade my job for anythingJust wish we had a longer route and get paid for it but it's pretty scary whenYou go toGarlington Heights they try to take my purse luckily I had a baseball bat and they seen it started off with five guys and then it started off with four young gangsters this happened last week I smile when I drop off food if the restaurant messes up the order I always go out of my way go back to the restaurant messed up their meal and then I go all the way back like yesterday Zaxby's when I had to go to ware county middle schoolThis is not the first timeAnd if theRestaurant is Out somethingI always call if I don't answer a text and then I'll text again and then I called they don't answer the text until I reach them and ask them what else can I get for them like it was on Mother's Day a woman wanted a mcflurry from McDonald's they told me no refunds so I called her ma'am what else you wantI said don't worry I will pay for it Out of my own experienceShe asked for a caramel frappe and I got her one it's Mother's Day when I got there she told me how grateful and thankful I told her I said ma'am don't worry about it I said happy mother day with a smile it made me feel good I was able to help somebody I'm a mama myselfI'm always glad to help and somebody out always keep somebody updated
Get DasherDirect from App Store
What is your opinion about DasherDirect
Bitcoin
Ethereum
MetaMask (ETH)
Xrp
Polkadot
Binance coin
Stellar
Dogecoin
Tron
Elrond
Donate Bitcoin to this address
Scan the QR code or copy the address below into your wallet to send some Bitcoin
Donate Ethereum to this address
Scan the QR code or copy the address below into your wallet to send some Ethereum
Donate Xrp to this address
Scan the QR code or copy the address below into your wallet to send some Xrp
Donate Polkadot to this address
Scan the QR code or copy the address below into your wallet to send some Polkadot
Donate Binance coin to this address
Scan the QR code or copy the address below into your wallet to send some Binance coin
Donate Stellar to this address
Scan the QR code or copy the address below into your wallet to send some Stellar
Donate Dogecoin to this address
Scan the QR code or copy the address below into your wallet to send some Dogecoin
Donate Tron to this address
Scan the QR code or copy the address below into your wallet to send some Tron
Donate Elrond to this address
Scan the QR code or copy the address below into your wallet to send some Elrond