(Game) My Friend Pedro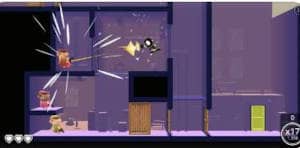 Game Description :
They kidnapped his wife and kids and left him for dead. But it's going to take more than that to split this banana's family. Help your friend Pedro serve some ice cold revenge, with a sprinkle of bullets on top!
Game Features :
My Friend Pedro is back in a brand new mobile adventure of blood, bullets and bananas! Flip and fire your way through 37 action packed levels on foot, on a motorcycle and even on a skateboard. Plan your high caliber choreography for the best scores and, if your skin is tough enough, test your skills in Blood Rush mode.
This banana is Ripe for Revenge. Are you?
Additional Information :
Size 192.4 MB
Requires iOS 11.0 or later.
User Reviews :
One of the best mobile ports I've played!
After loving My Friend Pedro on pc and learning there was going to be a mobile port, I was skeptical of how the gameplay would translate, as well as assuming it would be a cash grab like many other mobile ports (though that second concern doesn't really matter, since it helps indie devs). My assumptions turned out to be wrong, as after playing this game, I love the way it turned out. It keeps the movement shooter action of the original while condensing it into a simplified format, and while not as deep as the first game, it stills plays great. As a sucker for movement games, the fluid tricks while shooting enemies is a godsend. My only issues with the game would be the requirement to get premium to choose your levels instead of starting from the beginning, however, the premium version is a light price and the content and support for indie devs is well worth it. Overall great mobile game with few flaws!
The fun comes and goes within a heartbeat
The game is pretty fun but ends way to quick. I thought this was gonna be a spin off that would have endless amount of levels and updates but just like the original it ends way to quick. I beat the game with 3 stars on each level in about 3hours. The game ends once it starts to become more challenging and fun so keep in mind it does have an end to it and you will most likely reach it quickly. Also keep in mind they do ask you to pay $2.99 to be able to continue progress if you die but if you do not wanna pay you would have to start from the beginning each time you die. Overall I had a fun time but im sad its over within a flash would have loved for this to be a game were you just keep on getting more levels and different lands and enemies. Hopefully this game will get future updates but from the way it ends i highly doubt it. If you want a quick and fun game to pass

Some time this would be it but if you are looking to have a game for a long time I recommend looking elsewhere.
change controls/more customization
I been playing the game for a few days and i like it since I'm not able to play it on computer my friends pedro is a very cool game, but i notice a few one of them is your not able to change your guns i want to be able to use other guns instead of the pistol, other thing is I don't really like the controls for a mobile games it's kind hard for a mobile game, it's kinda hard to be able to move fast and get a high score so i was wondering if you can maybe adding a few more options. One more thing is your not able to freeze and unfreeze time like on the computer and it kinda of annoying to not able to move and your multiplayer i going down too fast, but other then that i hope you keep updating the game and adding more features to it.
Shows promise, however..
As being a fan of both the original flash game version and the official release, it was hard not to see this and instantly pre-order it. The look of the game is quite impressive for what it is, though seems to lack a little in vibrancy and flare compared to the console/pc version. The soundtrack fits very nicely, and while the controls could use *some* work, I was able to get accustomed to them very shortly. The main gripe I have with the game as it stands now is the the sort of paywall. I personally would've made the full game free to play, instead of the whole no respawn thing, with customers the choice to spend money on either the, alternate skins, soundtrack packs, dlc, bonus levels, modifiers, and etc. Otherwise, it's a promising start to a simple yet very effective action platforming shooter.
Get My Friend Pedro from App Store
What is your opinion about My Friend Pedro
Bitcoin
Ethereum
MetaMask (ETH)
Xrp
Polkadot
Binance coin
Stellar
Dogecoin
Tron
Elrond
Donate Bitcoin to this address
Scan the QR code or copy the address below into your wallet to send some Bitcoin
Donate Ethereum to this address
Scan the QR code or copy the address below into your wallet to send some Ethereum
Donate Xrp to this address
Scan the QR code or copy the address below into your wallet to send some Xrp
Donate Polkadot to this address
Scan the QR code or copy the address below into your wallet to send some Polkadot
Donate Binance coin to this address
Scan the QR code or copy the address below into your wallet to send some Binance coin
Donate Stellar to this address
Scan the QR code or copy the address below into your wallet to send some Stellar
Donate Dogecoin to this address
Scan the QR code or copy the address below into your wallet to send some Dogecoin
Donate Tron to this address
Scan the QR code or copy the address below into your wallet to send some Tron
Donate Elrond to this address
Scan the QR code or copy the address below into your wallet to send some Elrond