(Game) PK XD : Play with your Friends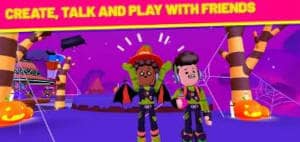 Game Description :
Welcome to PK XD!
Do you want to explore this universe and join millions of people around the world?! Join us and reach a new level of fun!
Game Features :
TALK WITH FRIENDS
This world is yours! In addition to exploring and facing challenges, you can try different activities: relax on the floats, eat ice cream, jump really high with the power up, dance and have fun with your community!
ADOPT PETS
Your experience is even more complete with a virtual pet! From common to rare, find lots of cute creatures to accompany you in the game. Take good care of them and see how much they can evolve by your side!
CREATE YOUR AVATAR
Your character, your rules! You can be anything you want, use your imagination to combine all available items: monster slippers, futuristic boots, amazing wings, ninja swords, cat mask, fashionista clothes and much more.
PARTICIPATE IN EVENTS
We always plan very special moments for you to enjoy! Take part in our events like Halloween, Easter and Christmas, with amazing decorations around the Island, challenges and themed items!
BUILD YOUR DREAM HOME
Decorate the perfect house, however you like. The only limit is your imagination! Take a peek at the items you can find: Cloud Sofa, Dance Mat, Soft Mats, Player Chair, Kitchen Items, Bathroom Items, and more!
CHALLENGE YOUR FRIENDS WITH MINIGAMES
Play the funniest minigames with your friends. How about participating in a Crazy Run, breaking the record at the Pet Parade or delivering pizzas to earn coins? Enter Arcade and win all challenges!
BE PART OF OUR COMMUNITY
Build the game with us! We want to hear everyone's suggestions so that we can offer the best experiences.
Stay on top of news: @pkxd.universe
Additional Information :
Size 373.7 MB
Requires iOS 10.0 or later.
User Reviews :
Could be better… but still pretty good
Ok first of all great game and great job. It's really addicting when you are just starting trying to get a better house, better clothes, and better furniture but the one thing that is for sure is that it's kinda hard to have fun with the game after you have everything you want in it. The updates are fun and I like that you have regular ones as well, but there is nothing else to do once you have all you want which is why I rarely play or even visit the game and even more if I do it's only for a minute. So my suggestion is to have weekly tasks that you can do to win prizes so that people will actually be playing your game even more. And also ignore this if it's already there but even though I love that you put jobs in the game I have not found a way to actually have a profession so can you fix that and also can you make it so that you have to come on the game everyday to do a task for your job and you get payed every time. I think it would be a fun way to get money and to incorporate jobs in. And speaking of jobs please put in some influencer stuff, as of now there are no influencer clothes or gear. And you probably hear this all the time but can you put in different worlds and like an airport to get to them and maybe there could be like jobs at the airport as well like pilot flight attendant no security guard. Thank you for reading this and I hope you take some of my suggestions into consideration!
Love PKXD
OK PKXD should let you choose which kind of pet you want so that legendary pets take longer to hatch than commons and rares take shorter time to hatch. also I would like for PKXD to give back the take a tour for the house. also I want it to have the take a tour back like you say you wanna house but you don't know what it what it looks like on the inside but you can't take a tour of it. also I would like for high school to have activities like not just some chairs. I do like the floating burgers that was a really good job but I think that there should be more activities in the high school like maybe there should be tasks to do in the high school like school work in the high school or a game that would be what I want. PKXD should have more citizens and more houses. It is the best game that I have ever experienced because I've had experiences with really bad games like games where there is no social reality and so I like social games like PKXD and play together. there should be vehicles in PKXD and I also have something else to say. crazy run it should have like double the parkour and when you get to the finish line double the money. I would like that and then you win $1000 each time you play crazy run and in the mystery box round when you get to a mystery box it should gives you like a six digit when you get a mystery box round in win first place. and that's what I want thank you and please take this into consideration thanks.
Get PK XD from App Store
What is your opinion about PK XD
Bitcoin
Ethereum
MetaMask (ETH)
Xrp
Polkadot
Binance coin
Stellar
Dogecoin
Tron
Elrond
Donate Bitcoin to this address
Scan the QR code or copy the address below into your wallet to send some Bitcoin
Donate Ethereum to this address
Scan the QR code or copy the address below into your wallet to send some Ethereum
Donate Xrp to this address
Scan the QR code or copy the address below into your wallet to send some Xrp
Donate Polkadot to this address
Scan the QR code or copy the address below into your wallet to send some Polkadot
Donate Binance coin to this address
Scan the QR code or copy the address below into your wallet to send some Binance coin
Donate Stellar to this address
Scan the QR code or copy the address below into your wallet to send some Stellar
Donate Dogecoin to this address
Scan the QR code or copy the address below into your wallet to send some Dogecoin
Donate Tron to this address
Scan the QR code or copy the address below into your wallet to send some Tron
Donate Elrond to this address
Scan the QR code or copy the address below into your wallet to send some Elrond