Dancing Road – Color Ball Run game by Amanotes Pte. Ltd.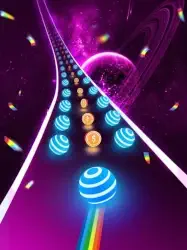 Game Description :
New popular music songs added. Now you can play dancing ball on the music tile road with various trending genres from the best rhythm Piano to Guitar songs, Pop, Kpop, Hip Hop, Rock and EDM.
Let's feel the beat in this music game with frequently updated hit songs from top singers like Charlie Puth, Alan Walker, Sia etc.
Easy and colorful gameplay to enjoy your favourite songs.
Gameplay:
Guide the ball to match other balls of the same color while listening carefully to the music. Collect the coins and Gift Boxes to unlock new treasures. Train your eyes coordination when the ball suddenly change color on the dancing road.
Game Features :
1. Original background music in line with beautiful theme
2. Multiple levels of increasing difficulty with their own stories
3. Very simple practice mode with hold and drag control.
4. High quality and various music genres which suit different music tastes.
Let's roll the ball and feel the beat in this Color Matching Game!
Music game lovers are waiting for you!
Dancing Road is from Amanotes, the number one music games publisher in the world, with over one billion downloads. Music lovers can interact with thousand of songs through our different apps. Why just listen to music, if you can also play with it? At Amanotes, we believe that "everyone can music!".
Support:
We'd love to hear your precious feedback and suggestions for our music game. Please contact us: pama.support[at]amanotes.com
Term of Service: static.amanotes.com/terms-of-service/
Privacy Policy: static.amanotes.com/privacy-policy/
Additional Information :
Age Rating 9+
Size 251.6 MB
Requires iOS 11.0 or later.
User Reviews :
Some glitches but great game
So… the reason why I gave 4 stars instead of 5 is because there are some glitches that I find quite annoying, (not that annoying because they actually make you win) but still it sort of takes the fun out of the game. So the first glitch, when the ball rolls off the track, and jumps, and then falls onto another track, like those jumps, the ball starts floating in the air, and keeps floating but the music keeps playing it's so weird. The next glitch, when you finish a song, the ball keeps rolling and rolling and rolling, when your supposed to be back at the Home Screen. The last one I know of, when you do one of those jumps, when you land, all the other balls just disappear and you can just roll on, and then when you do another jump, then all the balls come back, it's weird, and I completed a lot of songs with that glitch. Thank you for reading I hope the glitches get fixed and hope that you didn't put them there intentionally and otherwise it's a great game I love it and play it all the time. Good day sir/ma'am.
Developer Response,
Hi, Violent cutie, and thanks for your feedback! We appreciate your time and patience. Please describe your problem in detail (including phone model and game version) to support[at]amanotes.com. We'll do our best to help you.
The music is so amazing 
Hi everybody my name is Jade and this game is so entertaining it's like you're a ball and there's music and you have to crash in to the ball with the right color but if you crash in to the wrong color you like explode and you get to choose your music before you start the round and if you make it through the whole song I forgot what happened but something coolI mean this game is like so fun I can't even stop playing it I mean this game is like so entertaining I love it I love it I love it I can't stop saying I love it I mean I can but still I can't stop saying it so I really love this game and there's a VIP access but I don't get the VIP access but if you got the VIP access there's no way you don't have to do anything to have a second chance and I like how do you have to crash in to the right color balls to the beat of the music and when you told your music and you're a ball you change colors every time you go on that ramp thing guys this game is super fun I've been playing it NONSTOP and I was even playing it when we was on the way to the store to go shopping so I hope you love this game if you do tap drag click the link whatever you need to do a download Dancing Road bye-bye (Whisper) I am in love with this game
Developer Response,
Hi Hunter! That's great to know how much you love our game! Thanks for your review and keep enjoying Dancing Road!
Get Dancing Road from App Store
What is your opinion about Dancing Road
Bitcoin
Ethereum
MetaMask (ETH)
Xrp
Polkadot
Binance coin
Stellar
Dogecoin
Tron
Elrond
Donate Bitcoin to this address
Scan the QR code or copy the address below into your wallet to send some Bitcoin
Donate Ethereum to this address
Scan the QR code or copy the address below into your wallet to send some Ethereum
Donate Xrp to this address
Scan the QR code or copy the address below into your wallet to send some Xrp
Donate Polkadot to this address
Scan the QR code or copy the address below into your wallet to send some Polkadot
Donate Binance coin to this address
Scan the QR code or copy the address below into your wallet to send some Binance coin
Donate Stellar to this address
Scan the QR code or copy the address below into your wallet to send some Stellar
Donate Dogecoin to this address
Scan the QR code or copy the address below into your wallet to send some Dogecoin
Donate Tron to this address
Scan the QR code or copy the address below into your wallet to send some Tron
Donate Elrond to this address
Scan the QR code or copy the address below into your wallet to send some Elrond