Cooking Mama – Let's cook! game by Office Create Corp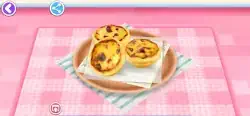 Game Description :
A family-friendly cooking game loved worldwide!
You'll learn to love cooking!
Chop, bake, stew…
Cook tasty meals with easy touch controls!
Try out this unique cooking game.
The yummy food you'll create will definitely make you hungry!
Game Features :
Let's Cook!
Cook food by playing fun mini games. More than 30 kinds of recipes are waiting for you. Do your best, Special Chef!
Happy Village!
Serve your cooking to everyone at your restaurant. Create a big and wonderful restaurant that's all your own.
Harvest lots of things by going Fishing, growing plants in the Fields, and raising animals in your Ranch.
Gather up lots to exchange for Happy Foods!
Game Plaza!
Play non-cooking games like "Help out," "Play Shopkeeper," and "Exercise your brain." More than 30 kinds of mini games are waiting for you. Aim to get high scores!
Challenge Ranking!
Compete in weekly events for the best scores! Join the global rankings!
Other Ways to Have Fun
Decorate the kitchen with various items.
Make surprise dishes by combining 2 recipes.
Watch realistic cooking videos for supported recipes.
Watch an animated video of Mama's fun daily life.
Easily share videos of your gameplay to the world.
With its intuitive controls, both children and adults can enjoy the game. Also, even if you make mistakes there are no game overs, so everyone can complete dishes. Furthermore, children who play may develop an interest in cooking.
Recommended Setup
iOS 10.3 or later.
Game may not be playable on certain devices even if the above conditions are met.
By downloading this game, you are accepting its User Agreement.
Additional Information :
Size 238.8 MB
Requires iOS 10.3 or later.
User Reviews :
Cute!
I'm an adult and don't believe in "too old" bc that's a man's rule not based on a firm foundation of knowledge that I've seen so I disregard those silly "rules" society tries to place on us.

I enjoy trying to learn new techniques in cooking games. Creating one is a goal of mine but my coding is still on a basic level but playing games I've done a long time and this game has too many ads that I can't seem to buy out, can't remove them. I won't keep this game long if I can't get rid of ads permanently. Not going to rent this type of game – ever. I won't rent items either. Meaning I'll never make a purchase unless I can accomplish those things.

In my opinion, cute, fun if you can endure lots of ads with no end. Love the combination of things you can do. They cover fishing (kinda weird technique but cute), gardening, selling, making. Wonderful opportunity here has fallen into their greed. It could've been perfect for everyone. Kids should be able to have this as an ad-free game that has recipes for a ONE TIME purchase. It's a (ad cow) cash cow right now.
One of the only games i keep on my phone
I have had this app on my phone since i was in NINTH GRADE (age 14). i'm 24- going on 25 now & this is one of the only games/apps i keep on my phone. It's low stress/anxiety and very calming after a long, crazy day. The recipe packs are super cheap to the point i own every single one. There's so many recipes to earn/buy that I still haven't made every recipe, let alone master them all. Not sure what people are talking about when they mention ads? I get one maybe every 30 mins – sometimes i go longer without seeing one. The other ones you can watch to earn coins, which i earn through recipes, the restaurant, the farm, etc. There's so much to do in one game. Not to mention the major nostalgia value. I don't know – I guess I don't understand why everyone's so butthurt when i've been playing this game for at least 15 years and have nooo issue with this version. I feel like y'all are just mad you have to pay for the recipes now instead of earning all of them. It's an app – like *most* apps, there's a paywall for certain things. Quit whining.

Side note for the game developers: i would absolutely LOVE some new recipe packs soon! I know they take time to roll out though, so i'll be patient!
Absolutely in love!
I love this game, one of the best cooking games I've played in a long time. It's really enjoyable to play and the mini games add another component to the game So it doesn't get too monotonous. They are also very clever with the way they've done their ads, it isn't forced but you are asked often and can always say no however you get rewards so I find myself often watching them, I really appreciate this as I don't feel like the ads are forced down my neck. I also love how you can do a lot of things without having to pay at all and the foods are really achievable which is how it should be, often times other games basically force you into using real money to progress which is awful and exploitive. However I do understand where other reviewers come from like the mini games are a little pointless and saying it's too easy but this is something I like, I play this game to relax and I enjoy it, I wouldn't want it any other way. On a scale of 1-10 I would say an 9/10 so on this I'll rate it a 5 🙂 I would recommend to a friend!
Get Cooking Mama from App Store
What is your opinion about Cooking Mama
Bitcoin
Ethereum
MetaMask (ETH)
Xrp
Polkadot
Binance coin
Stellar
Dogecoin
Tron
Elrond
Donate Bitcoin to this address
Scan the QR code or copy the address below into your wallet to send some Bitcoin
Donate Ethereum to this address
Scan the QR code or copy the address below into your wallet to send some Ethereum
Donate Xrp to this address
Scan the QR code or copy the address below into your wallet to send some Xrp
Donate Polkadot to this address
Scan the QR code or copy the address below into your wallet to send some Polkadot
Donate Binance coin to this address
Scan the QR code or copy the address below into your wallet to send some Binance coin
Donate Stellar to this address
Scan the QR code or copy the address below into your wallet to send some Stellar
Donate Dogecoin to this address
Scan the QR code or copy the address below into your wallet to send some Dogecoin
Donate Tron to this address
Scan the QR code or copy the address below into your wallet to send some Tron
Donate Elrond to this address
Scan the QR code or copy the address below into your wallet to send some Elrond