How We Feel app by The How We Feel Project, Inc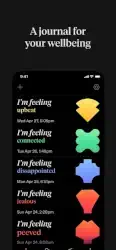 App Description :
How We Feel is a free app created by scientists, designers, engineers, and therapists to help people better understand their emotions and find strategies to help them navigate their emotions in the moment.
Conceived in conjunction with Yale University's Center for Emotional Intelligence and based on the work of Dr Marc Brackett, How We Feel helps people find the right word to describe how they feel while tracking their sleep, exercise, and health trends using HealthKit in order to spot patterns over time.
App Features :
Founded as a science-based nonprofit, How We Feel is made possible by donations from people who are passionate about bringing mental wellbeing to the widest possible audience. Our data privacy terms are clear and easy-to-understand: all of your data is kept on your device unless you opt-in to send an anonymized version of your check-ins to be used in research to help more people.
Whether you are downloading this app in order to build better relationships, make your emotions to work for you, not against you, improve how you handle stress and anxiety or simply to feel better, How We Feel will help you identify patterns through daily HealthKit tracking and find emotional regulation strategies that will work for you. The How We Feel friends feature allows you to share how you feel with the people you trust most in real time, strengthening your most important relationships.
Filled with step-by-step video strategies you can do in as little as one minute on themes like "Change Your Thinking" to help you address negative thought patterns with cognitive strategies; "Move Your Body" to express and release emotions through movement strategies;"Be Mindful" to gain perspective and minimize the negative impact of misunderstood emotions with mindfulness strategies; "Reach Out" to build intimacy and trust, two important tools for emotional wellbeing, with social strategies.
Additional Information :
Size 70.6 MB
Requires iOS 14.4 or later.
User Reviews :
Simple but effective
I love love this app. I share it with my friends and family. I love the ease – 4 choices to start, definitions of each emotion, and minimal typing the whole way. Unless you want to type a description of your moment, all aspects that are tracked are pre labeled buttons like "home" "mom" and "resting." Those buttons are customizable and you can delete ones that dont apply to you. Navigating the emotion page is so user friendly, hope it doesnt change. I also appreciate how you dont need to log certain things like what you were doing, or how much exercise you had. The exercise log is very discreet for those of us who are sensitive to even small pressures to work out.

My only suggestion is to be able to go back and edit the time of day an entry is. Sometimes when I am working, I want to log my emotions. I cant because Im not allowed to have my phone on me, but I want to be able to log it after work and then edit the time so it reflects when that emotion happened. I think that same idea could be helpful in a variety of situations, like not wanting to make an entry around certain people, not realizing how you were feeling until later, etc
Developer Response,
Thanks for using How We Feel! This is a great suggestion. We'll make this change in a future version.
Needs a notes EXPORT feature.
No journaling app is complete without an export feature that sends our text entry data to a standard format like PDF, TXT or RTF. ** ** Because all our notes, epiphanies, realizations, etc, are stored on the DEVICE and not on their servers if something happens to the device or to the app, we're out of luck and all our notes may DISAPPEAR. What's a worse way to make a person feel lost, confused, and miserable than to realize an entire year's worth of journal entries is GONE FOREVER because they dropped their phone or the app crashed unexpectedly? ** In fact, just now I was leaving a review through the app and the app FROZE on me. Thankfully no other data was lost this time but I think I'm making my point. ** I'm not saying the developers should find a way to store all the photos and audio recordings, that would be too cumbersome, just a way to store the date and time and all the notes we write for each entry and export that to a standard format like PDF, TEXT, and/or RTF. ** We should have multiple means of export like: Phone drive, email, Dropbox, etc. ** It would also be nice to include a feature that allows the ability to sync the data among multiple devices on a single Apple ID. I would be willing to pay extra for those export & sync features. ** Then the app would be perfect.
Get How We Feel from App Store
What is your opinion about How We Feel
Bitcoin
Ethereum
MetaMask (ETH)
Xrp
Polkadot
Binance coin
Stellar
Dogecoin
Tron
Elrond
Donate Bitcoin to this address
Scan the QR code or copy the address below into your wallet to send some Bitcoin
Donate Ethereum to this address
Scan the QR code or copy the address below into your wallet to send some Ethereum
Donate Xrp to this address
Scan the QR code or copy the address below into your wallet to send some Xrp
Donate Polkadot to this address
Scan the QR code or copy the address below into your wallet to send some Polkadot
Donate Binance coin to this address
Scan the QR code or copy the address below into your wallet to send some Binance coin
Donate Stellar to this address
Scan the QR code or copy the address below into your wallet to send some Stellar
Donate Dogecoin to this address
Scan the QR code or copy the address below into your wallet to send some Dogecoin
Donate Tron to this address
Scan the QR code or copy the address below into your wallet to send some Tron
Donate Elrond to this address
Scan the QR code or copy the address below into your wallet to send some Elrond