(App) Coinbase Pro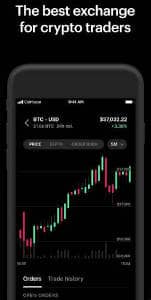 App Description :
Coinbase Pro is the fastest, most trusted way to trade cryptocurrencies.
The app is built for advanced crypto traders with all necessary info and tools to trade on the go. This includes:
Real time candles, depth chart, order book
Limit and market orders
Advanced order form
Orders and portfolio overview
App Features :
FAST
Make a trade in seconds.
COMPETITIVE FEES
Fees range from 0 – 0.5% depending on your trading volume and order type pro.coinbase.com/fees.
ASSETS
Bitcoin (BTC), Ethereum (ETH), Litecoin (LTC), Bitcoin Cash (BCH), EOS (EOS), Tezos (XTZ), Stellar (XLM), Ethereum Classic (ETC), Chainlink (LINK), Augur (REP), 0x (ZRX), Basic Attention Token (BAT), Algorand (ALGO), Dash (DASH), Dai (DAI), USD Coin (USDC) and more pro.coinbase.com/markets.
COUNTRIES
Coinbase Pro supports crypto to native currency trading pairs in the United States (USD), European Union (EUR), and United Kingdom (GBP). We also support crypto to crypto trading pairs in 100+ countries www.coinbase.com/places.
DISCLOSURES
Some features otherwise available on pro.coinbase.com/ may not be accessible or may have limited utility in the Coinbase Pro Mobile App
Trading fees and availability of assets subject to change
Account limits may vary depending on customer eligibility and payment method
Images provided above are for illustrative purposes only
Coinbase and Coinbase related trademarks are trademarks of Coinbase, Inc.
Additional Information :
Size 47 MB
Requires iOS 12.0 or later.
User Reviews :
$10 coupon
To get your $10 bonus, enter "Kubonus Coinbase" in Google before signing up. This is an official promotion for new users of Coinbase. I love everything about Coinbase and what it stands for.. However, you all are making it hard for me.. To compete against Robinhood, Cashapp, Tdameritrade, and soon to be Fidelity; please find a way to get rid of these fees to buy into the market.. Maybe keep the selling or converting fees.. But, we need more people in the market and the fees are not helping.. Please go public soon.. Merge with Square or buy them if possible.. Or, merge with Facebook as that would allow Basebook to be an industry leader in crypto and p2p transfers and transactions… Most important, I Bcurrently use yahoo finance to manage and see my average cost and gains or losses for all my different crypto investments.. I would love if Coinbase would incorporate my average cost per coin.. Also, add in my daily and total gains and losses.. I should not have to use a third party site to manage investments that I purchased on your site.. Lastly, please add custom alerts for all of the crypto's offered on the platform… We only have the ability right now to set custom alerts for three assets and again I have to use a third party site for the others.. I would love for Coinbase to be my source for everything crypto…
Probably the best app for data and trading
It's hard to find a reliable app for crypto. Most don't adhere to the functions they sell you on, and many others are for users new to crypto. Coinbase Pro is absolutely everything it says that it is, which is nothing short of a data center and not much more. It is the most reliable source that I have for making accurate and informed trades on the crypto market. If you want fancy colors and games and information on different coins or tokens that the app doesn't even offer, then this isn't for you. What you will get is up front information on the fees and access to every coin that Coinbase offers and that's it. No filler. Straight up—to the second-trade history and order book so that you know what's happening with your investment whether you're long or short. The only negative I could say about the app is that it's so bare if you don't have a firsthand knowledge of the market already, then you won't have a clue about how to navigate this app. It could offer just a tad bit more information than it does, but it's for trading and pretty much that's it. So, it does what it says it does. No earn, no stake, no transfer or conversion gimmicks. Just trade crypto and make money with accurate data to assist you with your trade. It's almost like Coinbase and Coinbase Pro are different companies entirely. Four stars only bc I don't give anything five stars. So, four is five in my opinion lol.
Developer Response ,
Hi NNesbit, we appreciate you giving us feedback! We will pass this on to our teams for discussion. Thanks for using our app.
App is pretty good but not without a few major faults
The app is good, and so is Coinbase's Pro service. But there is always room for improvement: for one, CB provides you no profit/loss statistic. I understand each crypto transaction lives independently of the next one, but still, investors need to see where they stand without running their own excel sheets (like I have to)

Next up is the inability to see full prices on your fills (or on some screens, no fill price at all). Coinbase loves to round your volumes and prices. And when markets are trading in ticks, pips, whatever you want to call em…being able to see full prices on my fills in important. Stop rounding prices and volumes. If you absolutely need un-rounded numbers, you'll have to visit the CB Pro website, or run a CSV file in the statements section of the webpage.

And another complete PITA is the lack of Watchlist (which regular Coinbase has).

I still wholly recommend the app and gave it 5 Stars to encourage Coinbase to adopt these simple changes that other exchanges already have.
Get Coinbase Pro from App Store
What is your opinion about Coinbase Pro
Bitcoin
Ethereum
MetaMask (ETH)
Xrp
Polkadot
Binance coin
Stellar
Dogecoin
Tron
Elrond
Donate Bitcoin to this address
Scan the QR code or copy the address below into your wallet to send some Bitcoin
Donate Ethereum to this address
Scan the QR code or copy the address below into your wallet to send some Ethereum
Donate Xrp to this address
Scan the QR code or copy the address below into your wallet to send some Xrp
Donate Polkadot to this address
Scan the QR code or copy the address below into your wallet to send some Polkadot
Donate Binance coin to this address
Scan the QR code or copy the address below into your wallet to send some Binance coin
Donate Stellar to this address
Scan the QR code or copy the address below into your wallet to send some Stellar
Donate Dogecoin to this address
Scan the QR code or copy the address below into your wallet to send some Dogecoin
Donate Tron to this address
Scan the QR code or copy the address below into your wallet to send some Tron
Donate Elrond to this address
Scan the QR code or copy the address below into your wallet to send some Elrond