(Game) Fight Night Battle Royale 3D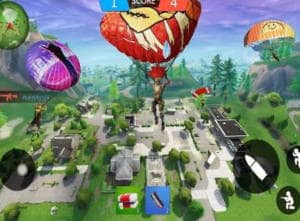 Game Description :
This third-person shooter will make you forget any other multiplayer TPS game! If you love third-person shooter games and multiplayer or epic combat games.
Fight Night Battle Royale 3D Shooting Survival 3D on a dead island with other players like you until all but the strongest have met their bitter end! Time flies by and the zone breathes right down your neck, so snatch up your weapons and equipment and jump into battle against the island's other survivors!
The shooting madness and FPS Offline shooter that will make you forget all other FPS combat are here! Feel the thrills of the fighting and killing in this FPS and become a real Shooter! Tired of the battle royale genre? Get ready for some action with your favorite gun and join this offline shooting battle now. Have you already? Run, shoot, laugh, and Respawn!
Join this fun third-person PvP adventure now! Play this online shooting FortFight Battle Royale Shooting Survival 3D for FREE: Complete challenges, join a special forces squad, or just kill them ALL shooting a gun!
Become whoever you want: sniper, special ops soldier, shooting expert, or just a combat killer to feel the thrills of the adrenaline in this online shooter! Feel the action of a TPS fight while you defeat your enemy army on all the battlefields.
If you like 3D epic special ops games, you will love this creative multiplayer army with PvP destruction mode. Will you become the last man standing? Join different sniper teams and define your online strategy and combat tactics to defeat the military rivals in the battle lands!
This third-person shooter will make you forget any other multiplayer TPS game! If you love third-person shooter games and multiplayer or epic combat games, this PvP will make you forget about any other online shooters up you played before! Bring the victory home in this TPS. Take your heroes out of the fort into the battlefield at night! Win the war while avoiding the bullets!
Assassin, gunman, elite soldier, thumper gunman, or just a killer… Which one will you choose? Make your sniper or gunner aim at the shooting target and with your favorite thumper gun, prepare the assault with a shotgun or a rifle and attack and counterattack with violence with the fire of the bullets of your weapon!
Choose your Assault thumper gun and mark your target in this shooting struggle. An FPS offline shooter never was so funny! Start the PvP in this third-person shooter online!
Game Features :
High-Quality Graphics & engaging sound effects!
Challenging gameplay to Scavenge for weapons!
Gather supplies, guns and war equipment for survival!
Battle against unknown army squad in world war shooting game!
Explore the vast battleground as a US army commando survival shooter!
Challenge yourself to be the last standing player in the finest
Additional Information :
Size 336.6 MB
Requires iOS 10.0 or later.
User Reviews :
This game is the best
I love this game I can't stop playing it. Fights are a little longer then other battle royale games because the guns don't do as much damage like other battle royale games. I really recommend this game try it out it's really fun. I also like how there are not a lot of people in one game it makes games go a lot quicker. Just a suggestion you should add a US East server so people on the East coast have better connection and do the same with Central America. What was the point of the update today if there's nothing new I updated it for the storm helmet and now there's nothing new what's up with that? I'm back. So your discord server I got banned for not braking any of the rules the person you banned me was solo gamer so can you unban me. I said I 13 then solo gamer ban me for no reason and solo gamer blocked me so I can't ask solo gamer so I would be very happy if you unban me. I don't know why people are writing a review about add this add that. People want it to be basically the same as fortnite. Let Fight Night games create their game how they want to. All the games don't have to be the same. People need to understand that.

I'm back again. Fight Night I want a new account without a new phone how do I do that? I enable cloud sync just in case if I want to play on my current account. Can you tell me how?

Please
Better thAn brawl stars Dude
I just want to say this game is amazing, all the fun features crammed into one, fast dowloaded game. Guns are a bit unbalanced but if your aims good then it wont matter. Overall I would like to tell you guys to download this game, don't get unmotivated for the first couple games. There's no ranking system as they put everybody from noobs to pros into the same match but practice makes perfect!! This game will have you on the repetition of dying, playing, dying, playing, dying and still playing!!

Ok now that thats done, let me tell yall the real get down. This game is hot garbage, unranked gameplay, rigged matches and bad guns. Rigged matches I mean by the fact that I hit somebody for over 100 damage and when I spectate, the have 10 armor with full health. HUH?! I strafe, run, just ultimately cream the person but they always end up winning. Only to be killed my somebody standing still with a revolver second later ? Dont download this game, PLEASE!! DONT DOWNLOAD THIS GAME!! ITS FOR YOUR OWN GOOD. Check the review title, I uppercased B, A, D. Only the smart ones would catch that. Point is, this game is a HUGE waste of time. H U G E! No im not hating, im just giving you all my raw experience so if you've read this far then please take what I said serious. Im trying to help you, have a good one ?
Get Fight Night Battle Royale 3D from App Store
What is your opinion about Fight Night Battle Royale 3D
Bitcoin
Ethereum
MetaMask (ETH)
Xrp
Polkadot
Binance coin
Stellar
Dogecoin
Tron
Elrond
Donate Bitcoin to this address
Scan the QR code or copy the address below into your wallet to send some Bitcoin
Donate Ethereum to this address
Scan the QR code or copy the address below into your wallet to send some Ethereum
Donate Xrp to this address
Scan the QR code or copy the address below into your wallet to send some Xrp
Donate Polkadot to this address
Scan the QR code or copy the address below into your wallet to send some Polkadot
Donate Binance coin to this address
Scan the QR code or copy the address below into your wallet to send some Binance coin
Donate Stellar to this address
Scan the QR code or copy the address below into your wallet to send some Stellar
Donate Dogecoin to this address
Scan the QR code or copy the address below into your wallet to send some Dogecoin
Donate Tron to this address
Scan the QR code or copy the address below into your wallet to send some Tron
Donate Elrond to this address
Scan the QR code or copy the address below into your wallet to send some Elrond