(App) Cake Web Browser
 free apps for iphone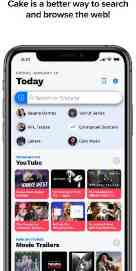 App Description :
Cake is a next-generation web browser with built-in VPN that protects your privacy and provides the best search and web browsing experience available for mobile. Cake is designed to help you find answers FAST.
FREE, UNLIMITED VPN
Protect and secure your data with Cake's free, worldwide VPN. Our VPN provides military-grade encryption without tracking, throttling, or bandwidth restrictions empowering you to search with peace of mind.
SWIPE THROUGH SEARCH RESULTS
No more jumping back-and-forth between the search results page and each website. Skim the search results, tap and swipe, or just swipe right into results – you are in control. Experience the best way to search the web on your phone.
PRIVACY PROTECTION
Cake is serious about your privacy. Unlike other browsers, Cake doesn't ask for your name or email and doesn't tie any search terms or website visits to you or any other user. Cake was thoughtfully designed to protect your privacy and still give you a great experience searching and browsing the web.
Go 100% incognito and search without a trace in "Private Mode" – unlike "privacy" mode in other mainstream browsers, Cake DOES NOT collect your anonymous browsing history on our servers!
App Features :
Anonymous Browsing
Private Tab Time Bomb
Passcode Protection
Https Everywhere
Do Not Track
Ad & Tracker Blocking
DARK MODE (iOS 13)
Reduce eye-strain and increase battery life by switching to Dark Mode. Set it to automatically integrate with your system settings or setup the feature within Cake.
VOICE SEARCH
We all know typing on a mobile phone isn't fun. Just tap the microphone and tell Cake what you're searching for. It's great for one-handed browsing – simply say it and swipe.
ANNOYING ADS ARE A THING OF THE PAST
Block annoying ads and pop-ups, reduce data consumption, and speed up your experience with Cake's best-in-class ad blocking technology. Cake automatically blocks annoying and disruptive ads like pop-ups, video ads, banner ads, and ads disguised as content. Occasionally, you may see some ads that aren't disruptive. These ads help support great content creators. You can choose to block these ads, too, by turning off the Acceptable Ads feature in settings.
FIND MORE WITH GROUP SEARCH
Enter your search and then swipe through results from multiple online search services. Get the best the web has to offer in videos, images and shopping.
TODAY ON THE INTERNET
See what's new and fun on the internet today. Cake brings you the delight of discovery with a unique feed of videos, images, news, inspiration, products and more.
SWIPE THROUGH BOOKMARK COLLECTIONS
Stop retrieving bookmarks one-by-one! In Cake, simply swipe through your bookmarked sites and organize them into Collections.
CUSTOMIZE YOUR APP ICON
Personalize your Cake app icon (yeah, you can do that!). Choose from a library of icons to display on your home screen dock.
FIND ON PAGE + SWIPE
Find and highlight specific terms within a webpage to save time while searching. CAKE BONUS: Swipe between pages to see your term highlighted across MULTIPLE search results!
SAVE MONEY WITH RAKUTEN CASH BACK
Earn money when you shop with Cake. Powered by Rakuten (formerly Ebates), Cake alerts you with deals and discounts as you browse, making it easy to earn cash back for purchases you make. Talk about a sweet deal!
WHAT ARE YOU WAITING FOR?
Take the Cake challenge! Put Cake in your dock for 1 week and see how it compares to your current web browser—we bet you'll never go back!
Privacy Policy: www.cakebrowser.com/privacy
Terms & Conditions: www.cakebrowser.com/terms
Additional Information :
Size 63.7 MB
Requires iOS 12.4 or later.
Compatible with iPhone, iPad, and iPod touch.
User Reviews :
Cake, the best browser out there
Cake has honestly gotta be one of the best browsers out there for mobile, way better than safari is. It amazes me all of the simple things you can do that's just a huge time saver. For example, wanna do something shopping wise? After typing in your search click the shop button and you'll instantly be searching in the shop section for the certain thing you typed in, this also goes for news, videos, images, etc. You're also able to customize your home screen with a variety of different images, all of which are amazing. Also it has a feature named quick jump (which is optional) where whenever you type something in it automatically takes you to the first result. It also lets you change the app icon and the search engine (which you can do on any browser but it's still a cool browser) and the private browser is genius, if you turn this on it automatically deletes stuff after 3 minutes of inactivity. Which is well good for certain situations (y'all know what I'm talking about). The app honestly just feels faster than any other browser and it also has flash support so you can easily play things like Tetris just in your browser and it's amazing. TL:DR: great browser with many good features, 9.5/10
it's really refreshing
cake as a web browser is super efficient at getting you the information you need as fast as possible. for example, in class, we were assigned certain parts of a book to read. as soon as I entered the pdf version of said book, it came exactly onto the screen as needed without having to hassle through various sites like scribd to find an authentic pdf version. I was extremely pleased with the layout and how easy it was to use the app. if you're a little technologically challenged, just go to the settings and it will teach you how to manoeuvre you're way through the app. I thoroughly enjoy this web browser and believe it has a lot of potentials. I haven't come across most issues posted in the reviews so I can't offer much criticism since its such an easy to use browser. aesthetically, its passing. I think the app is organised and well structured to give it a pleasing look. and aside from everything, I am giving a 5-star rating because the developmental team have been so patient with the populace and hard working on furthering the success of their work. good job guys! you're awesome!
Get Cake Web Browser from App Store
What is your opinion about Cake Web Browser
Bitcoin
Ethereum
MetaMask (ETH)
Xrp
Polkadot
Binance coin
Stellar
Dogecoin
Tron
Elrond
Donate Bitcoin to this address
Scan the QR code or copy the address below into your wallet to send some Bitcoin
Donate Ethereum to this address
Scan the QR code or copy the address below into your wallet to send some Ethereum
Donate Xrp to this address
Scan the QR code or copy the address below into your wallet to send some Xrp
Donate Polkadot to this address
Scan the QR code or copy the address below into your wallet to send some Polkadot
Donate Binance coin to this address
Scan the QR code or copy the address below into your wallet to send some Binance coin
Donate Stellar to this address
Scan the QR code or copy the address below into your wallet to send some Stellar
Donate Dogecoin to this address
Scan the QR code or copy the address below into your wallet to send some Dogecoin
Donate Tron to this address
Scan the QR code or copy the address below into your wallet to send some Tron
Donate Elrond to this address
Scan the QR code or copy the address below into your wallet to send some Elrond