(Game) Total Party Kill
 iphone games download free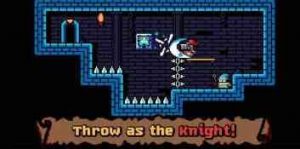 Game Description :
Your party enters a deep and dark dungeon… but the only way forward is creative use of friendly fire!
Game Features :
Control 3 different heroes and use their unique abilities to solve mind-bending puzzles by sacrificing your teammates! Throw heroes as the Knight, freeze them into ice blocks with the Mage, or pin them on walls and use them as platforms as the Ranger. As long as one hero survives to the goal, you win the level!
Total Party Kill is the winner of the Ludum Dare 43 game development competition with the theme "Sacrifices must be made". This extended edition contains improvements such as redone art and animations, new soundtrack by KungFuFurby, and challenging new levels!
Additional Information :
Size 69.8 MB
Requires iOS 8 or later.
Compatible with iPhone, iPad, and iPod touch.
User Reviews :
GREAT GAME… but
I just finished the game, it was fantastic! Most of the levels are really complex, and it's so satisfying to figure it out after struggling for a long time. It took me about three days to finish the game in its entirety. The ending is funny and the concept is genius, I love it.

Of course I would like more levels. With something like this I understand that coming up with new, good puzzles may be difficult. The game design is very clever, so anything that you make next should probably still be on that level of level design. Maybe add a new mechanic, or a boss level, maybe even a new character! But this is the type of game I could be playing for the next year straight and still be wanting more

I think a level creator would be fantastic! I know that designing stuff like that is difficult, but that would keep the game having new content for forever. If you could make a level and then post it online and let others play it Mario maker style, I wouldn't need any other new content ever

Ads are a bit of a problem, but I get it, it's an indie game, that's how you make a lot of your money. I just put my phone on airplane mode and it was fine.

The game kicks me off every now and then and that's kind of annoying but that's probably just a big that could be fixed fairly easily.

A time trial mode would be cool, and a leaderboard could make it feel more competitive and intense

I love the content, and I hope for more of it! I'll definitely recommend it! TPK FOREVER
Brilliant
I love games made with specific themes pre-decided for competitions. They're often so stupidly simple yet complex & brilliant.

The game probably only FEELS short because it's a very simple game by nature; it has to be, because you can only interact with so many things in so many ways given the mechanics. It has 60 levels, that can be curiously complex for what they are so ya know what? It's fine that it feels short. I can see a lot of effort went into this creation, and if I wasn't broke I would want to throw some legit money to the people that can make something like this, in the hopes that they continue creating awesome stuff.

Devs of this game: I can understand why it's so short, but dangit I want more… I don't want to delete this game just because I've finished it. Best of luck to all of you in your future endeavors

Also why do I feel like the Knight gets picked on, haha? I had to freeze or shoot him way more than the other two
Very well done!
I have a few grievances about this game which I will get to in a minute, but this game is awesome. The puzzles are clever and well put together, the gimmick of having to kill one or two of your players to win is unique and very well executed. The game runs smoothly and there are not too many ads. The developers have done a good job with this game. I suggest that you download this game and see if you like it as well. It is definitely worth a try.

Now for a few minor problems and suggestions. Firstly, I encountered a bug where my game crashed on level 7. This is no big deal because there have been no big fixes released yet and I am sure you guys are doing your best to help us

Secondly, I do not think that 3.99 is a good price to pay to remove ads. There are no other perks in game, and I love that this is not focused on micro transactions, but $4 to remove ads? It seems a little high to me. That being said, the way you guys have incorporated ads is great. They aren't too long, nor do they occur too often. Well done!

This is a great game and very well put together! I can't wait to see what the devs do next
Get Total Party Kill from App Store
What is your opinion about Total Party Kill
Get more free apps & games daily
Subscribe to our mailing list and get free apps & games daily to your email inbox.
Thank you for subscribing.
Something went wrong.
Bitcoin
Ethereum
MetaMask
Xrp
Polkadot
Binance coin
Stellar
Dogecoin
Tron
Elrond
Donate Bitcoin to this address
Scan the QR code or copy the address below into your wallet to send some Bitcoin
Donate Ethereum to this address
Scan the QR code or copy the address below into your wallet to send some Ethereum
Donate Xrp to this address
Scan the QR code or copy the address below into your wallet to send some Xrp
Donate Polkadot to this address
Scan the QR code or copy the address below into your wallet to send some Polkadot
Donate Binance coin to this address
Scan the QR code or copy the address below into your wallet to send some Binance coin
Donate Stellar to this address
Scan the QR code or copy the address below into your wallet to send some Stellar
Donate Dogecoin to this address
Scan the QR code or copy the address below into your wallet to send some Dogecoin
Donate Tron to this address
Scan the QR code or copy the address below into your wallet to send some Tron
Donate Elrond to this address
Scan the QR code or copy the address below into your wallet to send some Elrond