Brookhaven game by Imane Louah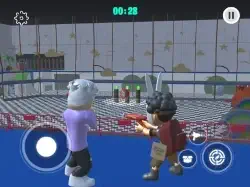 Game Description :
Welcome to the insane house in amazing world you can enjoy your time Discover a lot of rooms and enjoy the time as you run outside to see your amazing cars
Game Features :
You Are Free to play and enjoy your time with family.
Colorful and HD graphics!
Challenge and help your friends!Math games,blox fruits,brookhaven rp,Adopt me,mr p,baldis basics,roblox,fnf,piggy games,Jailbreak
Very EASY CONTROLS
Go as far as possible and discover your home to beat your FRIENDS!
Additional Information :
Age Rating 9+
Size 1.3 GB
Requires iOS 11.0 or later.
User Reviews :
Idk what people are saying
Amazing entertainment god view and cool sky's! the driving mecanicista is so good and I love how you can make and decorate your own home. I love how you can creat a cute family, get a husband, and take care of your kids. I love all the clothing and skin color options it's really a good game. The game is such good quality and it never gets glitches! My favorite part of the game is seeing your kids grow up, and when you die in the game you can become your kids. You can creat your own gole in the game, my gole is to do the 100 baby challenge! And get 1,000,000,000 moneys. So much opertunidy in the game and truly you can do EVERYTHING.
Do not get
It scares me and you have to like run around to avoid this person it's really annoying and it's sort of scary but this guy just keeps following you around then you have to escape the house or the city and it's just very annoying and it's hard to avoid him because when he doesn't die until you can't jump and when he touches you or when you touch him or her I don't care when you touch them you like die and you have to restart and it erases all of your progress so you can't like keep it the same way that you had it when you started playing it and like it's super annoying and hard to play so fix it please and it is not at all like Brookhaven it is it is very annoying I don't care just fix it rename it I don't care it is horrible it is not like Brookhaven just why so bye
Not what you think it is
If you see this game, you probably think it's like brookhaven from the game roblox. it's basically just granny or piggy. My little sister saw this game and thought it was the brookhaven from roblox. But when she played it she got scared because it's not like brookhaven at all, just a creepy horror game that tricks people to think that it's the nice fun game from roblox. So before you download this, just know that it isn't the brookhaven from roblox, and just some horror game. Also one more thing, the controls are absolutely HORRIBLE. When I tried this game, I picked easy mode and it literally is like the hardest thing I've ever done trying to control my character. Anyway people who are thinking of downloading this game to play brookhaven from roblox, I think you should just stick with the actual one on roblox. Thanks for reading this, hope it's helpful !!
My rating!
Hello, for this game I thought that it was really hard to move and when you have to move, your finger has to be in a certain spot. Also, to me, it is really hard to see things while your moving. But the positive things are that…. you have tension inside when you are playing. To me I wonder like where is he/she, And like let's sabotage the house. I like all the things you can do and the tools. By the way, I am stating my opinion, so I just want you to know like no hard feelings. Over All, after all the negative stuff I said, it is a great game to play. This should be a really good game for the people that are a little frightened by granny. Thank you for your time, and thank you for listening! Bye, and have a good rest of you evening!
Read this if your going to download..
I only rated this 2 stars so it wouldn't be under critical. It deserves ZERO stars, first of all- if you play roblox, then they basically just stole granny, piggy and hello neighbor and made about Brookhaven, I knew it would be bad, but I didn't think it was THIS bad.. first of all, it's a horror game, and they don't even tell you!! You would assume you have to find keys or smth to unlock your door, but it's literally f**ing hello neighbor- it's not fun and it's just low quality, please don't download it, it's not even funny to make fun of, it's like a 2 yr old used 4 board games and taped them together, and then broadcast it as a game they invented. Please don't download this- this is a 0/5 star game.
Get Brookhaven from App Store
What is your opinion about Brookhaven
Bitcoin
Ethereum
MetaMask (ETH)
Xrp
Polkadot
Binance coin
Stellar
Dogecoin
Tron
Elrond
Donate Bitcoin to this address
Scan the QR code or copy the address below into your wallet to send some Bitcoin
Donate Ethereum to this address
Scan the QR code or copy the address below into your wallet to send some Ethereum
Donate Xrp to this address
Scan the QR code or copy the address below into your wallet to send some Xrp
Donate Polkadot to this address
Scan the QR code or copy the address below into your wallet to send some Polkadot
Donate Binance coin to this address
Scan the QR code or copy the address below into your wallet to send some Binance coin
Donate Stellar to this address
Scan the QR code or copy the address below into your wallet to send some Stellar
Donate Dogecoin to this address
Scan the QR code or copy the address below into your wallet to send some Dogecoin
Donate Tron to this address
Scan the QR code or copy the address below into your wallet to send some Tron
Donate Elrond to this address
Scan the QR code or copy the address below into your wallet to send some Elrond