The Guardian – Live World News app Guardian News and Media Limited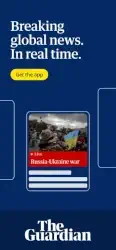 App Description :
Understand the events shaping our world with the Guardian.
Never miss breaking news, dive into diverse opinion pieces, follow stories minute-by-minute with our dynamic live blogs, from world news and politics to business news and sport. The Guardian news app is free to download and offers you a beautiful, intuitive mobile experience, so you can read, watch and listen to our independent reporting whenever it suits you.
App Features :
To give you a taste of our app, we're offering you free access to a limited number of articles, which refreshes on a regular basis. If you're a regular reader, you might consider subscribing. Subscribe to get full access to Guardian articles in our app, so you can read quality, international journalism with no restrictions.
Why download today?
Enjoy a generous number of articles every month for free, before we ask you to subscribe
Receive breaking news alerts, so you'll never miss a story
Save articles to read later, creating your own reading list
Make our homepage your own by choosing the topics that interest you most
Follow your favourite columnists, series or sports teams to get personalised notifications
And when you subscribe, you'll unlock:
Unlimited reading in the app, with no subscription messages
Ad-free, so your experience is uninterrupted
Offline reading – download articles to explore on the go
What's more, subscribing to our news app is a great way to show your support for fearless, independent Guardian journalism. As a reader-funded news organisation, we rely on your funding to power our future. Thank you.
All content in the Guardian app is copyright Guardian News & Media 2023. All rights reserved.
Our Terms of Service and Privacy Policy apply when accessing content via the Guardian app.
Privacy Policy: www.theguardian.com/help/privacy-policy
Terms of Service: www.theguardian.com/help/terms-of-service
If you subscribe to the Guardian app, our subscription terms will also apply www.theguardian.com/info/2023/feb/24/the-guardian-news-app-terms-conditions. Your subscription will auto renew and you will be charged before the next renewal date unless you cancel.
Additional Information :
Age Rating 12+
Size 128.5 MB
Requires iOS 14.0 or later.
User Reviews :
Essential news service
I couldn't have survived the pandemic without the Guardian by my side. The only minor annoyance is the plea for donations (not too annoying since I LOVE that the weekly mag doesn't have ads), and the fact that even if you are on a monthly donation plan, the app doesn't consider this to be equivalent to an online subscription (which, to be fair, it isn't). So I get most of my reading done via the snail mail paper copy we subscribe to, and just top off at the app.

Room for improvement: pls improve the app search algorithm. If I am searching for an article or book review I've already read in the hard copy magazine and I know the key words or names, half the time the article won't let itself be found via the app search engine no matter what I do. Sometimes this can be resolved by googling the article in question, and sometimes not, but either way it's very frustrating. Still overall, great app, and I'm glad it's out there making the world a better place!
Guardian was Great 5 years Ago but Not Today
I have really enjoyed the Guardian until the past few years. Years ago, it was tolerable to see a few young writers offer up a few novel interpretations of history or culture we never knew about, surrounded by a the wealth of objective apolitical news reporting by professionals your loyal readers could readily consume. But now the vast majority of your news articles are opinion-based, political, or racially charged hit-pieces dismantling some part of western culture your writers utterly despise. It is so bad, I now have to scroll through 90% of the articles just to find a single one about something innocent, like the wildlife in the UK, the world economy, etc. ….some world news event that is apolitical and free of 'victimhood culture'. Your news now is just editorialized, hyper-charged opinion. Activist hate has spread like wildfire through your news org. Its now so biased and jaded against large cross sections of people, races, ages, religions, or genders there is nothing truly objective left that can see the world of good people as worthy. Your news it seems is just not fit to print without hateful interpretations looking through the dark colored lense of identity politics.

I miss the Old Guardian where all people and all news had value as is. Now it is heavily filtered, heavily jaded, and toxic. I just cant listen to the passive agressive rage in so many young writers any longer. I have to say goodbye.
Thanks for your generosity.
Thank The Fourth Estate ! I'm a student and broke. It's so important to be informed. I really appreciate that I can read The Guardian for free. When I get some money I will start paying. The writers are excellent — great content. I can look at the photos and editorials, and imagine a life of travel where I can improve myself. Thanks for your unbiased research into world issues, and your reporting on politics. Being a journalist is a dangerous low paying job. Those that bring us the news and keep us informed, are the only thing standing between a free democracy and a failed state. Across the world journalists are jailed, killed, or treated with suspicious hostility at the very least. Also, If the media is so liberal, how come they gave Trump 5bil in free ads? The point I'm trying to make here is that journalism used to be known as "The fourth estate", an actual branch of a democratic society. The Guardian upholds this time honored ideal. Also, The Washington Post charges money to read online. The Guardian is free. Read it.
Get The Guardian from App Store
What is your opinion about The Guardian
Bitcoin
Ethereum
MetaMask (ETH)
Xrp
Polkadot
Binance coin
Stellar
Dogecoin
Tron
Elrond
Donate Bitcoin to this address
Scan the QR code or copy the address below into your wallet to send some Bitcoin
Donate Ethereum to this address
Scan the QR code or copy the address below into your wallet to send some Ethereum
Donate Xrp to this address
Scan the QR code or copy the address below into your wallet to send some Xrp
Donate Polkadot to this address
Scan the QR code or copy the address below into your wallet to send some Polkadot
Donate Binance coin to this address
Scan the QR code or copy the address below into your wallet to send some Binance coin
Donate Stellar to this address
Scan the QR code or copy the address below into your wallet to send some Stellar
Donate Dogecoin to this address
Scan the QR code or copy the address below into your wallet to send some Dogecoin
Donate Tron to this address
Scan the QR code or copy the address below into your wallet to send some Tron
Donate Elrond to this address
Scan the QR code or copy the address below into your wallet to send some Elrond