(App) Brigit – Get $250 Cash Advance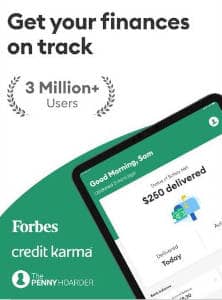 App Description :
Get up to $250 whenever you need it. Build your credit while saving. No credit check. No interest. Access in 60 seconds.
Up to $250
It happens to all of us. Car out of gas? Phone bill due? Unexpected car repair? Rest easy knowing you're always covered and save hundreds in overdraft or late payment fees annually.
Build your credit
Build your score up to 60* points. No credit check or approval needed. And never any interest or upfront deposit. We report to all 3 credit bureaus including Experian, Equifax and Transunion.
Building your credit score means access to more affordable credit cards, personal loans, mortgages, new car loans, and used car loans. Brigit Credit Builder is a more affordable alternative to secured credit cards and is designed to work whether you are new to credit or are rebuilding your credit.
You can also track and monitor your credit score as well as get your full credit report.
Easy Sign up. Fast Access.
No red tape. No hoops. Connect your bank account and that's it! Brigit works with thousands of banks like Bank of America, Wells Fargo, TD Bank, Chase, and 15,000+ more.
No interest. No hidden fees. No late penalties.
Brigit's basic account monitoring plan is free to use. Our premium plan is only a flat $9.99 monthly, providing extra financial tools to help you budget, get cash interest-free, and build your credit. What you see is what you get.
Save hundreds in overdraft fees.
Nobody has time for overdraft fees. They're expensive, annoying, and just wrong. Stop spending your hard-earned money on expensive fees, and start saving instead.
App Features :
1. Money sent automatically with Auto Advances
Get cash automatically in your account when your balance is low and in danger of dipping below zero. No more worrying about overdraft fees!
2. Money on request
Have an emergency and need cash fast? Don't worry. In just one tap, request the amount you need and money will be sent directly to your account.
3. Overdraft Predictions
Spending more than planned? We help you budget and alert you if your balance is running low.
4. Balance Alerts
We'll notify you if your balance changes and if you have an upcoming bill, so you can stay on top of your spending.
5. Repayment Options
Want to repay early? No problem. Need a bit of extra time? We've got your back.
6. Protect your Identity
Access and monitor your credit report. Keep your identity safe from fraud with up to $1 million in identity theft protection.
SERIOUS SECURITY:
All of your data is secured with the same 256-bit encryption that banks use. We do NOT sell your personal information with ANY third parties.
SUPPORT:
We are always here to help. If you ever need us or have any questions, please email us at friends[at]hellobrigit.com.
OUR MISSION:
We started Brigit because we believe all responsible hard-working Americans deserve financial stability. We are tired of banks systematically exploiting us with expensive fees, so we've built a transparent and fair product that helps everyone make ends meet.
Brigit is not affiliated with Earnin, Dave, Cleo, Klover, MoneyLion, Albert, Digit, Cash App, Self Lender, Kikoff, Credit Strong or Credit Karma.
*Impact to score may vary, and some users' scores may not improve. Results will depend on many factors, including whether your loan payments are on time, the status of your other, non-Brigit accounts, and your financial history. FICO score factors: www.myfico.com/credit-education/whats-in-your-credit-score
Additional Information :
Size 66 MB
Requires iOS 12.0 or later.
User Reviews :
10/10 recommend.
Brigit was such a helpful and affordable service when I needed it! It has helped me over so many humps! I actually had 4 different loan apps that I rotated between so that I could see which one I liked the most and I believe Brigit to be the best. Some of the others have hidden fees or tricky ways to get extra tips. Brigit doesn't have that. Keep in mind that your fee is at the end of the month after you have utilized services. If you ever decide to cancel, you will still be charged the $10 fee for that month. I initially gave a bad review because of this but when I got to thinking about it, I felt like that was unfair of me because Brigit has been a wonderful app and resource that I have never had a problem with. When you sign up, you agree to the monthly service fee even if you don't borrow money. You should pay that through until the agreement is terminated even if you haven't borrowed for a few months. That's how business works. I decided not to ask Brigit to waive the fee because it's fair that I pay for it since it was apart of the agreement I made with them. It's my responsibility to end the service if I no longer use it. I'm sure that if you wanted a refund and reach out to them, they will listen and consider the refund. So, after considering everything, it's not fair to give a poor review because of 1 tiny thing that is just the nature of business. Brigit is a great app and I highly recommend!! 10/10 will use in the future when I have a need.
Developer Response ,
Hi,

Thanks for the awesome review! We work hard to make our app as easy to use and transparent as possible and we're glad we're doing a great job!
Got the money fast!
Between Dave, Brigit, Albert, and my Vara money bank account I can advance a total of $225 from the four! I know it's not a lot, but it sure helps put when you're in a pinch! It covered my car insurance last month and this month it covered my phone bill and bought my groceries for the week! I appreciate this service a lot, my credit use to be great but I messed it up with credit cards.. my Wells Fargo credit card had a $5,500 limit along with my other 10 credit cards I now have $15,000 in debt.. so after covid I couldn't pay them off, resulting in my credit going down to the point of being unable to receive loans or any credit for that matter. So, these apps have been very helpful. They let me borrow enough to help put for the week, but not too much to where I'm unable to pay it back. All of them are on autopay at different intervals, some like Brigit allow an extension. The $9.99 fee isn't too bad since they all have fees.. if you want instant with the other apps you pay $3-5 for it, with Brigit once you pay the $9.99 monthly subscription fee instant cash is free. So, it evens out and this app in particular allows up to $250 (which is 3-5 times the other apps limits).. I'm only at $50, but hopefully I'll get up there. It's not bad if you're in a pinch, try it out for yourself!
Developer Response ,
Hi, Thank you so much for your review! We're glad to help
Get Brigit from App Store
What is your opinion about Brigit
Bitcoin
Ethereum
MetaMask (ETH)
Xrp
Polkadot
Binance coin
Stellar
Dogecoin
Tron
Elrond
Donate Bitcoin to this address
Scan the QR code or copy the address below into your wallet to send some Bitcoin
Donate Ethereum to this address
Scan the QR code or copy the address below into your wallet to send some Ethereum
Donate Xrp to this address
Scan the QR code or copy the address below into your wallet to send some Xrp
Donate Polkadot to this address
Scan the QR code or copy the address below into your wallet to send some Polkadot
Donate Binance coin to this address
Scan the QR code or copy the address below into your wallet to send some Binance coin
Donate Stellar to this address
Scan the QR code or copy the address below into your wallet to send some Stellar
Donate Dogecoin to this address
Scan the QR code or copy the address below into your wallet to send some Dogecoin
Donate Tron to this address
Scan the QR code or copy the address below into your wallet to send some Tron
Donate Elrond to this address
Scan the QR code or copy the address below into your wallet to send some Elrond