(Game) Family Island – Farming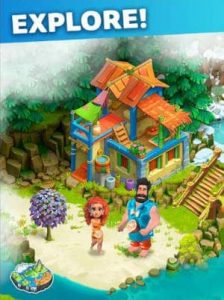 Game Description :
What would your life be without modern technology on the deserted island? Dive into simplicity of the primal world with the modern Stone Age family in this thrilling offline adventure game. Stranded on the remote island, a family of four – Bruce, Eva and their kids – needs your guidance and help starting a new family home from scratch and navigating through various family life situations with humour.
After their previous city had been destroyed by a volcanic eruption, help this family build a thriving town, all while looking for a way to reconnect with their family and beloved tribe. In this farm game, their world might seem ancient and alien without modern day technology, yet their daily family life and relationships are very relatable in today's world.
Family Island™ is a farm game full of unexpected twists and captivating adventure!
Game Features :
Enjoy your adventure to the Stone Age era! Get creative and start farming, using cool ancient technologies
In this farm game, you can unleash your inner explorer and set on a thrilling adventure to new islands
Start your own family farm on the deserted island! Grow crops and craft useful goods to trade with other characters
Customize your farm with beautiful decorations
Get to know the family better and guide them through exciting quests and life stories in this island game
Subscribe to our social channels to be in the loop about upcoming updates:
Facebook
www.facebook.com/familyislandgame/
Additional Information :
Size 415.4 MB
Requires iOS 9.3 or later.
User Reviews :
Server crashing /unable to connect
Good game, easy and fun to pass the time. Difficult to advance in many stages if you don't play all day (which is impossible if u work a full time) but this is a game right. Concept is to play through the difficulty's. Would be nice to have more opportunities for energy and diamonds well more less keys and tools would be a blessing as well. But onto the trouble at hand since the past two updates the game is having trouble connecting to your server/ glitching and restarting as well. Doesn't do much harm most the time because I'll just wait a few hours and it'll eventually connect through but in the times such as the current event, it's hard to keep a top spot in the leaderboard if u can't connect and use the limited energy u can have saved up in the time frame. ya know.. open to any tricks because maybe it's on my end but from me restarting my phone to updating the game as well as using data and home WiFi I have reached a dead end. But other then the current issue I do like the idea of it and the opportunities y'all give to scope out multiple islands, which is ideal so u don't get bored out with the same aspect
I love this game, but there are so many problems!
First off, the WAITING. I understand why you do this, but why do I have to wait a FULL HOUR to finish a brick!? I know that you do this to have people keep playing the game, but it takes so long to finish one thing! And I think one of the tasks requires 15 BRICKS! The time should honestly be 1/2 or even 1/4 of the actual wait time! Even with the string it gets annoying! (And I can't be the only one that thinks the rope and the string is required too much. Plus, even though the time decreases if you upgrade the workshop, the lowest level workshop still takes too much time). The fact that you can't cancel your first crafting item and that there are only 3 slots is also annoying. Not to mention, the storage is also too limiting. Like, I have 490 storage, which seems like a lot, but I ALWAYS find myself getting rid of materials not to get XP, but to HAVE ROOM. And that is also bad, because I often find myself getting rid of grass, which I know I'll likely need 2 minutes later. Those gold tools are another issue. The keys are way too hard to get, and should be way more frequent. I also think that a key should cost 10 rubies instead of 30. And the events are too short. The reason I give this game 3 stars is because I always find myself coming back. That is a good sign. If these problems were fixed, it would make for a great game.

Edit: Energy is also too low. Should take 1 minute to get 1 energy instead of 2.
Developer Response ,
Hello Thank you for your comment. You can get extra energy from food when you complete orders from merchant and shaman, from chests and rare items, from shower and toilet, and even from some unique event decorations. Keep exploring the islands, and you'll find more ways to collect energy!
Get Family Island from App Store
What is your opinion about Family Island
Bitcoin
Ethereum
MetaMask (ETH)
Xrp
Polkadot
Binance coin
Stellar
Dogecoin
Tron
Elrond
Donate Bitcoin to this address
Scan the QR code or copy the address below into your wallet to send some Bitcoin
Donate Ethereum to this address
Scan the QR code or copy the address below into your wallet to send some Ethereum
Donate Xrp to this address
Scan the QR code or copy the address below into your wallet to send some Xrp
Donate Polkadot to this address
Scan the QR code or copy the address below into your wallet to send some Polkadot
Donate Binance coin to this address
Scan the QR code or copy the address below into your wallet to send some Binance coin
Donate Stellar to this address
Scan the QR code or copy the address below into your wallet to send some Stellar
Donate Dogecoin to this address
Scan the QR code or copy the address below into your wallet to send some Dogecoin
Donate Tron to this address
Scan the QR code or copy the address below into your wallet to send some Tron
Donate Elrond to this address
Scan the QR code or copy the address below into your wallet to send some Elrond