(Game) Bermuda Adventures Farm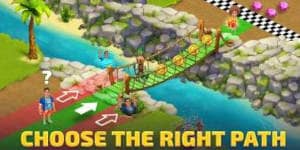 Game Description :
Explore island, build a farm, harvest crops and craft new recipes in Bermuda Adventures!
Imagine that a big family gets together to celebrate their birthday in a paradise tropical resort! But suddenly something went wrong, a plane lost control and made an emergency landing on a desert island and family members were scattered in all directions. Maybe you shouldn't have built a route through the Bermuda Triangle? Now they must not only learn to live on a tropical paradise island, but also find all the relatives lost during landing.
Help a family arrange their everyday life, teach them how to grow plants and get food. Watch how production grows and new characters appear on the island. Solve their family issues and don't let them quarrel over trifles. Be amazed with them at the mysterious secrets and unusual finds that the Bermuda Triangle hides.
And soon you won't want to leave the wonderful Bermuda Adventures!
Game Features :
Huge territory of a tropical farm
Dozens of islands with exciting expeditions
A lot of members with unique characters and behaviors
Hundreds of interesting and funny dialogues
Unique farm animals, plants and buildings
A tribe of natives, an Ancient city of wild monkeys, travelers from the past and other interesting neighbours
Family members customisation
Hundreds of township quests
And tons of humor and fun!
Are you ready to become a farmer and city manager to build your dream? Explore the Bermuda Triangle with Mom Jenny, Dad Steve and Daughter Sandy in this farming simulator game. Develop your own island farm and discover new territories!
Build a cozy villa and farm, extract resources and produce everything you need for exciting expeditions quests, construction and trading with other inhabitants of the Bermuda Triangle.
Set up your family ranch, raise animals, harvest crops, produce food for your family and trade with your neighbours.
Welcome to Bermuda Adventures!
Additional Information :
Size 218.2 MB
Requires iOS 11.0 or later.
User Reviews :
A lot like family Island only modern day
I've been playing a couple of days and it's easier to play then family island. You don't have to work so hard to complete obstacles like a broken bridge or steps. I'm only level 11 and i already have 72 exp which is about what i have on FI at level 27. I already have a chicken, sheep and pig. One thing that the Dev. Need brought to their attention is on the IOS version the second version pencil doesn't work, I discovered that a generic pencil works but would prefer using the pencil. That's the only bug I've found so far. Otherwise this is a pretty cool game. Thank you for no match 3. Super game killer.
Developer Response ,
Hello! Thank you for your feedback. We made a lot of efforts to make the game and we're happy you like it! Enjoy playing Bermuda Adventures and have a nice day!
Boring – just endless tasks
Unlike games like Atlantis, Klondike & Family Farm Adventure, Bermuda is just endless tasks (often w nowhere near enough time to finish them even if you have enough energy because the creating of items required takes too long). Add to this the fact that you can't access everything that's visible makes this game very frustrating. For example, on monkey island I can't go thru the gate despite everything being cleared. It keeps saying it's not available. There is no obvious reason WHY & so the task of completing the island eludes me. Yet they gave me a frog island w only one DAY plus a few hours to finish it. They start you out at a river crossing yet there is no way to cross because nothing is accessible, even items that are not covered by the "fog." I had to zoom out so I could see the whole island to see where the father was & that was where I needed to start. Yet when I first arrived on frog island, I was the daughter at the river. Very confusing & not well laid out.

I've been playing this kind of game since before Facebook's FarmVille. This is one of the worst. And the crude artwork doesn't help.

Deleted.
Here We Go
It's a fun and attractive game. But like other games like it, it costs too much to advance the story once you reach a certain level. All of a sudden items required to make other items increases. Your energy cap only increases if you can upgrade a building and upgrading requires more and more objects that are time-consuming to produce unless you pay $$. Of course, of course you can move the story along more quickly if you pay $$ to play. And it's fair; I get it—you put in the work to earn profit. Nothing unsavory there. But if the real $$ I spend buys gems to exchange for energy that gets depleted quicker and quicker because the energy requirements to do things keep rising, then like the games that have gone before I get bored and bitter enough to give up and uninstall. I'd love to see more of the amazing scenery and enjoy more of this story in the upper levels but again I see where the rising cost is heading and it's too steep for me. All the best.
Get Bermuda Adventures from App Store
What is your opinion about Bermuda Adventures
Bitcoin
Ethereum
MetaMask (ETH)
Xrp
Polkadot
Binance coin
Stellar
Dogecoin
Tron
Elrond
Donate Bitcoin to this address
Scan the QR code or copy the address below into your wallet to send some Bitcoin
Donate Ethereum to this address
Scan the QR code or copy the address below into your wallet to send some Ethereum
Donate Xrp to this address
Scan the QR code or copy the address below into your wallet to send some Xrp
Donate Polkadot to this address
Scan the QR code or copy the address below into your wallet to send some Polkadot
Donate Binance coin to this address
Scan the QR code or copy the address below into your wallet to send some Binance coin
Donate Stellar to this address
Scan the QR code or copy the address below into your wallet to send some Stellar
Donate Dogecoin to this address
Scan the QR code or copy the address below into your wallet to send some Dogecoin
Donate Tron to this address
Scan the QR code or copy the address below into your wallet to send some Tron
Donate Elrond to this address
Scan the QR code or copy the address below into your wallet to send some Elrond