(Game) Board Kings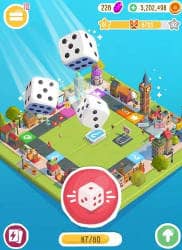 Game Description :
Fun Board Games to play online, Roll the Dice and be the King of your Board
Roll the dice and build a board city in Board Kings, an online multiplayer board game!
Play against friends & family! Be friendly and leave them a gift, or be a foe and destroy their board.
Game Features :
Join the adventure! Board Kings is the ultimate fun online board game: play with your friends and destroy their board, while you grab the goods!
Roll a dice to move around your board. It's your board game to play… and win!
Build your own board city, grabbing coins as you go!
Travel to other players' (and your friends') boards…and…
Steal their stuff! Discover your competitive side, go nuts and grab away! Until the next dice roll, that is…
Unlock new boards from all that board hopping – Mini games or the Train
Each dice roll can add to your board game album – collect all the stickers for awesome rewards!
Upgrade your game board's sections to level up to the next game board adventure!
Enjoy over 20 fun multiplayer board games, with more game boards added each update! It's a fun game to play with friends or create a family fun pack!
Hourly Board Game Goodies and more in Board Kings!
Play a dice game and get board game goodies galore! rolls, coins, gems, special boards and more are up for grabs on every board game hop!
Hourly rolls every single day (and more board game goodies too)!
Win special surprise bonuses as you play!
Invite your friends for more goodies – it's a social mobile board game!
Roll the dice to build famous landmarks like the Eiffel Tower to your game board as you play
All is fair in love and board games – you could even call it a game of life! Board Kings is probably the best board game of all time! Play with your friends!
A Multiplayer Dice Game Where You Destroy (and Steal) Your Friends' Stuff!
Board Kings is one of the board games for 2 players where you can play with friends board, then destroy and steal their stuff (and they'll still probably talk to you. Maybe).
Visit your friends' boards…and then destroy and steal their goodies and more!
Watch out – they might plan a revenge attack! Keep your stuff guarded!
Get board game prizes when invaders land on your game board's landmarks!
There are board game prizes and more up for grabs – why aren't you playing Board Kings yet?
Additional Information :
Size 232.7 MB
Requires iOS 11.0 or later.
User Reviews :
I Love this game, but there are some bugs and flaws
This game is amazing dont get me wrong, but Im starting to get bugs and glitches every now and then. Starting when i moved to the Robot board, when i landed on the tile to fight the robot, he had 780 health! He only had 280 when i first checked too! But when the time ran out to defeat him, he went back down to 280 health again. That annoyed me since it happened three times in a row, but then it didnt matter anymore because today i moved to a new board, the Sugar Rush board. I rolled a few times and landed on the tile that lets you bake with chocolate. Once again, the "health" or amount i needed to add was 280, but then when i put in the chocolate, it went up to 780 again! And i only can get 48 in per chance with 6x boost, so literally i can only get in 8 with a normal roll. Thats not enough to fill the bowl within 24 hours. I dont know if this is supposed to happen, but please change it back to normal. Besides that, the suggestions i may have is that you get to make your own board piece or skin. Like have you be able to take and mold shapes, color them, and make your own piece. That would be cool, other than that, the game is great and i hope you fix every problem you find, Thanks.
Developer Response ,
Hi! We appreciate the kind words and we hear you. Thanks for sharing your point of view and keep rolling!
Like it a lot overall but…
I like this game a lot, I think it is fun and I have had it for at least a year. I'm not the most consistent player, sometimes I'll leave it alone for a couple weeks and come back to it. But the constant popups about events and sales when you first come on is SO annoying I just spam tapping the corner the X is usually on by instinct. To be frank, if I wanted to know about a sale, I'd just appreciate if the "Store" page had an exclamation point on it or something on the main menu. Or if an event is going on, maybe an announcements section on the main menu people can check out. It's just annoying having 8 things in a row in your face every time.

I'm also annoyed because I was just on another person's board and got an alert that someone on my board broke my piggy bank and took 5 mil coins. I didn't even HAVE 5 million coins. I gained 5 mil AFTER leaving the board and AFTER the piggy bank alert, and lost whatever I gained before I even knew I was GETTING 5 mil. Do you see why this is kind of irritating? Like…I didn't even have a chance to know I got something before it was gone. Sounds kinda sketch to me but whatever  I'll just reearn it I guess but it doesn't do much for you if some people already think you supposedly scam them out of stuff to literally scam someone out of coins before they even get them. Maybe don't do that. Just a thought.
Get Board Kings from App Store
What is your opinion about Board Kings
Bitcoin
Ethereum
MetaMask (ETH)
Xrp
Polkadot
Binance coin
Stellar
Dogecoin
Tron
Elrond
Donate Bitcoin to this address
Scan the QR code or copy the address below into your wallet to send some Bitcoin
Donate Ethereum to this address
Scan the QR code or copy the address below into your wallet to send some Ethereum
Donate Xrp to this address
Scan the QR code or copy the address below into your wallet to send some Xrp
Donate Polkadot to this address
Scan the QR code or copy the address below into your wallet to send some Polkadot
Donate Binance coin to this address
Scan the QR code or copy the address below into your wallet to send some Binance coin
Donate Stellar to this address
Scan the QR code or copy the address below into your wallet to send some Stellar
Donate Dogecoin to this address
Scan the QR code or copy the address below into your wallet to send some Dogecoin
Donate Tron to this address
Scan the QR code or copy the address below into your wallet to send some Tron
Donate Elrond to this address
Scan the QR code or copy the address below into your wallet to send some Elrond