(App) Bitcoin Wallet – buy BTC & BCH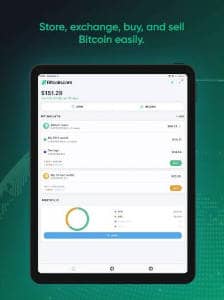 App Description :
Buy, sell, store, trade, and use cryptocurrency with the Bitcoin.com Wallet, trusted by millions.
Developed by Bitcoin.com, the Bitcoin.com Wallet is an easy-to-use, non-custodial digital wallet.
It allows you to:
Buy BTC, BCH, and ETH quickly and easily via debit, credit, Apple Pay and more.
Sell BTC and BCH into your local currency (limited by region).
Send and receive BTC, BCH, ETH, and a variety of other cryptocurrencies (including USDT).
Swap between cryptocurrencies.
App Features :
FULLY NON-CUSTODIAL
Your assets are ultra-secure because only you can access them. Never again ask for permission to use your digital assets.
WIDGETS
Install live market-data widget on your home screen.
QUICK & SECURE ACCESS
Unlock your Wallet app with biometrics or PIN.
CLOUD BACKUP
Conveniently back up your Wallet to the cloud and decrypt it with a single master password. Ensure you never lose access to your digital assets.
CUSTOMIZABLE FEES
You decide the network fee. Up the fee for faster network confirmations. Lower it when you're not in a rush.
PERSONAL NOTES
Add text to your transactions to remind you who sent what, when, and where.
SEND VIA SOCIAL
For BCH, you can send a payment link to anyone using any channel (eg. Messenger, SMS, email, Whatsapp, and so on.). Funds are received with just one click.
INSTANTPAY
Set your spending threshold, then scan a QR code with the request amount set on the recipient's device. Your payment will complete in an instant (BCH only).
DISCOVER
Use the Discover section of the app to locate merchants near you who accept cryptocurrency payments in-store. Browse websites where you can checkout with crypto and find other cool features like games, giftcards, and more.
CUSTOMIZABLE DISPLAY CURRENCY
Choose your preferred display currency alongside your crypto.
ORGANIZE YOUR HOLDINGS
Create any number of wallets to organize your funds as you see fit.
MANAGE SLP TOKENS
Each BCH wallet you create can be used to securely send, receive, and store your SLP tokens, which are digital assets that exist on the BCH blockchain.
Additional Information :
Size 121 MB
Requires iOS 13.0 or later.
User reviews :
This Wallet is Amazing
This is simply turning out to be my "go to" wallet when saving or transferring huge funds! Every transaction happens flawlessly thanks to the simple design! But there is still MUCH room for improvement!

1- There is a bug that somehow still isn't fixed. This bug makes the bottom UI disappear so I have to close my application and relaunch it every time to make it go away.

2- It would be great if you made the bitcoin purchases simpler. I feel like I have to go through soooooo many verifications and steps just to buy bitcoin(I get that it's for security reasons, but it would be great if you tried to find any room for improvement to make it an easier and better purchase experience).
Developer Response ,
Thank you for the great rating, but we would like to address these problems you are having.

Could you please email us at: wallet[at]bitcoin.com to discuss, your feedback would be much appreciated. – SB
I am completely dumbfounded
I wanted to see is this would be a good wallet, so I decided to try it out. I am always looking to find the best wallet for me. So i use several depending on what I am doing will depend on which wallet I use. I decided to try this one out. I bought some bitcoin through them which was expensive won't do that again. Then I sent the bitcoin right away. This was THREE DAYS AGO! And it's still not confirmed on the block chain. I've never had it take this long out of the thousands of transactions I've done through many different wallets. My other wallet I am using I've sent probably 20 transactions today, all of them were confirmed in under 10 mins. I sent a lot of them to the same destination as this one. The others went through. This one going on day 4 now still says unconfirmed. The best part is, the transaction fee for my other wallet was less than half of this one. In reached out to customer service, they said the speed depends on the transaction fee, higher the fee faster the transaction. Well I paid twice what I normally pay and it's been 3 days going on 4?!? They have got to be just pocketing the transaction fees, it's the only thing that makes sense. I would never recommend this app to anyone.
Developer Response ,
We are sorry to hear that your transaction is still showing as unconfirmed. During periods of high activity, the BTC mempool can get crowded. When you send transactions on the BTC network they wait here for miners to pick them up and include them in the next block. Due to limited block space on BTC, transactions can wait for a long time. Think of it like a long queue for the bus where people can out bid each other for the next seat. There are limited seats on the bus which can mean your TX may be in queue for some time. This example visualizer explains this concept well: https://txstreet.com/v/btc-bch Please note – Bitcoin.com does not profit from fees associated with sending or receiving btc or other cryptocurrencies. These fees are paid to the miner's who secure the network. Please contact wallet[at]bitcoin.com for more help.
Best BCH/BTC Wallet
I'll try to keep this short and simple. This is the best wallet in my opinion to use when it comes down to securing your Bitcoin Cash, Ethereum, or Bitcoin. Your wallet is never shared to the developers and you ultimately remain in control of your money. If the developers ever read this, thank you for what you do. Keep providing documentation to new users to avoid bad reviews (it's not your fault for the bad reviews, people just don't backup their keys). Thanks to you, the developers, you're changing the world and empowering new people like me to get into crypto. Mass adoption is right around the corner!
Get Bitcoin Wallet from App Store
What is your opinion about Bitcoin Wallet
Bitcoin
Ethereum
MetaMask (ETH)
Xrp
Polkadot
Binance coin
Stellar
Dogecoin
Tron
Elrond
Donate Bitcoin to this address
Scan the QR code or copy the address below into your wallet to send some Bitcoin
Donate Ethereum to this address
Scan the QR code or copy the address below into your wallet to send some Ethereum
Donate Xrp to this address
Scan the QR code or copy the address below into your wallet to send some Xrp
Donate Polkadot to this address
Scan the QR code or copy the address below into your wallet to send some Polkadot
Donate Binance coin to this address
Scan the QR code or copy the address below into your wallet to send some Binance coin
Donate Stellar to this address
Scan the QR code or copy the address below into your wallet to send some Stellar
Donate Dogecoin to this address
Scan the QR code or copy the address below into your wallet to send some Dogecoin
Donate Tron to this address
Scan the QR code or copy the address below into your wallet to send some Tron
Donate Elrond to this address
Scan the QR code or copy the address below into your wallet to send some Elrond