(Game) Papa Pear Saga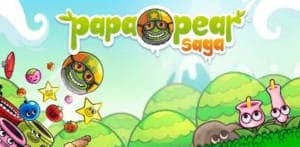 Game Description :
Papa Pear Saga, from the makers of Candy Crush Saga & Farm Heroes Saga!
It's a Papa Fiesta! Bounce your way through this unique puzzle game.
Take aim and unleash Papa Pear to bounce and boing around a wacky world of fruity pegs, hazelnuts and crazy chillies. Exciting adventures await you in the Fruity Forest, Pearsylvania and beyond. BOING!
Take on this epic Saga alone or play with friends to see who can get the highest score!
Papa Pear Saga is completely free to play but some in-game items such as extra moves or lives will require payment.
You can turn off the payment feature by disabling in-app purchases in your device's settings.
Game Features :
Pearfect graphics that will have you bouncing for joy
Boosters and power ups to help with those challenging levels
Special items to unlock by completing levels
Easy and fun to play, challenging to master
Leaderboards to watch your friends and competitors!
Easily sync the game between devices and unlock full game features when connected to the Internet
Do not sell my data: King shares your personal information with advertising partners to personalize ads. Learn more at king.com/privacyPolicy. If you wish to exercise your Do Not Sell My Data rights, you can do so by contacting us via the in game help centre or by going to soporto.king.com/
Already a fan of Papa Pear Saga? Like us on Facebook or follow us on Twitter for the latest news:
facebook.com/PapaPearSaga
twitter.com/PapaPearSaga
Last but not least, a big THANK YOU goes out to everyone who has played Papa Pear Saga!
Additional Information :
Size 122.1 MB
Requires iOS 8.0 or later.
User Reviews :
Cool but sad
It might look amazing but it's not. It is hard to get far because king makes it too hard thus tricking them into buying boosters because it takes too long otherwise. I'd give it more stars for all that. Also, inside a level, it sometime freezes and wastes a life. KING!!!!! But I love the episodes and stuff, my favorite one is the city's. I have not made it that far yet, I just like the look of them. Letters are awesome, your friends give you lives! Sometimes a little medal goes on the screen. You can go to the bonus world early! And the booster wheel gives you boosters! I'll give it like… 4 or 3 stars. I wanna get to the end!
I love this game BUT BEWARE…
With the newest IOS upgrade once you have input your password to make one, in app, purchase be careful about selecting any other option. I usually always select the item/s only to view the prices and decide if I want to purchase or not. If not, I back out of that view. This time, I had already made a small purchase, after inputting my Apple ID password, within a slightly different format, due to the iOS upgrade, a minute later I wanted to see how much to purchase something else, but instead of the game giving me that information it just purchased it without any further ado. This upset me. I am so tired of businesses taking advantage of people in these small little ways in hopes that we will just say "oh forget it" or maybe didn't even realize that you had made a purchase at all because of a change or upgrades in rogramming etc. I feel that since the policy/law now allows for gamers to get their purchase refunded, this has opened the door for developers to go "well it's no big deal, the buyer can just get their purchase refunded if they want it" that is not right! It's a form of taking advantage.
Great, Fun Game!
I've been playing for about a year and it's the only game I play. I love everything about it; but for the right kind of person. You have to be patient and not give up on some of the levels. I've been stuck on levels for days, but you have the Papa bouncing algorithm. Some levels are hard because they seem to be based on a lot of luck, and when you watch a video tip on how to solve it, their Papas bounce in totally different ways. Others are hard, but still a lot of fun. I finished the 915 levels in a year and am playing the next 15 newly released levels—so much fun!

**also, it's an Apple thing that automatically purchases items within a few minutes of making a purchase without having to use your password, if you've got that setting enabled. It's a not a King Games setting, as the reviewer from September mentioned.
Challenging
Enjoyable combo of pinball & pool. Some levels do take time & frequently for me the hardest levels are not the ones that are specified "hard" by the game creators. It is created to make people buy "power ups", but the company is in business to make money. Understand that the game is constructed to play on peoples' impatience & desire for immediate gratification. I have played through "The End" on 3 different occasions. Then deleted & reinstalled the game for another go. My only complaint is that some of the buttons are SUPER SENSITIVE & you can end up buying "3 more Papas" or using things like "Air Raid" by accident would be nice if the designers fixed this. But, again another way to make money.
Get Papa Pear Saga from App Store
What is your opinion about Papa Pear Saga
Bitcoin
Ethereum
MetaMask (ETH)
Xrp
Polkadot
Binance coin
Stellar
Dogecoin
Tron
Elrond
Donate Bitcoin to this address
Scan the QR code or copy the address below into your wallet to send some Bitcoin
Donate Ethereum to this address
Scan the QR code or copy the address below into your wallet to send some Ethereum
Donate Xrp to this address
Scan the QR code or copy the address below into your wallet to send some Xrp
Donate Polkadot to this address
Scan the QR code or copy the address below into your wallet to send some Polkadot
Donate Binance coin to this address
Scan the QR code or copy the address below into your wallet to send some Binance coin
Donate Stellar to this address
Scan the QR code or copy the address below into your wallet to send some Stellar
Donate Dogecoin to this address
Scan the QR code or copy the address below into your wallet to send some Dogecoin
Donate Tron to this address
Scan the QR code or copy the address below into your wallet to send some Tron
Donate Elrond to this address
Scan the QR code or copy the address below into your wallet to send some Elrond