(App) Behance – Creative Portfolios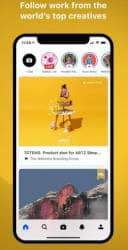 App Description :
Use Behance for iOS to explore work by the world's top creative talent wherever you are.
Search millions of projects across creative fields and industries, including:
Graphic Design
Photography
Illustration
Interaction Design
Motion Graphics
Architecture
Product Design
Fashion
Advertising
Fine Arts
Crafts
Game Design
Sound
…and much more!
App Features :
Browse work curated every day by humans and shared by creatives you follow.
Build moodboards from the projects that inspire you while exploring the community.
Share your own projects from start to finish and get feedback from Behance members.
Watch livestreams to learn the techniques used by leading artists and designers.
Get notified when you receive new comments, appreciations, and followers.
Send and receive private messages and job opportunities.
ABOUT BEHANCE
Behance is the leading online platform to showcase and discover creative work, and is part of the Adobe Family.
Terms & Conditions: Your use of this application is governed by the Adobe General Terms of Use (www.adobe.com/legal/terms-linkfree.html) and the Adobe Privacy Policy (www.adobe.com/privacy/policy-linkfree.html).
Do Not Sell My Information: www.adobe.com/privacy/ca-rights.html
Additional Information :
Size130.8 MB
Requires iOS 14.0 or later.
User Reviews :
Clicking On Notifications
When I click on notifications, the app is stuck on that project page. I can't close out of the project, click on the artist, or use any gestures other than clicking on the pictures. I have to close out of the app and reopen to get back to the home page. This just started after the last update. The other issue I have is that you can't click the top of the screen to return to the top when a project is open. Not sure why this hasn't been fixed yet.
Developer Response ,
Thanks for your feedback, and apologies for this inconvenience. A new version has been released that should fix the bug preventing closing projects. If you continue to have any trouble, please reach out to us at:  help.behance.net
Running service
I love this app, however the app performance is an issue. I'm always experiencing the difficulty to access a certain creative field or finding conceptualists in experiential projects. Rather the website at choice but it is less functional than the Behance app. I see that searching for things on app brings up most of photography, I have to spend a lot of time trying to dig for content or a certain demographic no matter who I follow. The app also tends to move in slow motion on to blank, freeze and cut off at a certain amount of time of scrolling for those fields at any given time. The works me to move through and up keeping through my appreciations which drives me nuts no matter how much this app has me on a love hold .
The incredible sensation of being creative in the Behance era
If you born in the 90's or after, you couldn't imagine how tough was being a creative before those years, but if you born in the 80's like me or before, you are really going to appreciate the existence of a virtual place like Behance.

Behance is not only a social media for designers or professionals of the creative disciplines, Behance is a democratic place to share knowledge. For the first time in history, they create a Behance way to show a project, a storytelling, and a way to curate like in a "virtual art gallery".

Thanks Adobe to buy Behance and have invested in those Spanish guys who transformed the way of creatives lives.
Developer Response ,
Hi Juan! We are so happy to hear that Behance is supporting you in your creative endeavors. Thank you so much for being a part of the community and leaving these kind words.
Home tab?
I feel like this app has a lot of potential.

But I'm not sure I understand the home tab. It feels like a regurgitated version of the search tab. On the home tab, I'm looking at works that don't even interest me. The feed are a collection of accounts I don't follow or are even interested in. Is there not a way to curate this feed?

And normally I would just over look this if I can access a list of accounts that I have followed, but appears that I can't even do that.

Then I thought, I'll just use the moodboard feature but now I'm discovering that I can't remove projects, only add.

I was hoping this app would be a place of inspiration tailored specifically to my interests but instead I'm looking at projects that are tagged with hashtags that sometimes have no business using that hashtag. I'm not against a tab for discovery, but a hint of personalization would go a long way.

So this is why I rarely use this app. It's possible that I'm using this app all wrong but I hope you see where I'm coming from.
Developer Response ,
Hi Astrid. Thank you for sharing your feedback with us. We will share your thoughts here with the product team to see how we can better personalize the experience. Should you want to access your Following list, you can do so by navigating to your profile -> About -> tapping on the Following tile. If you experience any trouble finding this feature please write us at networkapp@behancenetwork.zendesk.com so we can better assist you.
Get Behance from App Store
What is your opinion about Behance
Bitcoin
Ethereum
MetaMask (ETH)
Xrp
Polkadot
Binance coin
Stellar
Dogecoin
Tron
Elrond
Donate Bitcoin to this address
Scan the QR code or copy the address below into your wallet to send some Bitcoin
Donate Ethereum to this address
Scan the QR code or copy the address below into your wallet to send some Ethereum
Donate Xrp to this address
Scan the QR code or copy the address below into your wallet to send some Xrp
Donate Polkadot to this address
Scan the QR code or copy the address below into your wallet to send some Polkadot
Donate Binance coin to this address
Scan the QR code or copy the address below into your wallet to send some Binance coin
Donate Stellar to this address
Scan the QR code or copy the address below into your wallet to send some Stellar
Donate Dogecoin to this address
Scan the QR code or copy the address below into your wallet to send some Dogecoin
Donate Tron to this address
Scan the QR code or copy the address below into your wallet to send some Tron
Donate Elrond to this address
Scan the QR code or copy the address below into your wallet to send some Elrond