(Game) Hatsune Miku – Colorful Stage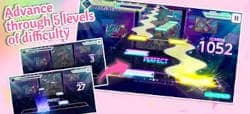 Game Description :
The best Music Game experience at your fingertips with the latest Hatsune Miku adventure!
Tap to the rhythm of popular songs and collect character cards to customise your own band!
STORY
Find your true feelings! A mysterious song named "Untitled" with no melody or lyrics is passed around amongst the youth in Shibuya, Tokyo. This song unlocks access to "SEKAI" a strange place that allows everyone to discover their true emotions and their own song.
Play with Hatsune Miku and her Virtual Friends, as well as an original cast of 20 characters overcoming their struggles through the power of music.
Game Features :
Tap, hold, and flick to the rhythm!
Discover a rich cast of characters with fully voiced Story Chapters.
Easy to Master: 5 difficulty levels to choose from.
Play on your own or create a room with up to 4 friends to share the fun.
Collect character cards and customize your band and music videos. Level up and upgrade your characters to unlock more skills and reach higher scores.
Enjoy Virtual Show, a virtual concert in the comfort of your own home, with players from all over the world! Customize your Avatar and Glow Sticks for the show.
Dress your band members with a wide variety of costumes that you can craft!
MUSIC
ROKI (Lyrics: mikitoP, Music: mikitoP)
Tell Your World (Lyrics: kz, Music: kz)
BRING IT ON (Lyrics: Reol, Music: Giga)
Happy Synthesizer (Lyrics: EasyPop, Music: EasyPop)
Melt (Lyrics: ryo, Music: ryo)
Charles (Lyrics: balloon, Music: balloon)
and much more!
VIRTUAL SHOWS
Enjoy online performances in real time of your favorite in-game band with players from all over the world!
Join virtual shows and chat with the community. Interact with the stage by displaying emotes and special effects to make the performamce even more stunning!
Privacy Policy
social.sega.com/legals/shd-pp-colorfulstage-en/
End User License Agreement(EULA)
social.sega.com/legals/shd-eula-colorfulstage-en/
Official Channels
Twitter: @ColorfulStageEN
Facebook: ColorfulStageEN
Instagram: colorful_stage_en
Official web site
www.colorfulstage.com/
Requirements
iPhone 7 or above
Additional Information :
Size 312.9 MB
Requires iOS 11.0 or later.
User Reviews :
Great game, but cop shows
This game is great. The story line is good and the charting on the songs are good and so is the gacha rates and cards. It's amazing even. There's just one problem. The cop shows are extremely fun to play but when you accidentally swipe up for flicks or maybe your playing a song that involves a lot of clicks and you accidentally click the swipe up. You can also get disconnected if you tap to hard on your phone namely a phone with no button to press like a IPhone 13 pro max. Sometimes you accidentally disconnect because of the ability to swipe out of apps instead of just clicking a button. It is really hard to play cop shows when you keep getting signs that say "Unfriendly misconduct towards players cop shows are now inactive for (this much time)" I just find that very unfair because sometimes it's on accident and I never leave a cop show because of the song choice so I'm getting labeled with unfair treatment towards other players for no reason. Please fix this. Overall though the game is very good and I enjoy playing it very much. (P.S. I understand why cop shows say that because some players just leave or disband a room because of a song choice)
Developer Response ,
This is SEGA Customer Support Team.

We apologize for the inconvenience.

We would like to investigate the status of your report, we appreciate you would send us the inquiry through the app.

In the app and on the screen of upper right "Menu" > "Support" > select the button for your question.
a deeper mobile rhythm game
i love this game a lot, the stories seem to have a lot more emotional depth than the average anime-ish rhythm game, which is what i crave from similar games. the only reason why i wouldn't give this 5 stars is completely technology based. the game crashes all the time. maybe multiple times while i'm trying to spend my energy. i actually came to rate the game after it crashed during a show where i was about to get a full combo ): the energy cap is also VERY low. you can't even get a full night's sleep before it replenishes, which takes about 6hr if i'm not mistaken. despite the game being so new in english, it already seems like earning gems is going be an issue. ive played the game for about a week & have already ran out of area convos and have every character on a mid-level ranking, which seemed to be a big source of gems. there is also some model clipping during live shows/awkward movement & posing, specifically with kohane's outfit, which lessens the live show emersion/experience. i also do wish there were more vocaloid included in the cast of virtual singers, especially because there seems to be higher ranked virtial singers compared to meiko & kaito (sorry meiko & kaito fans), but i understand the creator's/company's reasoning for choosing those two. despite these grievances, i dont plan on quitting the game any time soon but hope there's some optimization eventually!
Get Hatsune Miku from App Store
What is your opinion about Hatsune Miku
Bitcoin
Ethereum
MetaMask (ETH)
Xrp
Polkadot
Binance coin
Stellar
Dogecoin
Tron
Elrond
Donate Bitcoin to this address
Scan the QR code or copy the address below into your wallet to send some Bitcoin
Donate Ethereum to this address
Scan the QR code or copy the address below into your wallet to send some Ethereum
Donate Xrp to this address
Scan the QR code or copy the address below into your wallet to send some Xrp
Donate Polkadot to this address
Scan the QR code or copy the address below into your wallet to send some Polkadot
Donate Binance coin to this address
Scan the QR code or copy the address below into your wallet to send some Binance coin
Donate Stellar to this address
Scan the QR code or copy the address below into your wallet to send some Stellar
Donate Dogecoin to this address
Scan the QR code or copy the address below into your wallet to send some Dogecoin
Donate Tron to this address
Scan the QR code or copy the address below into your wallet to send some Tron
Donate Elrond to this address
Scan the QR code or copy the address below into your wallet to send some Elrond