(Game) Skip-Bo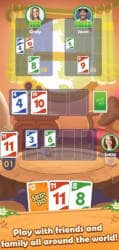 Game Description :
New & exciting ways to play Skip-Bo™, a fun card game with a solitaire twist!
Skip-Bo™ is a fun and competitive card game for all card game lovers, and now officially available on mobile. This new take on the classic solitaire and rummy card games will get you hooked and you won't be able to stop playing!
Whether you're new to Skip-Bo™ or a real Skip-Bo™ veteran you'll love the adventure!
Hundreds of fun and challenging levels that will keep your mind active and train your brain are waiting for you to explore. Solve satisfying puzzles in this new solitaire variation by stacking cards in sequence and clearing the board to win.
Game Features :
Classic for a reason!
Skip-Bo™ is a fan-favorite and loved by millions around the world. Now you can play the official Skip-Bo game just the way you remember! Play offline anywhere at all! Or jump online to play with friends! Skip-Bo™ has fun in spades!
Play and explore!
There are hundreds of levels just waiting for you to beat! Cruise through a richly illustrated world as you clear levels and progress through the maps. Harvest bundles of coins along the way! In this farm adventure mode, it's solitaire showtime!
Customize your adventure!
Whether you're new to Skip-Bo™, a loyal fan, a solitaire or a rummy player, or just need a refresher, we have levels for everyone! New levels are added regularly and will challenge your skills in this strategic and fun card game. Clear the pyramid of Stock cards to win!
Download and play today!
Skip-Bo™ is the only official mobile game and available for free, to bring you a relaxing mobile experience that can be enjoyed by anybody, anywhere, and anytime. Skip-Bo™
Play Skip-Bo™ with family and friends, this is a card game for every occasion.
Follow us for more updates.
Facebook: www.facebook.com/SkipBoMobile/
Instagram: www.instagram.com/skipbo_mobile/
Additional Information :
Size 247.1 MB
Requires iOS 10.0 or later.
User Reviews :
Love/Hate relationship
Let me start by saying.. I love this game! It truly is so much fun and very addicting. I started without signing into Facebook/apple at first. It drove me crazy that I couldn't change my player name, so I eventually logged in. I hate ads so I had no problem with paying a fee to remove them. I played through the maze of challenges and didn't see where I "won" coins/points etc but my overall tally seemed up so I was pleased.

After awhile, I urged my husband to download the game too so we could try the "play with friends". We have the physical Skip Bo game at home but it's a fun twist of the game when we only have a short time to play and don't feel like physically shuffling cards. After awhile of "creating a room" my husband realized he didn't have enough coins to play. I was extremely confused by this but again.. hadn't really paid any attention to the prizes won during my time of playing. I had over 10,000 coins so I started creating the rooms for us. That quickly fizzled out as my coins started running low within an hour and I realized neither of us gained anything by playing each other. No coins are awarded, yet you must "pay" to play. This is so frustrating that we must pay 800 coins to play a 2 player, 10 stack game but don't earn any coins in return if we win. Doesn't really add up. Wish this option was free or had better winnings for games played with friends so we can continue.
Developer Response ,
Hello! We're sorry to hear about the frustrations and sincerely appreciate the valuable feedback you've shared with us. Our team is passionate about growing and improving the player experience and we'll gladly share this with our team to see how we can better address frustrations such as the one described. If you have any other suggestions please don't hesitate to share them with our team at Skip-Bo@Mattel163.com. Player satisfaction is always our top priority over anything else and we hope to greatly benefit from your helpful feedback. Thank you!
Lives instead of coins
Skip-Bo is one of my very favorite card games. So of course when I found out it was an app I was all over it! I really enjoy the online aspect of earning more coins. It's really fun to be able to play with others but why does it cost so much? Seriously I don't understand. Why can't we create a room for like 100 coins? It just seems so silly. We don't win anything. It's just for fun but can't do it for very long. You could do a timer option for every room you create if you don't want people just only player their friends all day. It's just way over priced when it's so difficult to win coins. Which brings me to adventure mode.  I don't get creators, why are you making us pay sooooo much for each level?!?!? It takes one loss and that's it. You can't play again until your free coins. But this also means you can do anything else in the game either except play offline. So what is the point? You earn 1,000 coins and then decide where to play, 1 loss and your out. Are you all really that money hungry? What about all the other games that give you 5 lives with a timer to earn more. I mean it's perfect. Other stuff cost coins sure but lives are a much better option especially for the adventure mode. This game is barley fun if you can only play for a short time. I hated to give it 3 stars because of my love for the game, but I feel let down with the ridiculous prices to play.
Developer Response ,
Hello! We're sincerely thankful you gave our game a chance and took the time to share your valued feedback with us. Without your concerns shared, sometimes its hard to gauge what is fair and balanced and we understand your frustrations regarding the cost to create rooms with friends. We do try to help with this by offering various free opportunities to earn coins including event rewards, ad offers, star chests, and more.

This isn't to say that these options resolve your frustrations but we only hope they help reduce them in the meantime while we constantly do our best to improve the player experience. Thank you for being patient and sharing your helpful review with us.
Get Skip-Bo from App Store
What is your opinion about Skip-Bo
Bitcoin
Ethereum
MetaMask (ETH)
Xrp
Polkadot
Binance coin
Stellar
Dogecoin
Tron
Elrond
Donate Bitcoin to this address
Scan the QR code or copy the address below into your wallet to send some Bitcoin
Donate Ethereum to this address
Scan the QR code or copy the address below into your wallet to send some Ethereum
Donate Xrp to this address
Scan the QR code or copy the address below into your wallet to send some Xrp
Donate Polkadot to this address
Scan the QR code or copy the address below into your wallet to send some Polkadot
Donate Binance coin to this address
Scan the QR code or copy the address below into your wallet to send some Binance coin
Donate Stellar to this address
Scan the QR code or copy the address below into your wallet to send some Stellar
Donate Dogecoin to this address
Scan the QR code or copy the address below into your wallet to send some Dogecoin
Donate Tron to this address
Scan the QR code or copy the address below into your wallet to send some Tron
Donate Elrond to this address
Scan the QR code or copy the address below into your wallet to send some Elrond