Beat Shooter – Music & Gun game by Badsnowball Limited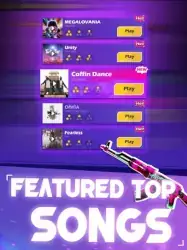 Game Description :
Move and drag to control your gun, listen to the music and shoot the falling cubes !
Sounds easy? You wish!!
Simple to play
Different guns can produce different musical feelings
Hold and Drag the gun to crash the Cube.
Avoid missing the Cubes!
Follow the rhythm and enjoy the addictive challenges.
Impress your friends with your perfect combos.
Game Features :
SIMPLE Game Control Experiences
Amounts of Songs to Satisfy Different Taste (100+ Songs will be updated)
A Wide Variety of Guns for choose
Try it now! Music lovers will definitely love it!
If any producer or label has an issue with any of the music used in the game, please send email to us and it will be deleted immediately if necessary (this includes the images used).
Contact us:
Are you having problems? Please send an email to contact[at]badsnowball.com
Terms of Service: bit.ly/3oAVmZI
Privacy Policy: bit.ly/35PnKiu
Subscription: bit.ly/3oDewhx
Additional Information :
Age Rating 12+
Size 296.4 MB
Requires iOS 10.0 or later.
User Reviews :
Best music rhythm game out there!!!
Tons of fun, you actually don't need to spend any money to enjoy this game. Most songs can be bought with coins which are not too hard to grind for at all. There are ads of course but they're really not that annoying. You can pay weekly which unlocks everything, gets rid of the ads and gives you some vip items/bonuses. But I do not see why you would want to do this because then you do not have anything to work towards. Would love the option of a one time purchase to just remove ads. Gameplay is smooth and very responsive. There's a decent amount of settings you can change too. Like left or right handed and the sensitivity of the cursor. The songs are all the original songs too as far as I can tell (don't know about the foreign songs) Which is amazing! A lot of other music games just have covers of the songs. Which are meh at best. There is a great number of songs as well! I do not see me getting bored of the selection any time soon. Overall this is by far the best mobile rhythm game I have played and I cannot recommend it enough!!
Highly Recommend!
This game is a gem, and a lot of fun! I like the simplicity of the controls; using just one finger to swipe back and forth is perfect for the iPhone. I also like the selection of songs; how the game is not limited to just recent songs, but songs from video games and anime makes for a diverse experience. Plus, giving the players a sample could also make them go beyond the game to look up the full song, which is good; it makes the players think past the game.

There aren't too many ads, so it doesn't get annoying. My one tiny complaint would be this; I wish the non-English songs had translated titles in the menu list. That way one could easily look up the full song later.

Aside from that, I love this game. With a diverse list of song, customization options, and ease of play, I highly recommend this to anyone looking for a fun and relaxing time with action and music!
I Love the anime songs on there but I have a request
I really love the game, I spread the game out on my page on tiktok but a lot of people are suggesting songs you don't have one suggestion is the song ' Tobe Fly ' it's from the anime haikyu! It would be a pleasure if you added some more anime songs! My followers love it. I'm glad you put some anime songs in there! But please add more it's not just them asking for songs it's also me, My suggestion is maybe add the Opening from Tokyo Ghoul? Thank you for making this amazing game!

Even if there are ads they aren't that major because you get to listen and play your songs after and have a good time. I suggest whoever's reading this to play it! I'm not a bot or someone working with them I'm a real human being.
Good game but (also recommend
Listen this is a good game but for me there are some glitches let's say you want to play a song when you finish the song an ad plays its short but right after the ad another song plays but for me unfortunately there is no music and the solution to play the song with music you have to close and reopen the game so please fix it also I have a recommendation:so the songs are little too short and I know you can't play the full song because well copyright i understand, but if you can please make the song longer. Alright that's it have a nice day and please fix the game
Get Beat Shooter from App Store
What is your opinion about Beat Shooter
Bitcoin
Ethereum
MetaMask (ETH)
Xrp
Polkadot
Binance coin
Stellar
Dogecoin
Tron
Elrond
Donate Bitcoin to this address
Scan the QR code or copy the address below into your wallet to send some Bitcoin
Donate Ethereum to this address
Scan the QR code or copy the address below into your wallet to send some Ethereum
Donate Xrp to this address
Scan the QR code or copy the address below into your wallet to send some Xrp
Donate Polkadot to this address
Scan the QR code or copy the address below into your wallet to send some Polkadot
Donate Binance coin to this address
Scan the QR code or copy the address below into your wallet to send some Binance coin
Donate Stellar to this address
Scan the QR code or copy the address below into your wallet to send some Stellar
Donate Dogecoin to this address
Scan the QR code or copy the address below into your wallet to send some Dogecoin
Donate Tron to this address
Scan the QR code or copy the address below into your wallet to send some Tron
Donate Elrond to this address
Scan the QR code or copy the address below into your wallet to send some Elrond