The Atlantic Magazine app by The Atlantic Monthly Group, Inc.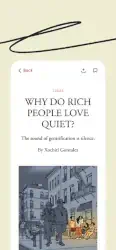 App Description :
Download The Atlantic's app for complete coverage of politics, tech, culture, and more.
Sharpen your perspective with reporting that examines the world with depth and accuracy. Challenge your assumptions with big ideas and bold arguments from Atlantic journalists. Spark your curiosity with magazine features that go deep into subjects you never considered before. And now, unlock unlimited access to all of our journalism, on any device, with a monthly or annual subscription.
App Features :
TODAY: Every day, our editors bring you a selection of Atlantic stories that made them think—and think again. Exclusively on the app.
LATEST: Quickly browse our most recently published stories from all sections, and use expected reading times help you decide which to save to read later.
UNLIMITED ACCESS: Read as many Atlantic articles as you'd like, in the app or on the web, with a monthly or annual subscription.
BEAUTIFUL DESIGN: Enjoy a clean and quiet reading experience, available in Dark Mode for evening reading.
THE ATLANTIC CROSSWORD: Now available in a dedicated section, our daily puzzle gets bigger and more challenging every day.
ACCESSIBLE TO ALL READERS: Support for VoiceOver and large text sizes.
Terms and conditions: www.theatlantic.com/terms-and-conditions/
If you have any questions, please contact The Atlantic's Customer Care team at support@theatlantic.com or (855) 940-0585.
Additional Information :
Age Rating 12+
Size 25 MB
Requires iOS 13.0 or later.
User Reviews :
Suggesting a Section for Projects
If you've searched for The Atlantic on the App Store, you're aware of the high-level journalism published by the outlet. I'm proud to say that The Atlantic is the only magazine that I've (consistently) subscribed to for the last 7 years. And the iOS app befits its standard: clean, straightforward, and neatly organized. The one suggestion I would like to offer is the addition of Projects. The app's "Sections" tab is nearly identical to the full website, with the exception of Projects. There are no doubt technical reasons for its omission that far exceed my level of understanding. However, The Atlantic's Projects have long been a favorite feature. 2020's Shadowland is particularly wonderful. In-app access to the Projects would be a fantastic addition, and I hope to see it in a future update.
Why is it so hard to use this app?
I love the Atlantic. If I tell you I've been reading it since James Fallows was a rookie, a few of you may know how long that's been. A long time. The Atlantic has successfully negotiated the transition to the internet when so many of its peers have stumbled. The magazine still offers top notch long form journalism and the past few years it has tried to resurrect its role as a venue for high quality fiction and poetry, too. The web site is a treasure trove of innovative commentary and news that complements "newspaper" sites. The politics, economics, and science reports are invaluable for me.

The problem is the app. I recently tried to renew my subscription through it, but the app would have none of that. I had to cancel and resubscribe, I discovered after a long and particularly unenlightening exchange with customer service. These days the app just forgets my subscription information every few days and I have to go through a rigamarole to get it to allow me to see anything. Customer service says to delete the app and reinstall it. They point out that a will lose my list of saved articles when I do that. I'd say, "no problem, I only have a few articles on my saved list," but how do I re-save them after I reinstall? There is no search feature to allow me to find them.

My advice: read the Atlantic, but do it from the website!
Okay app – but could be great
I am a long time subscriber to The Atlantic. I still get the print magazine but honestly do most of my Atlantic reading electronically. I was really excited when I first got the app, but have only been frustrated since. First, it is the most unintuitive app I think I have used in a long time. Having to dig 3 to 4 steps down to even find the magazine edition. It shouldn't be an expedition to find the most recent magazine. I understand having the feed to read popular articles, but the joy of The Atlantic is "paging" through the magazine to read different articles that I wouldn't typically click on in a news feed. Second, SEARCH. How can there not be a search function??? Search is one of the most useful reasons to read newspapers and magazines in electronic format. Please, please, please add search function. Third, Font Size. I can't be alone in the demographics of The Atlantic subscribers in needing glasses or larger fonts to read comfortably. This is probably the second biggest reason to read content electronically instead of the print version. Please add the ability to adjust the size of the font.

I still enjoy The Atlantic and think it is one of the best sources for in depth analysis of current events and culture. However, until these issues are addressed I will probably continue to link to The Atlantic on the internet instead of through the app.
Get The Atlantic Magazine from App Store
What is your opinion about The Atlantic Magazine
Bitcoin
Ethereum
MetaMask (ETH)
Xrp
Polkadot
Binance coin
Stellar
Dogecoin
Tron
Elrond
Donate Bitcoin to this address
Scan the QR code or copy the address below into your wallet to send some Bitcoin
Donate Ethereum to this address
Scan the QR code or copy the address below into your wallet to send some Ethereum
Donate Xrp to this address
Scan the QR code or copy the address below into your wallet to send some Xrp
Donate Polkadot to this address
Scan the QR code or copy the address below into your wallet to send some Polkadot
Donate Binance coin to this address
Scan the QR code or copy the address below into your wallet to send some Binance coin
Donate Stellar to this address
Scan the QR code or copy the address below into your wallet to send some Stellar
Donate Dogecoin to this address
Scan the QR code or copy the address below into your wallet to send some Dogecoin
Donate Tron to this address
Scan the QR code or copy the address below into your wallet to send some Tron
Donate Elrond to this address
Scan the QR code or copy the address below into your wallet to send some Elrond