Beat Battle game Jingmao Tec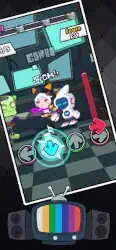 Game Description :
A new free music rhythm game.
How to play
1.Tap the note as it reaches scoring area.
2. According to the accuracy of tap you'll get a score.
3. Try to challenge harder songs.
Various types of songs and well-made Musical score is continuously update. Pop, Anime, Hip-hop, EDM, Vocaloid, and more genre of music are waiting for you.
Game Features :
1.Variou of songs, play anytime as you want.
2.Different difficulty makes more choice, choose the difficulty that you like the most!
3.Use high quality music source and musical score, make your game experience better.
4.Continuously update various songs.
Install right now and enjoy it!
Beat Battle – Full Mod Fight is a music game from Jingmao Tec. Contact us by App Store or email below. We're looking forward to your game feedback to improve our game!
Feedback
beatrun11e[at]gmail.com
The app follows standard Apple Terms of Use (EULA)
www.apple.com/legal/internet-services/itunes/dev/stdeula/
Privacy Policy
www.jingmaotec.com/privacy
Additional Information :
Age Rating 12+
Size 234.7 MB
Requires iOS 11.0 or later.
User Reviews :
Great game, but some issues
Hello developers! This is a really good game! It's super addicting, but fun all the same. Of course, no game is perfect, and I'm gonna list some things I found in the game. 1) WAYYY too many ads. Every single song and every single version of the song costs an ad, or buying a VIP pass for 4.99 a month. And even after you close a song instead of reviving it's an ad, no matter how long the song is or how much you play, always and ad after. 2) Clicking issues. I would say I'm really good at the game. Im able to pass many experts and insanes without revives easily, but sometimes I get errors. For instance, this happens very often: I play like normal, and occasionally I press a tile, and the game doesn't detect it, which is really odd because I know I tapped the note. If this didn't occur, then I would probably be able to pass so many more songs. 3) The Duel Battle Update. I LOVE this update. You get to play random songs with live people. However, the songs give an uneven amount of tiles to click, meaning that the person with more tiles gets more points to win the round. This is really unfair to some people, I'm not sure if you can fix this, but if you do I would really enjoy this more! I hope you'll be able to fix some of these, sorry that the review is really long, I just think it's best for you to know. Have a good day!
A few ideas you could add and some bugs you need to fix.
I love this game so, so much. I have played it so much so that I have found a few bugs I would really like you or your staff/team to fix. When you die on a song and I am spamming because I mainly play Insane difficulty songs, when the ad ends and I continue it lags very very badly nearly every time 2-5 seconds after I hit the play button, and you need to fix this. And if it's possible you need to make the bop timer on the characters faster so they can perfectly loop the animation, this won't apply to every character, but ones like blue-flame sans need this feature, but this is not serious, so that is pretty much a suggestion. I think that may be all the issues I have come across. Here are some ideas: you know those death notes in songs like Betrayal Blackout, you should add those in. Don't over add though, make it balanced. I have some songs that I need you to add ASAP. Bad Time, Despair, and The nightmare Cupid song from indie cross MUST be added. Another idea involves the "accessory" category. You should add name colors that are obtainable WITHOUT the premium battle pass thing. That's pretty much all the things I have here to say, I give this 5 stars because they game is amazing!
Love it! but…
This game is awesome! But i want all playing with only bf mods bc it helps me not get my fingers tired and die. I also want to make the long songs long like hellclown because its not that long or should i say its not the full song. The last thing to fix is just make it like the actual notes for the song because they just are easy like madness because you did not make hhe actual notes but then you did and its insane man i love it and its just gonna make me a better fnf player. I rate this a 4 because of the things that need to be fixed but im rating it a 5 so that other people can see my review. Also this is great for mobile players because they dont have fnf because they either dont have a pc or that they cant use it. I saw the reviews that this game is awful but its not for mobile players. This game is trying to copy fnf but im fine because i can finally play yhis game which is on mobile! The lastest thing to fix is the adds. There are like too many of them that wastes my gaming time and i need to edit nore if im making a video. Well my actual rating is a 3.5 but again im making it a 5 so other people can see it. The games great do far but they need to fix those things so that ppl actually like it more. Bye!
Get Beat Battle from App Store
What is your opinion about Beat Battle
Bitcoin
Ethereum
MetaMask (ETH)
Xrp
Polkadot
Binance coin
Stellar
Dogecoin
Tron
Elrond
Donate Bitcoin to this address
Scan the QR code or copy the address below into your wallet to send some Bitcoin
Donate Ethereum to this address
Scan the QR code or copy the address below into your wallet to send some Ethereum
Donate Xrp to this address
Scan the QR code or copy the address below into your wallet to send some Xrp
Donate Polkadot to this address
Scan the QR code or copy the address below into your wallet to send some Polkadot
Donate Binance coin to this address
Scan the QR code or copy the address below into your wallet to send some Binance coin
Donate Stellar to this address
Scan the QR code or copy the address below into your wallet to send some Stellar
Donate Dogecoin to this address
Scan the QR code or copy the address below into your wallet to send some Dogecoin
Donate Tron to this address
Scan the QR code or copy the address below into your wallet to send some Tron
Donate Elrond to this address
Scan the QR code or copy the address below into your wallet to send some Elrond