Foreign Affairs Magazine app by Council on Foreign Relations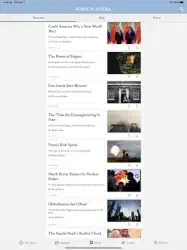 App Description :
Get award-winning commentary on global news daily with the Foreign Affairs app.
About the App:
Download the Foreign Affairs app to stay up-to-date on the latest international news, commentary, and analysis from influential thinkers and world leaders. The Foreign Affairs app offers insightful articles, digital issues, podcast episodes, videos, and audio content optimized for an ideal experience on iOS mobile and tablet devices. Users can access new, relevant articles on international topics of interest daily at no cost. Subscribers get additional access to digital magazine issues.
App Features :
New articles every weekday on international news topics
Subscriber-only access to Foreign Affairs magazine issues
Audio for select articles—perfect for listening on-the-go
Podcasts and videos featuring insightful conversations with leading scholars, editors, and authors
Accessibility tools for a better reading experience for everyone, including light/dark viewing mode and text resizing tools
A bookmark tool for saving or sharing articles later
Download options for offline reading and listening
Sharing capabilities to keep friends and family updated on current events
About Foreign Affairs:
Foreign Affairs offers cutting-edge commentary on international relations and foreign policy. Since 1922, Foreign Affairs has driven the conversation on critical topics related to geopolitics, trade, economics, science and technology, climate change, and more. Foreign Affairs has published globally renowned thinkers and leaders over the past 100 years from around the world and across the political spectrum, including W. E. B. Du Bois, Eleanor Roosevelt, George Kennan, Madeleine Albright, Henry Kissinger, Nelson Mandela, Hillary Rodham Clinton, Barack Obama, Jill Lepore, Condoleezza Rice, Mitt Romney, Fareed Zakaria, and more.
Additional Information :
Age Rating 4+
Size 21.8 MB
Requires iOS 13.0 or later.
User Reviews :
Questionable Update
It looks like this update was intended to allow dynamic content and consequently the ability to use with an iPhone. What I appreciated about the old app was that it was simply digital/ePub versions of the print magazine, and therefore replicated the experience of flipping through the pages but with the added portability of having your entire collection available on the plane or a train.

One (presumably unintended) consequence of the change in the display engine is that all the subscriber special editions are no longer available, at least as far as I could find. One has to now go to the FA website and download them from there.

Many people are having trouble with validating subscriptions. This has also been a problem with previous versions of this app. I did not personally experience it this time, but understand how frustrating it is having experienced it before.

I, for one, would appreciate the ability to retain the option to read ePub versions of the issues (and keep the subscriber specials), even as a separate option within the app.

Bottom line, Foreign Affairs is a world-class publication and ought to have a world class app. It's not quite there yet.
Developer Response,
Thank you for your review. We have now added all of the past subscriber special editions as a PDF/ePub versions.
The magazine is wonderful but the app has some space to improve
I love the magazine, but if I could give 2 suggestions for the app it would be the following:

 Add a side or top bar that could indicate progress through the text. Sometimes in a long text I feel like I'm almost finishing and I am not even halfway through. Thus, it would help to have a small indicative of progress

 allow for users to set larger or smaller fonts. The current font size is fine in general, but still I would like to make it a little larger sometimes.

Another nice feature that I would love to see being more explored is the audio stories (ideally all stories in audio), but I understand it takes more time to get it functioning.
Developer Response,
Thank you for your readership, and your thoughtful feedback. Text size options are available in the Settings. We also just added Podcast episodes to the app, and plan to continue expanding audio features. Your suggestion on showing reader progression is an excellent one, too. Thank you again for reaching out to us!
Good but can be better
Update 2: The "The Latest" section started working again. Also, I appreciate customer support getting back to me.

Update: app's been pretty buggy lately. The "The latest" section doesn't load. Overall, the app is pretty good and the content is great. It would be really nice if saved articles don't just save locally. I constantly switch between my devices (iPhone, ipad) and none of my saved articles appear on the other devices. Also, it would be nice if the app had the ability to download articles in the background so it starts up faster and does not do the updating when I launch the app. If I'm mistaken in any of this and the app does, indeed, do those things, then please let me know.
Developer Response,
Thank you for your feedback! We are always looking for ways to improve the app, and the Saved articles functionality is something we'd like to be better at. There should not however be any updating needed when opening the app. Please contact us at support@ForeignAffairs.com if this is still something you are experiencing. Thank you again for taking the time to share your review, and for your readership.
Get Foreign Affairs Magazine from App Store
What is your opinion about Foreign Affairs Magazine
Bitcoin
Ethereum
MetaMask (ETH)
Xrp
Polkadot
Binance coin
Stellar
Dogecoin
Tron
Elrond
Donate Bitcoin to this address
Scan the QR code or copy the address below into your wallet to send some Bitcoin
Donate Ethereum to this address
Scan the QR code or copy the address below into your wallet to send some Ethereum
Donate Xrp to this address
Scan the QR code or copy the address below into your wallet to send some Xrp
Donate Polkadot to this address
Scan the QR code or copy the address below into your wallet to send some Polkadot
Donate Binance coin to this address
Scan the QR code or copy the address below into your wallet to send some Binance coin
Donate Stellar to this address
Scan the QR code or copy the address below into your wallet to send some Stellar
Donate Dogecoin to this address
Scan the QR code or copy the address below into your wallet to send some Dogecoin
Donate Tron to this address
Scan the QR code or copy the address below into your wallet to send some Tron
Donate Elrond to this address
Scan the QR code or copy the address below into your wallet to send some Elrond