[Game] First Strike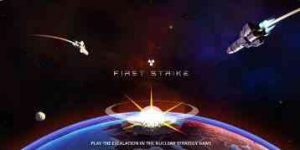 Game Description :
Be the First to Strike as there are no second places in this game. Do you have what it takes to be a nuclear overlord or do you cave to a little nuclear fallout?
Millions of commanders already played First Strike all over the world. Now it is back and ready for the new decade. The new First Strike has been completely rebuilt and now is more stable, more beautiful and more with more cunning enemies than ever. And this is just the start for tons of new updates to come.
Play the iconic strategy game about blowing up the world in the nuclear armageddon and stay tuned for more, commanders!
A thought provoking and fast-paced strategy game – pocketgamer
A gorgeous game with a message, that doesn't forget that it's a game – 148apps
An awesome game suited for casual and professional nukers alike – appszoom
For my money, there is no better-looking game on the App Store – pockettactics
½ – ""One of the best releases of the year – whatsoniphone
Game Features :
Escalation is a downward spiral.
A nuclear armageddon is no one's dream scenario. So choose your steps carefully, it's a small path between war and peace. FIRST STRIKE is a great strategy simulation featuring snappy gameplay and an intuitive interface that makes dropping the big one as easy as ABC. But be sure to take the right measures to guarantee your people's safety.
Pick one of the big nuclear players – from known Superpowers to an upstart hellraiser like North Korea – and plan your strategy wisely: Limited but clever options let you as the leader of your superpower steer your nation's fate: Expand to other countries, build bombs or debuild in order to restructure your arsenal. Or use research to widen your options, such as: Ability to act quicker and build bigger bombs, better recon on your enemies actions, automated self-defense-sequences and many more.
Whether you're a bloodthirsty warmonger or a tree-hugging hippie – it's time to put your cards on the table. A quick and fun game with beautiful graphics, FIRST STRIKE shows you how little it takes to heat things up. With the tip of your finger you can control the destiny of the precious and vulnerable rock floating through space, the rock we call mothership Earth.
Best Mobile Game – Indie Prize Amsterdam*
Winner ""Most Innovative Game – Best App Ever Awards*
Winner ""Game of the Year – BOSA Awards*
*Winner ""Newcomer of the Year"" – SwissICT Awards*
*Finalist ""Best Upcoming Game"" – International Mobile Game Awards*
*Finalist ""Most Meaningful Play"" – International Mobile Game Awards*
*Finalist ""Best Hardcore Game"" – Game Connection USA Awards*
*Finalist ""Most Innovative Game"" – Game Connection USA Awards*
*Finalist "Best Strategy Game" – Best App Ever Awards*
*Finalist ""Best International Game"" – Ludicious Game Festival*
*Finalist ""Best Swiss Game"" – SGDA Awards*
Compatability:
Recommended: iPhone 6S or higher, iPad (7th generation) or higher
Required: iPhone SE or higher, iPad (5th generation) or higher, iPod Touch (7th generation) or higher
Additional Information :
Somewhat broken
I love this game. But the bugs in this game are getting outrageous. (1) Wont let you continue other previous games. (2) Unable to quit and restart games. (3) Won't let you win. What I mean by that is that when you DESTROY the other nations it won't let you leave. Sometimes the screen freezes, or completely zooms out. (4) Doesn't record your victories. I can't even imagine how many times I played a nation and the game didn't record my victory so I had to restart and even then it doesn't count the win. (5) Wont let me choose the difficulty (6) Won't let me unlock super weapons. Plz not that this isn't a hate comment. I absolutely love this game I'm always telling my friends to download the game but even they get the same issues and end up hating the game. I'd love to see this game become super popular but with the way it is rn that's impossible with all the issues and bugs.
Developer Response ,
Thank you for your feedback and for being a First Strike fan! We're sorry about these issues, and we are aware of them. We keep working on the game to fix exactly those problems, and we will have news about First Strike in the future. So please, stay tuned! Make sure to subscribe to the First Strike mailing list (you can subscribe on www.firststrikefinalhour.com) and follow the First Strike accounts on Twitter and/or Facebook.
A very good game
I've been playing first strike for years. I have all the super weapons and all the countries unlocked. I love the game I usually play it everyday because I don't have much to do on a virtual school day. Ever since it got fixed the game has been running smoothly everything works the restart button the quit button everything. One thing I do have a problem with is when you have an an enemy on 2 sides. Like when I'm Europe the United States and China are in the game, they will only target me. That and how long the ads are when you wanna instantly do the research. Also a tip for anybody who wants to research but the ads take too long what you can do is press on one of your territory's and then watch the ad. That way the game slows down s lot. That also goes for the research and building of the super weapons. With so many other counties maybe you can add some to the game like maybe Canada, Turkey, Mexico, just giving examples. Also I can't wait for March 10th I saw the update video First Strike Developers, have a fantastic day/night
Developer Response ,
Thank you for your feedback! We're sorry, we can't control what exactly gets shown in the ads. A premium version of First Strike without ads exists, if you want to continue to play the game. -> https://bit.ly/fsiosgame

And maybe we can help you with giving tips on how to get all the superpowers. You can write to us with your concerns via this email: support@blindflugstudios.com

– Nuria from Blindflug Studios
Get First Strike form App Store
What is your opinion about First Strike
Get more free apps & games daily
Subscribe to our mailing list and get free apps & games daily to your email inbox.
Thank you for subscribing.
Something went wrong.
Bitcoin
Ethereum
MetaMask
Xrp
Polkadot
Binance coin
Stellar
Dogecoin
Tron
Elrond
Donate Bitcoin to this address
Scan the QR code or copy the address below into your wallet to send some Bitcoin
Donate Ethereum to this address
Scan the QR code or copy the address below into your wallet to send some Ethereum
Donate Xrp to this address
Scan the QR code or copy the address below into your wallet to send some Xrp
Donate Polkadot to this address
Scan the QR code or copy the address below into your wallet to send some Polkadot
Donate Binance coin to this address
Scan the QR code or copy the address below into your wallet to send some Binance coin
Donate Stellar to this address
Scan the QR code or copy the address below into your wallet to send some Stellar
Donate Dogecoin to this address
Scan the QR code or copy the address below into your wallet to send some Dogecoin
Donate Tron to this address
Scan the QR code or copy the address below into your wallet to send some Tron
Donate Elrond to this address
Scan the QR code or copy the address below into your wallet to send some Elrond