(App) Acorns – Invest Spare Change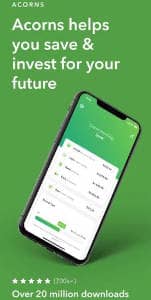 App Description :
Acorns is how you save & invest for your future. Over 20 million downloads! Get started in minutes, & give your money a chance to grow in the background of life.
Investing is now made for everyone. – Forbes (1)
App Features :
INVEST FOR YOUR FUTURE –  Invest spare change with automatic Round-Ups® & set it & forget it with Recurring Investments. Your money is automatically invested into one of our diversified, ETF portfolios, built by experts.
INVEST FOR RETIREMENT – Save for retirement with our easy IRA options, featuring SEP, Traditional, & Roth plans. In under 2 minutes, we'll recommend the right plan for you.
INVEST FOR YOUR KIDS – Get Acorns Early, our UTMA / UGMA investment account for kids. Multiple kids included. Custom rewards for families. Invest automatically into a diversified, ETF portfolio, built by experts.
BANK SMARTER – Get an Acorns Checking account & a heavy metal debit card that invests when you spend & automatically invests a portion of every paycheck. You can also get paid up to 2 days early when you set up your direct deposit into Acorns Checking.
EARN REWARDS – Shop 12,000+ brands that invest in you, search MILLIONS of jobs in our Job Finder, & earn exciting referral bonuses. The more you earn, the more you can save & invest! Plus, try our new Acorns Earn Safari Extension to easily, automatically earn investment rewards while you shop from your Safari browser on your iPhone.
GROW YOUR KNOWLEDGE – Custom financial literacy content, powered by Acorns + CNBC, right in your app.
SAVE & INVEST RESPONSIBLY WITH A MISSION-LED PARTNER
MISSION: With benevolence and courage, we look after the financial best interests of the up-&-coming, beginning with the empowering, proud step of micro-investing.
INVESTING PHILOSOPHY: The time-tested power of compounding, diversification, & sticking with it gives your money a chance to grow long term.
BACKED BY THE BEST: Investors like Blackrock, CNBC, PayPal, Dwayne Johnson, Jennifer Lopez, Steve Harvey, & Ashton Kutcher.
SECURITY: Bank-level security and data encryption.
NO HIDDEN FEES
Most popular
ACORNS PERSONAL: $3/month
All-in-one investing, retirement, & checking—plus much more.
ACORNS FAMILY: $5/month
Save & invest for the whole family, invest for kids, earn extra rewards, get family financial education, plus retirement, checking, and personal savings and investing.
From acorns, mighty oaks do grow. Download Acorns now & grow your oak!
Sources:
1. bit.ly/3iSAjhs
2. abcn.ws/3jOsv1n
3. on.wsj.com/2ClgzU8
Additional Information :
Size 192.8 MB
Requires iOS 14.0 or later.
User Reviews :
Love the app but it could be some better things
I believe in my opinion there should be more guidelines on how much to invest if you were truly looking for a more residual income in or Divet in income/profit however you put it I'm not the stockbroker with this Siri service needless to say it would be highly appreciated for myself as well as many individuals I'm sure that would agree that are new to this type of software that information on how much you invest is what how much you should project over the next year instead of sayingThis is how much you may have one year 69 if you live that long basically not too appealing a monthly weekly quarterly half year full year statement 23 year statement something like that half decade full decade etc it would make people invest more that's what I do marketing and sales he would drive a lot more revenue to this company if you should more incentives in the work I mean not saying that the long-haul isn't lovely but some people might get cancer and die at 69 some people might get cancer and dying in the next 10 years and they're only 40 the more present projection would definitely be a lot more Easier to understand
Okay-ish.
I've been a member since 2019 and for the most part I'm okay with the app. One thing that truly gets under my skin is that I can't review my statements from the app. I have to physically get on a desktop computer in order to see my statements. It's quite annoying considering I don't always have a desktop around when I'm doing my finances. You cant go online from your phone and do it, you have to use a desktop. I'm not sure why it's set up that way, but it's annoying.

Also, I have used Robinhood for 2 months, and in those 2 months I gained over $70 in stocks/investing. Whereas I've had Acorns for almost a year and the most I ever gained in investing is $35. I have waaaay more money in Acorns than I do in Robinhood, yet I managed to make more with less. Idk what Acorns is doing with my money, but it's not really investing the way it can. I'm thinking of canceling Acorns because it's honestly not working for me anymore.

I think the best feature is the roundup investments, it lets me save by keeping the change. However, my personal bank does the same. It seemed like a good app when I first got it, but now I'm feeling like it's not putting my money to good use. Plus, needing me to log onto a desktop just to see my statements is, once again, very annoying. Most apps, whether it's a bank or another investing app, provide you with your statements without having to do the extra work. Why are they being so extra? Why are they not investing my money properly? Idk..
Developer Response ,
Thank you for your thorough review. We want to make sure we address your concerns and would be happy to provide information regarding statements and investment gains.

If you wish to download your statements on your mobile device, please visit app.acorns.com in your web browser. From here, once logged in, you will be directed to the web experience. From your home screen, click on the icon in the upper right-hand corners, then click "Profile & Settings". Once here, under Documents, click on "Documents and Statements" and you will have the option to download your statements and tax reports.At Acorns, we believe in the long game! Our investing philosophy is rooted in the time-tested power of compounding and sticking with it. Our expert-designed, diversified portfolios provide ETFs to help investors maximize potential gains over time. This can help increase the likelihood that your portfolio can better weather big swings in the market and grow steadily over time.
Get Acorns from App Store
What is your opinion about Acorns
Bitcoin
Ethereum
MetaMask (ETH)
Xrp
Polkadot
Binance coin
Stellar
Dogecoin
Tron
Elrond
Donate Bitcoin to this address
Scan the QR code or copy the address below into your wallet to send some Bitcoin
Donate Ethereum to this address
Scan the QR code or copy the address below into your wallet to send some Ethereum
Donate Xrp to this address
Scan the QR code or copy the address below into your wallet to send some Xrp
Donate Polkadot to this address
Scan the QR code or copy the address below into your wallet to send some Polkadot
Donate Binance coin to this address
Scan the QR code or copy the address below into your wallet to send some Binance coin
Donate Stellar to this address
Scan the QR code or copy the address below into your wallet to send some Stellar
Donate Dogecoin to this address
Scan the QR code or copy the address below into your wallet to send some Dogecoin
Donate Tron to this address
Scan the QR code or copy the address below into your wallet to send some Tron
Donate Elrond to this address
Scan the QR code or copy the address below into your wallet to send some Elrond