(Game) Stick War Legacy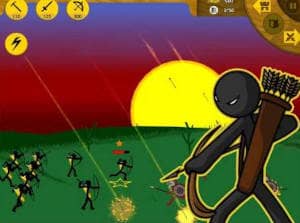 Game Description :
One of the most popular and highest rated web games of all time now comes to mobile!
Play the game Stick War, one of the biggest, most fun, challenging and addicting stick figure games. Control your army in formations or play each unit, you have total control of every stickman. Build units, mine gold, learn the way of the Sword, Spear, Archer, Mage, and even Giant. Destroy the enemy statue, and capture all Territories!
Game Features :
Missions Mode: New levels released every Friday! – Keeping Order won't be easy.
Saga style map with multiple rewards.
Unlock Crowns for each difficulty level, Normal, Hard, and Insane!
A multitude of new game types await – Win before sunset, Triple barricaded gold, Deathmatch, Forward Statue, vs Mini Bosses and many more!
Arrows now stick into all units, plus new improved blood effects and taking damage animations.
Improved unit formations and Archidon bow aim.
Main Features:
Classic Campaign – The Order Empire is Born. Now with 6 bonus levels.
Endless Deads zombie survival mode! How many nights can you last?
Tournament mode! Battle your way through dozens of Ai challengers to win the "Crown of Inamorta!"
Skins are now available for all characters! Unlock powerful weapons and armor, each with their own unique perks!
In a world called Inamorta, you're surrounded by discriminate nations devoted to their individual nations technology and struggle for dominance. Each nation has developed its own unique way to defend and attack. Proud of their unique craft they have become obsessed to the point of worship, turning weapons to religion. Each believes that their way of life is the only way, and are dedicated to teaching their policies to all other nations through what their leaders claim as divine intervention, or as you will know it… war.
The others are known as: "Archidons", "Swordwrath", "Magikill" , and "Speartons".
You are the leader of the nation called "Order", your way is of peace and knowledge, your people do not worship their weapons as gods. This makes you a mark for infiltration by the surrounding nations. Your only chance to defend is to attack first, and obtain the technologies from each nation along the way.
Additional Information :
Size 450.3 MB
Requires iOS 10.0 or later.
User Reviews :
Second Campaign????
So I have a really interesting idea to make a second campaign like stick war 2 to make it adapted to you can get all the same units you already on locked and the way to unlock the second campaign is through beating the first campaign on insane and even though That and this next idea might take a lot of time for your busy crew a sandbox mode would be GREAT where once you have got all the skins and completed all the campaign levels aswell as buying all the items in the store at least once I feel like that would make your company a lot of money to have that kinda of goal for players to get where they can essentially make their own level and see who would win star level six boss or desert boss or 1 golden spearten with 10 metrics vs a giant zombies spearten. I never actually beat the final level of stick war two and don't remember much from it but another option for giants making them have the rock throwing ability for extra gold would be awesome too, the praying thing is kinda unnecessary though you can leave that out of you want 🙂 I grew up with the og stick war and love it so much but there is one thing I have original, 3 upgrade points to unlock a drill for gold that will automatically completely mine the first gold thing and give half the gold that a minor could have gotten while completely taking out that part of the mine. I don't actually recommend trying my crazy ideas but they could be interesting
Great game, only a few things need to be added
I love the game, the campaign isn't too hard, the amount of adds is fine, and the tournament is almost the right difficulty. With all that said, the endless undead is easy at first, then quite difficult when the pounder dead's are introduced, I'm fine with the concept of them going for the back troops immediately, but please make a little slower, it's ok that they're fast, but they're a bit too fast. The AI needs a few adjustments to make it a bit less easy to cheese, for example, as long as you are controlling one troop, the enemy won't garrison as long as they have one troop in the field, so you can kill all the miners until they have no gold left, kill the remaining enemies, bring in the rest of your army until the enemy calls reinforcements, then destroy their army and finish the statue. I also feel like the tournament should give more gems per fight on higher difficulties, and then please lower the waiting time for another tournament, to an hour for example, but still have the skip cost at 150 gems, and then lower the reward of gems per fight or something. If possible the campaign can be a bit longer, and please add a multiplayer. That is what I think of this game, it's awesome but still has a lot of potential.
Get Stick War Legacy from App Store
What is your opinion about Stick War Legacy
Bitcoin
Ethereum
MetaMask (ETH)
Xrp
Polkadot
Binance coin
Stellar
Dogecoin
Tron
Elrond
Donate Bitcoin to this address
Scan the QR code or copy the address below into your wallet to send some Bitcoin
Donate Ethereum to this address
Scan the QR code or copy the address below into your wallet to send some Ethereum
Donate Xrp to this address
Scan the QR code or copy the address below into your wallet to send some Xrp
Donate Polkadot to this address
Scan the QR code or copy the address below into your wallet to send some Polkadot
Donate Binance coin to this address
Scan the QR code or copy the address below into your wallet to send some Binance coin
Donate Stellar to this address
Scan the QR code or copy the address below into your wallet to send some Stellar
Donate Dogecoin to this address
Scan the QR code or copy the address below into your wallet to send some Dogecoin
Donate Tron to this address
Scan the QR code or copy the address below into your wallet to send some Tron
Donate Elrond to this address
Scan the QR code or copy the address below into your wallet to send some Elrond